Emilia Clarke Chopped Off Her Mother of Dragons Hair
The actress just debuted an even shorter, blunt bob.
---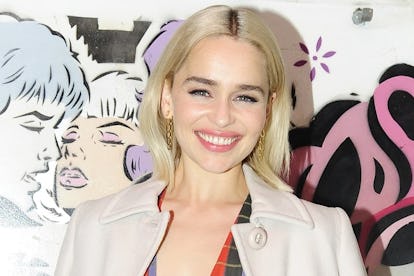 Paul Bruinooge/Getty Images
Emilia Clarke has chopped her platinum hair into a bob, reminding us that the only thing harder than playing the Mother of Dragons is coaxing over-processed hair back to life.
Clarke debuted her new hair not on the red carpet, but rather how most of us do — with a post on Instagram. "In other news this FABULOUS new bob is the chicest way to style out some burnt out mother of dragons split ends," she captioned her photo. She even gave us a hashtag to encompass that moment every platinum-haired beauty knows all too well: "#whenyoulooklikeawildlingitstimetochop." The new style is a blunt, middle-parted bob that ends right at her chin.
She also thanked longtime stylist Jenny Cho for the cut in her caption. According to Cho's own Instagram, they've already settled on a way to pull back the shorter bob with a very of-the-moment barrette.
Clarke dyed her hair platinum blonde to match Khaleesi's own back in September of last year after years of wearing wigs for the part. "I done did it. Mother of dragons meet Emilia. Emilia meet mother of dragons. If you squint just so you might never know," she wrote at the time. Naturally, she turned to Game of Thrones hairstylists Kevin Alexander and Candice Banks, creators of her iconic Khaleesi wigs, to bring the look to life. In the months since, she's kept watchers on their toes with occasional bangs, waves, and of course her gilded Met Gala flower crown.
Clarke is currently in the midst of a press tour for Solo: A Star Wars Story, and she's clearly decided that a new season calls for a new style. Plus, she seems to have learned the hard way that platinum blonde is the most high maintenance of colors. After months of bleaching, it's no surprise that she had to chop a few split ends to keep hair looking healthy. For the rest of us Khaleesi-inspired bottle blondes, try our favorite hair-saving products.
Related: Game of Thrones Star Emilia Clarke Has Pet Names for Her Khaleesi Wigs
The Best in Westerosi Couture, As Seen on Daenerys Targaryen, Cersei Lannister, and More
Though Game of Thrones's fictional fantasy world presumably takes place centuries before our contemporary—how else do you explain the lack of wifi?—Cersei Lannister's Balmain-inspired looks are light years ahead of Olivier Rousteing's own imaginings.

Courtesy HBO
When Euron Greyjoy, the usurper uncle of the Ironborn siblings Yara and Theon, washed ashore at King's Landing earlier this season, he did it with a whole new look: close-cropped hair, a strategically scruffy beard, and a draped leather look that some viewers likened to Rick Owens or early Yeezy. (By way of Pirates of the Caribbean, naturally.)

Courtesy HBO
Jon Snow might not show off the greatest variety in his wardrobe choices—his staples of black cloaks and black furs don't leave much room for experimentation, it seems—but what he lacks in originality he makes up in resourcefulness. Take, for example, his aforementioned furs: Clapton revealed in an interview last year that Jon Snow's plush capes are made of Ikea rugs, shaved down, cut to size, and fastened in place with leather straps. What, you've never curled up in your $30 Rens?

Courtesy HBO
Westeros's foremost mall goth wears body chains, harnesses, and, like her stepbrother, plenty of fur. Also like Jon, her look doesn't change much from week to week; that doesn't make it any less fabulous. It's like Hot Topic, but make it diva and top it off with a wolf brooch.

Courtesy HBO
When Daenerys—don't call her Dany—swoops in on dragonback to save Jon Snow et al. from the White Walkers and their Army of the Dead who are steadily closing in, it wasn't yet another dragons-vs.-humans battle sequence that inspired awe in viewers. No, it was Daenerys's black-and-white fur coat, which radiated power with its structured silhouette and strong shoulders. Some proposed it looked something like Fendi couture; others, the pelt of Jon Snow's missing direwolf Ghost. Plus, her collection of dragon brooches rivals only Sansa's collection of wolf brooches.

Courtesy HBO
When Arya Stark first arrived at the House of Black and White to train to become a Faceless Man, she dumped her old clothes and her silver into the harbor, hiding only her beloved sword Needle as a reminder of the murder list she still had to check off. With her old digs rotting at the bottom of a canal somewhere in Braavos, Arya has reinvented herself as an almost-Faceless woman with a whole new wardrobe. She's apparently fond of quilting in all its shapes: In the first episode, she wears a quilted vest with an embroidered jacket over the top; in the most recent, episode 6, it's an asymmetrical quilted capelet.

Courtesy HBO