Emily Estefan, Daughter of Miami's Conga Queen Gloria Estefan, Is a Musical Multi-Hyphenate to Watch
The 23-year-old musician's Instagram is also a prime source for photos of the Estefan family in their prime.
---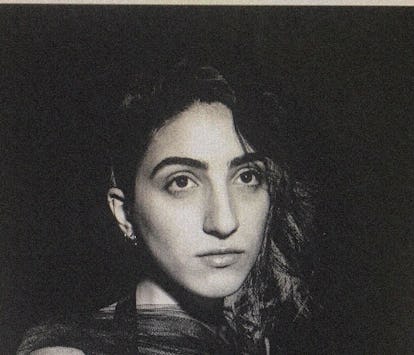 @emily_estefan
Around the Miami festival circuit this weekend, you shouldn't miss one particular descendant of musical royalty: Emily Estefan, the 23-year-old daughter of Cuban-American musical icon Gloria Estefan and producer Emilio Estefan. Emily is also a vocalist and producer herself—after the success of On Your Feet!, the jukebox musical inspired by her mother's life, she brought the Kennedy Center Honors audience to tears while performing Gloria Estefan's "Reach" in support of her mother.
The show took her mom by surprise; she had no idea her daughter would be performing in her honor that evening. In fact, her mother was actually unaware of her daughter's vocal talents until she reached the age of 18, and sang for her for the first time, according to an interview with CBS. The two wrote "If I Never Got to Tell You," one of On Your Feet!'s final songs, together for the musical shortly before taking the show on stage.
As the daughter of Miami's conga queen, it would be hard not to follow the career path of her parents. But Emily Estefan has proven repeatedly that she is a talented performer all on her own. The Berklee College of Music graduate produced and directed her debut album Take Whatever You Want by herself in 2017, and plays drums, guitar, bass and keyboard. When she's not playing the festival circuit—whether that's at Miami's Design District Performance Series or the famed Essence Festival—Estefan is curating a roster of new artists to sign for her music label, Alien Shrimp. Estefan will also perform at Miami's Ultra Music Festival—as one half of To Jasper, the musical duo she formed with her best friend Drew Atz—on March 23.
Her social media presence, boasting over 120,000 followers, is a mix of Instagram content typical of a 23-year-old. Her studio sessions, family and friends, and her three dogs—Alula, Nova, and Ocean—have all made the cut.
Around the time of the Kennedy Center Honors performance in 2017, Estefan also celebrated one year with her girlfriend, which she commemorated with a series of very long captions declaring their love.
Estefan also took to Instagram during Miami's hurricane season to share some incredibly resourceful storm safety tips.
And for every sweet throwback photo of Estefan with her parents in their prime, there are plenty of current day snaps of the Estefan family popping up all over the musician's Instagram as well.
Related: Gloria and Emilio Estefan Can't Get Enough of Madrid