Gloria and Emilio Estefan Can't Get Enough of Madrid
Cuban food may be their specialty, but the couple, both restaurateurs, still has a real soft spot when it comes to the cuisine of Spain.
---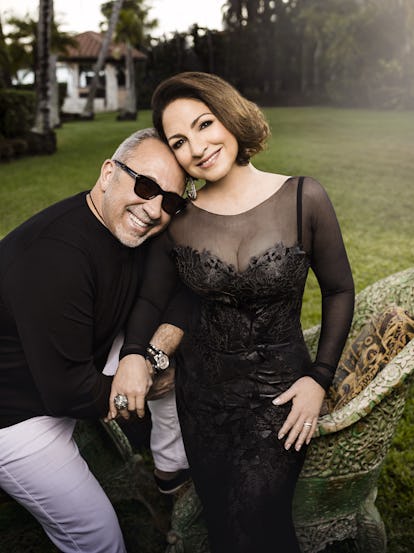 Omar Cruz
A surplus of Grammy Awards—26, between the two of them—is not the only thing that Gloria Estefan and her husband Emilio, a music producer, have in common: both also grew up in Cuba, and now share a home in Miami, along with a spread of Cuban restaurants they own together. Later this month, they're opening up another spot, Estefan Kitchen, in the Miami Design District and offering a fine-dining take on their favorite Cuban family recipes, like crispy lechón moros and vaca frita. As it turns out, though, another of their shared interests snuck in there, too: the Estefans aren't afraid to admit their passion for Spanish food, thanks to their soft spot for the city of Madrid. (For Emilio, it was his first home after he left Cuba; for Gloria, the madrileños' early, enthusiastic reception of her album Mi Tierra, which Emilio produced, will "forever mean the world.") With all that on the mind, the couple shared their guide to the Spanish capital, from their favorite local dishes to the flea market you can't miss.
Best spots to eat like a local: E&G: We love authentic, home-cooked Spanish food—in a way it's very similar to our Cuban recipes, but with a very distinct taste that makes it all its own. Some of our favorite local restaurants are Casa Paco, El Lando and Casa Lucios. It's like going to one of our relative's house for dinner. They each serve the classic fare we crave in Spanish cooking, with a great selection of meats, fish, and of course amazing Spanish wines.
Local delicacy of choice: E&G: We love cocido, which is a traditional Spanish stew. First, they serve you the meat, potatoes, vegetables, and chickpeas, and then pour on the broth. Absolutely delicious. Another one of our all-time favorites is the simple pan con tomate—fresh tomatoes, and Spanish olive oil smothered on bread. Gloria: And for me personally, I love the tiny little sardines, boquerones. They are a local delicacy and when I'm in Madrid, I can't get enough of them!
Favorite neighborhood: E&G: Puerta del Sol is our favorite part of town. It's one of the most vibrant places in the city for food and shopping and also the heart of Madrid's historic center. It was originally one of the city's historic gates marking the city limits, but has since transformed into a square bustling with people.
Favorite place to see art: Gloria: Madrid is home to a few of my favorite museums in the world, like the Museo Panteón de Goya, and the Prado and the Thyssen.
Best place to shop: Emilio: The city offers some great outdoor shopping, like the hidden gem Federica & Co or the Rastro Flea Market, the oldest market in Madrid. Cortes Ingles is also one of my favorite department stores.
Favorite place to stay: E&G: We always made the Palace Hotel our home away from home when we tour Spain; it's been pretty much the only hotel that we stay in for years. It's located in the heart of the city, making it feel like everything is at our doorstep, and the building is elegant. The grandeur of Spain's past really shines through.
Photographers "Always Ask" Kate Moss to Take Her Clothes Off