Emily Ratajkowski Shows Off Her Messy Car to Jimmy Kimmel
It's 'truly a garbage dump.'
---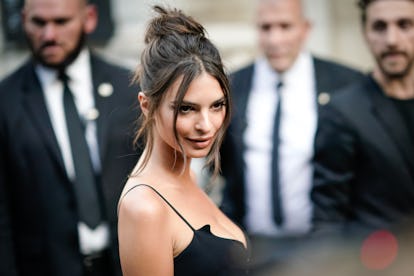 Edward Berthelot/Getty Images
There is messy, and then there is the Hoarders level of mess that can only be used to describe Emily Ratajkowski's former car. Today in "Stars — they're just like us!" comes the model and actress' interview with Jimmy Kimmel, where she opens up about her former vehicle she describes as "truly a garbage dump." The life she presents on Instagram may seem on the glamorous side, but there's always something that gets cropped out.
"So this is the inside of my car — no longer, but she was my baby for about eight years," Ratajkowski tells the talk show host after he shows her a picture of it posted to Reddit. "When most people say their car is messy they mean like dog hair and one iced coffee. [But] I'm not cute-messy. I'm real messy. So one day I went on Reddit — which no one should do, to look up their own name — and I saw someone said something nice about me like, 'Emily Ratajkowski is great to work with,' and I clicked on it and he's like, 'Then I drove her car.'"
She isn't kidding: In the photo, you can see the floor on both the driver's side and passenger's side is loaded with towering heaps of trash. But how did it get that way? "I think it made me feel at home," she says, when asked why she didn't get her car washed. "[The car] truly is a garbage dump. I cleaned it before I got rid of it and there was everything from tampons to a marionette. Some old albums. There was sort of a landing zone for your feet when you got in so you could be padded… My car was so bad that when I went to get my 2016 Christmas tree, we had to take the ties off from the 2015 Christmas tree."
This year, however, when Christmas approaches that won't be an issue as Ratajkowski has since traded in her beloved old car for a new one. As for how it compares to the now-iconic old one she lovingly named "Bubble Butt" — due to its rear always sticking out when she attempted to parallel park — Ratajkowski says, "We're only two weeks into the new car."
Surely though, she's learned to keep her car tidier by now — if not because of it one day ending up on Reddit, maybe because she's recently found the value of a clean car. Earlier this year, when she was en route to Cannes, Ratajkowski had to use her car as a makeshift atelier. "We were sewing in the car," she told Page Six of her dramatic black gown. It "wasn't finished because it was custom made [by] Peter Dundas. We were literally in traffic while he was sewing . . . to get it perfect."
Watch the clip below, which serves as excellent motivation to get organized on the road and at home.
Related:
Emily Ratajkowski Can't Stop Instagramming Her Bikini-Filled Italian Vacation
Emily Ratajkowski and Other Supermodels Talk About On-Camera Nudity:
Emily Ratajkowski Has Never Been Afraid of a Daring Look on the Red Carpet
Emily Ratajkowski first appeared on the scene in a plunging LBD and stacked pumps at the 3rd Annual NFL Honors at Radio City Music Hall on February 1, 2014 in New York City.

Getty
Emily Ratajkowski attended the 2014 InStyle and Warner Bros. 71st Annual Golden Globe Awards Post-Party on January 12, 2014 in Beverly Hills, California wearing a golden gown.

Getty
The model word a gold-chain encrusted LBD to a Golden Globes party in 2014.

GETTY
Ratajkowski attends the 18th Annual Hollywood Film Awards at The Palladium on November 14, 2014 in Hollywood, California in a cutout jumpsuit.

Getty
Lady in red. Ratajkowski attends the 52nd New York Film Festival Opening Night Gala Presentation and World Premiere Of "Gone Girl" at Alice Tully Hall on September 26, 2014.

Getty
Not one to shy away from color, Ratajkowski attends the 2015 Weinstein Company and Netflix Golden Globes After Party at Robinsons May Lot.

GETTY
For the 2015 MTV Movie Awards, the model opts for shocking neon green,

Getty
Emily Ratajkowski, in Topshop, attended her first Met Gala in 2015 for the "China: Through The Looking Glass" Costume Institute Benefit Gala at the Metropolitan Museum of Art.

Getty
For the European Premiere of We Are Your Friends, Ratajkowski chose a shining David Koma dress.

Getty
At the 2015 MTV Video Music Awards, Ratajkowski wore an Altuzarra runway look, complete with thigh-high boots.

Getty
Ratajkowski kept it casual at the grand opening of IWC Schaffhausen in 2015.

Getty
Ratajkowski attends the Miu Miu Tales 11 screening event during New York Fashion Week at EN Japanese Brasserie on February 16, 2016 in a Cher Horowitz-inspired look.

Getty
Ratajkowski sat front row at the Marc Jacobs Fall 2016 fashion show in a dress by the designer.

Getty
Ratajkowski attends the 2016 Vanity Fair Oscar Party in a sheer skirt.

Getty
Lovely in lilac, Emily Ratajkowski attends the 18th Costume Designers Guild Awards at The Beverly Hilton Hotel on February 23, 2016.

JB Lacroix
The model wore Jason Wu to the 2016 CFDA Awards, where she attended as a guest of the designer.

Getty
Ratajkowski attends the "Manus x Machina: Fashion In An Age Of Technology" Costume Institute Gala at Metropolitan Museum of Art on May 2, 2016 in Prabal Gurung.

Getty
Ratajkowski showed off her daring nature on the carpet in a mustard velvet Marc Jacobs dress.

Getty
Ratajkowski gave plunging a new definition in a sparkling LBD.

Getty
At the premiere of Netflix's 'Easy' at The London Hotel on September 14, 2016, Ratajkowski opted for a gold two-piece.

Getty
For the 2016 Emmy Awards, Ratajkowski wore a sculptural Zac Posen gown.

Getty
The model stepped out in yellow for the 2017 Golden Globe Awards.

Getty
Ratajkowski wore an '80s inspired red minidress in Los Angeles in April 2017.

Getty
For the 2017 Met Gala, Ratajkowski appeared in a sequined Marc Jacobs gown.

John Shearer
At the Cannes Film Festival, she opted for bangs and a thigh-high slit.

Getty
The model wore a jumpsuit-gown hybrid at another Cannes Film Festival event.

Getty