Emily Ratajkowski Can't Stop Instagramming Her Bikini-Filled Italian Vacation
If you could do Italy like this, you absolutely would.
---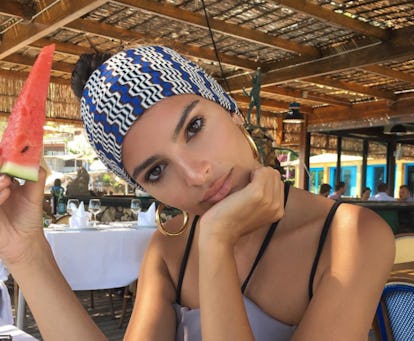 emrata/Instagram
Italy is the hottest vacation spot this summer. See Carly Rae Jepson, Riccardo Tisci, and even the Obamas. Most recently, model and actress Emily Ratajkowski spent some time in the European country. And, of course, Instagrammed the entire experience.
Ratajkowski has been exploring Italy this summer because she just finished working on a film Welcome Home with actor Aaron Paul (who also had a splendid time in Italia, thanks for asking!). The film is a thriller about a married couple who take a vacation in Italy but fall victim to their rental home's owner' s evil intentions— kind of an Airbnb horror story.
(It seems the shoot, though, was pretty much the opposite of horrific.)
But work is still work, and when Ratajkowski wrapped her film, she naturally decided to take a vacation in the area. And how was that vacation? Oh, just completely gorgeous and idyllic.
First, she got some coffee, because she was a "sleepy Em."
Then, she drank rosé on a yacht, because it was the "weekend."
Later, she drank a different drink and wore a hat. Sun protection is very important.
She marveled at the view because, like us, Ratajkowski appreciates the scenic beauty of the Amalfi Coast. Unlike us, Ratajkowski gets to see it up close.
Did she get off the boat? Yes, she did. Did she ever reveal who is taking these pictures? No, she did not!
We now present, without commentary, a triptych entitled "Emily Ratajkowski's gorgeous citrus-patterned silk shirt":
Relaxing with more wine, Ratajkowski captioned a pic, "Dolce vita," which, in this case, is very true.
Do you agree that this is "heaven on earth"? We do.
Today, the model's posts have been mostly wordless, save for the thousand or so words that each photo is worth. For instance, sometimes a watermelon is just a watermelon:
And a heart shape is a heart shape…
And, oh, OK in this one she tagged her hotel.
Nice work if you can get it!
How to Instagram Like Emily Ratajkowski
Shower pictures work best outside.

Photo by @emrata.
Same goes for bath pictures.

Photo by @emrata.
Just make sure to go inside for a bubble bath picture.

Photo by @emrata.
Know that your hands can do double duty as a bra.

Photo by @emrata.
But also feel free to let go.

Photo by @emrata.
Sometimes, shirts look better unbuttoned.

Photo by @emrata.
Always make working out look easy.

Photo by @emrata.
Two selfies are always better than one.

Photo by @emrata.
Get a manicure before you dive into a croissant.

Photo by @emrata.
Experiment with different selfie angles.

Photo by @emrata.
There's a classy way to show side-boob.

Photo by @emrata.
At the end of the day, you look way better than some stupid sunset.

Photo by @emrata.
When you have nothing to wear, just ask @KimKardashian.

Photo by @emrata.
Watch: Emily Ratajkowski, Rosie Huntington-Whiteley and More Supermodels Talk About On-Camera Nudity