Barack and Michelle Obama Are Casually Exploring Italy at the Moment
The couple seem to be acting like normal tourists in the Italian countryside. Well, sort of normal.
---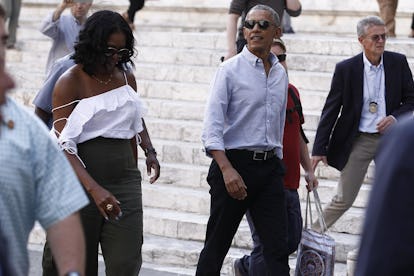 Michelle Obama, wearing Cutler & Gross sunglasses, and former President Obama on vacation in Italy. (Di Pietro/EPA/REX/Shutterstock)
While Malia Obama is spending her gap year interning in New York, her parents Barack and Michelle Obama are exploring the historic sights and culinary wonders of Italy.
Earlier this month, Barack was the keynote speaker at the Seeds & Chips Global Food Innovation Summit in Milan, and it seems that since his address, the former president and first lady have been are enjoying being normal tourists in the picturesque Italian countryside. The Obamas have been photographed out and about together in Siena, Tuscany. Separately, Michelle was recently spotted exploring the town of Montalcino in Tuscany solo in a pink, one-shouldered top, and Cutler & Gross sunglasses, while the former president seems to be setting aside some time to work on his golf game.
Of course, this Mediterranean getaway is hardly the first for the Obamas. Soon after the two departed the White House, they vacationed on Sir Richard Branson's private island resort in the British Virgin Islands, where they were doing everything from long walks on the beach to kitesurfing. Barack visited Marlon Brando's private island in French Polynesia soon after.
Next on the itinerary? The retired president will reportedly join German Chancellor Angela Merkel in Berlin Thursday as part of his new foundation's efforts to empower youth to create change.
Related: [How to Do a Gap Year Like Malia Obama, Blithe Spirit Unleashed](https://www.wmagazine.com/story/malia-obama-gap-year-new-york)
How to Jet Set Like Barack Obama
For one of his most high-profile, post White House appearances, the former president went kitesurfing in the Caribbean with Sir Richard Branson. Sure beats watching a James Comey hearing.

Photo by Jack Brockway/Getty Images
Obama is reportedly staying at Marlon Brando's private resort at the Tetiaroa atoll in French Polynesia. Brando fell in love with Tahiti while filming his 1962 movie Mutiny on the Bounty and then bought the resort. The 35-villa resort is known for its celebrity clientele, breathtaking white sand beaches, and its commitment to sustainability. Not a bad spot to work on those memoirs.

Photo: @thebrando
Villas at The Brando resort, where Obama is reportedly staying, start at around $2,000 a night. Each villa has its own private beach area and plunge pool, making it perfect for couples, like the former president and the stylish former First Lady Michelle Obama.

Photo: @thebrando
Right after President Trump's inauguration (and a quick trip to Palm Springs), the Obamas flew off to Sir Richard Branson's private Caribbean retreat, Necker Island. They went kitesurfing and yachting with Branson, and enjoyed some well-deserved vacation time here. Typically, you need to book out the whole island (up to 34 people for $80,000 per night) to stay here, but, you know, he's the former leader of the free world. Check the website to find one of the individual rooms that occasionally become available.

Photo: @virginlimitededition
Between the water sports (sailing, paddleboarding, stand up paddle polo), spa treatments, and daytime excursions, Necker Island is a lifetime removed from Washington D.C.

Photo by Jack Brockway/Getty Images
Doesn't Obama look happy? Doesn't he look ecstatic to no longer have to hear the phrases filibustering or congressional hearing on a regular basis? What's that noise? Sorry, it's hard to hear all the way up here as you're kitesurfing above the Caribbean, which just happens to be one of the must-do activities on Necker Island.

Photo by Jack Brockway/Getty Images
Obama played a round of golf at Mid-Pacific Country Club in Kailua, Hawaii recently. Though his trip was brief, he was spotted dining at Noi Thai Cuisine with his sister and one of his other go-to favorite spots, Buzz's Steakhouse in Kailua. He has a vacation home in Kailua, which is just over the Ko'olau Mountains toward the Windward side of Oahu. He typically likes to dine at local restaurants and play golf while he's on island, and that's exactly what he did this time around. This side trip to his home state was a stopover on his way to French Polynesia.

Photo by Jack Brockway/Getty Images
Obama knows Hawaii well, having been born in Honolulu, and throughout his presidency the 50th state offered a comfortable refuge far removed from the Washington scrum. Here, Obama enjoys a traditional "shave ice" from the popular Island Snow at Kailua Beach Center in Kailua, Hawaii.

Photo by Jewel Samad/Getty Images
In January, the Obamas retreated to the Palm Springs home of Michael S. Smith, who redecorated the White House when the Obamas lived there, and James Costos, ambassador to Spain and Angora during Obama's presidency. The 11,000-square-foot home, designed by architect Howard Lapham, overlooks Sunnylands, which was once owned by Walter and Leonore Annenberg and played host to many past presidents. The kept a relatively low profile during their trip to Palm Springs, but we're guessing Obama played a few rounds of golf while he was there (hopefully with his hat backwards). You can't rent out this specific Thunderbird Heights home, but you can find other sprawling estates for rent nearby on Airbnb.

Photo: @michaelsmithinc
According to the latest reports, Barack and Michelle Obama, along with close personal friends like Bruce Springsteen, Oprah, and Tom Hanks, are all hanging out together and sailing around French Polynesia on the yacht of billionaire entrepreneur Larry Ellison.

AGF/Getty Images
In early April, they all met up and ventured to Vanilla Island for lunch, making their way to Taha'a (pictured here) later in the day.

DEA / C.DANI / I.JESKE/Getty Images
And if they stick to their current trajectory, they'll make landfall in Bora Bora before returning to The Brando, where the former president will likely resume work on his memoirs while staying as far away from the White House as possible.

DEA / W. BUSS/Getty Images
Joan Smalls Goes to Havana, Cuba