How to Do a Gap Year Like Malia Obama, Blithe Spirit Unleashed
The former first daughter has been having quite a carefree rumspringa in New York.
---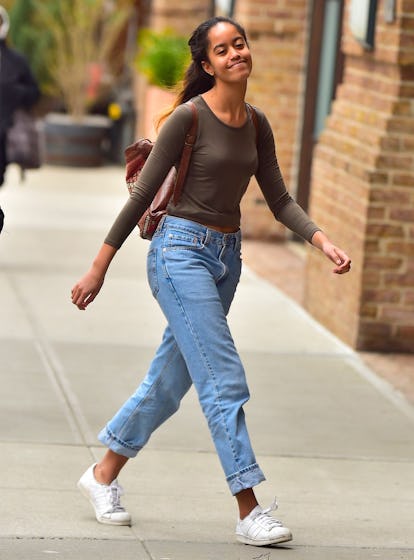 Alo Ceballos/Getty Images
Once upon a time, circa 2012, the security around the former first daughter Malia Obama, who's spent almost half of her life in the White House, was so strict that even TMZ complied when the White House sent out an angry email blast insisting they delete unapproved photos of an unchaperoned Malia, doing her best to be a normal teen at a One Direction concert.
But at the beginning of 2015, the year she turned 17, that stance slowly started to soften, beginning with the circulation of a grainy selfie of Malia in a t-shirt for Pro Era, the Brooklyn hip-hop collective. A year later, after reports of Malia's wild 18th birthday in Amsterdam, she was then captured unabashedly dancing and wagging her tongue at Lollapalooza—not to mention reportedly smoking a joint, speculation that Malia herself soon clapped back at by showing up at the Made in America festival wearing a plain white shirt on which she appeared to have scrawled, in Sharpie, "SMOKING KILLS."
This is masterful trolling, and Malia capped off the look with a Harvard hat, the school where she'll matriculate this fall after completing a gap year. And while her dad Barack Obama may be off kite surfing and Instagramming his sandy feet on Richard Branson's personal Virgin Island, Malia has been working and playing hard in equal measure. While interning for Hollywood impresario Harvey Weinstein in New York this spring, she has been having quite a rumspringa around town, most of covered it breathlessly in Page Six and other tabloids.
How to Jet Set Like Barack Obama
For one of his most high-profile, post White House appearances, the former president went kitesurfing in the Caribbean with Sir Richard Branson. Sure beats watching a James Comey hearing.

Photo by Jack Brockway/Getty Images
Obama is reportedly staying at Marlon Brando's private resort at the Tetiaroa atoll in French Polynesia. Brando fell in love with Tahiti while filming his 1962 movie Mutiny on the Bounty and then bought the resort. The 35-villa resort is known for its celebrity clientele, breathtaking white sand beaches, and its commitment to sustainability. Not a bad spot to work on those memoirs.

Photo: @thebrando
Villas at The Brando resort, where Obama is reportedly staying, start at around $2,000 a night. Each villa has its own private beach area and plunge pool, making it perfect for couples, like the former president and the stylish former First Lady Michelle Obama.

Photo: @thebrando
Right after President Trump's inauguration (and a quick trip to Palm Springs), the Obamas flew off to Sir Richard Branson's private Caribbean retreat, Necker Island. They went kitesurfing and yachting with Branson, and enjoyed some well-deserved vacation time here. Typically, you need to book out the whole island (up to 34 people for $80,000 per night) to stay here, but, you know, he's the former leader of the free world. Check the website to find one of the individual rooms that occasionally become available.

Photo: @virginlimitededition
Between the water sports (sailing, paddleboarding, stand up paddle polo), spa treatments, and daytime excursions, Necker Island is a lifetime removed from Washington D.C.

Photo by Jack Brockway/Getty Images
Doesn't Obama look happy? Doesn't he look ecstatic to no longer have to hear the phrases filibustering or congressional hearing on a regular basis? What's that noise? Sorry, it's hard to hear all the way up here as you're kitesurfing above the Caribbean, which just happens to be one of the must-do activities on Necker Island.

Photo by Jack Brockway/Getty Images
Obama played a round of golf at Mid-Pacific Country Club in Kailua, Hawaii recently. Though his trip was brief, he was spotted dining at Noi Thai Cuisine with his sister and one of his other go-to favorite spots, Buzz's Steakhouse in Kailua. He has a vacation home in Kailua, which is just over the Ko'olau Mountains toward the Windward side of Oahu. He typically likes to dine at local restaurants and play golf while he's on island, and that's exactly what he did this time around. This side trip to his home state was a stopover on his way to French Polynesia.

Photo by Jack Brockway/Getty Images
Obama knows Hawaii well, having been born in Honolulu, and throughout his presidency the 50th state offered a comfortable refuge far removed from the Washington scrum. Here, Obama enjoys a traditional "shave ice" from the popular Island Snow at Kailua Beach Center in Kailua, Hawaii.

Photo by Jewel Samad/Getty Images
In January, the Obamas retreated to the Palm Springs home of Michael S. Smith, who redecorated the White House when the Obamas lived there, and James Costos, ambassador to Spain and Angora during Obama's presidency. The 11,000-square-foot home, designed by architect Howard Lapham, overlooks Sunnylands, which was once owned by Walter and Leonore Annenberg and played host to many past presidents. The kept a relatively low profile during their trip to Palm Springs, but we're guessing Obama played a few rounds of golf while he was there (hopefully with his hat backwards). You can't rent out this specific Thunderbird Heights home, but you can find other sprawling estates for rent nearby on Airbnb.

Photo: @michaelsmithinc
According to the latest reports, Barack and Michelle Obama, along with close personal friends like Bruce Springsteen, Oprah, and Tom Hanks, are all hanging out together and sailing around French Polynesia on the yacht of billionaire entrepreneur Larry Ellison.

AGF/Getty Images
In early April, they all met up and ventured to Vanilla Island for lunch, making their way to Taha'a (pictured here) later in the day.

DEA / C.DANI / I.JESKE/Getty Images
And if they stick to their current trajectory, they'll make landfall in Bora Bora before returning to The Brando, where the former president will likely resume work on his memoirs while staying as far away from the White House as possible.

DEA / W. BUSS/Getty Images
Malia moved into town in late January, just in time for the end of her dad's second term—and the start of New York Fashion Week: Men's, where she made friends with a tall and handsome man (whom some confused for a male model). Since then, she's consistently kept muscly company around in the form of her bodyguard, who escorts her each day to a crowd of paparazzi waiting in Tribeca at the entrance to her internship at Weinstein Co.
Which means now, happily, there's a trove of Malia Obama intern style documentation. A survey suggests that Malia, who was reportedly already pitching scripts to executives in her first week, is perhaps equally confident—brazen even—in her office attire, which has ranged from an oversized maroon parka that goes past her shorts, worn with the fur hood pulled down over her eyes, to crop tops and mom jeans topped off with a swinging high pony. (Is her apparent taste for thrift shopping due to being a big fan of vintage, or is even Malia Obama victim to her $9/hour intern wages?)
This entire gap year is an extravagant extracurricular, but Malia is stacking her deck. In between reporting to Weinstein for duty, she's also out here for past employer Lena Dunham, who was Malia's boss when she interned on the set of Girls in 2015. Just a couple of weeks after moving to the city, Malia went to the premiere of the final season of Girls, where she received both a glowing review from Dunham in the press and stuck around for the after-party to dance with Jemima Kirke, Aidy Bryant, Judd Apatow, and Zadie Smith. After which she resurfaced in a Lower East Side club to continue the dance party with Jenna Lyons at the buzzy New York brand Palomo Spain's Fashion Week party until three in the morning. (You can bet the paparazzi caught her still arriving at work on time the next morning.)
In fact, despite a persistent stalker and the pesky, photographer-friendly fact that she's 6'1", Malia has seemed determined to keep going out: She's also been spotted at clubs like Up & Down—"just drinking Red Bull," mind you. Still, thanks to a little help from Drake, Malia hasn't entirely forgotten about her life in D.C. A month or so after she'd settled in, Dad Obama came to town to bring Malia backstage on Broadway to hang with the cast of Arthur Miller's The Price, a family outing that ended with Malia holding hands with Danny DeVito, next to Mark Ruffalo.
Even for someone working in film, there seems to be an awful lot of movie stars hanging around Malia. She saw Tom Hanks speak with Bruce Springsteen at the Tribeca Film Festival, bringing along a friend to a sidewalk café last week (apparently, she was on a break from her favorite lunch spot, the Whole Foods in Tribeca). Increasingly the New Yorker, Malia was wearing a black denim jacket with zippers that went all the way up the sleeves, and she'd swapped out her Harvard cap for a new allegiance—to the New York Giants. Welcome to New York, Malia.
See W's most popular videos: