Hugh Grant Mourns Passing Of Actress Emma Chambers, Who Played His Sister In Notting Hill
Chambers was beloved for her many roles including Alice in The Vicar Of Dibley.
---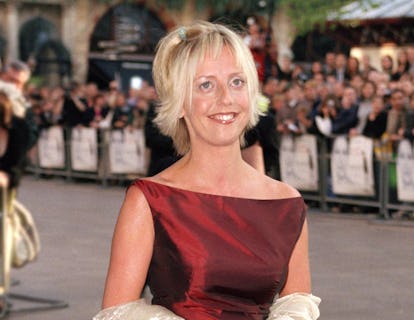 Photo by Justin GoffUK Press via Getty Images
Hugh Grant, Dawn French and other co-stars, friends and fans of British actress Emma Chambers are mourning Chambers' passing this morning after it was announced that the actress was dead at the age of 53. Chambers is best known for her roles as Honey, younger sister of Hugh Grant's character William Thacker, in 1999's Notting Hill, and for playing Alice on BBC Comedy The Vicar Of Dibley.
Both Grant and Vicar of Dibley co-star Dawn French posted fond memories of Chambers on Twitter, with Grant recalling, "Emma Chambers was a hilarious and very warm person and of course a brilliant actress. Very sad news." and French writing, "I was regularly humped like this by the unique & beautiful spark that was Emma Chambers. I never minded. I loved her. A lot."
The Man In The High Castle star Rufus Sewell recalled working with Chambers in the theatre, writing that the "lovely, warm and hugely gifted person" was "a late addition to our theatre company at the Crucible Sheffield many years ago. It's fair to say she woke us all the f-ck up."
Though the information was just made public, IMDb lists her date of death as February 21; CNN also reports that she passed on Wednesday. She is survived by her husband, fellow actor Ian Dunn.
In a statement to Entertainment Weekly, Chambers' agent, John Grant, said, "We are very sad to announce the untimely death, from natural causes, of the acclaimed actress, Emma Chambers. Over the years, Emma created a wealth of characters and an immense body of work. She brought laughter and joy to many, and will be greatly missed. At this difficult time we ask that the privacy of the family and loved ones be respected."
Related: Whistle-Blower Hugh Grant Makes a Return to Hollywood
Sting and Uma Thurman.
Photo by Patrick McMullan.
Gina Gershon. Photo by
Patrick McMullan.
Hugh Dancy and Luke Parker Bowles.
Photo by Patrick McMullan.
Alina Baikova.
Photo by Patrick McMullan.
Jeffrey Fletcher.
Photo by Patrick McMullan.
Cush Jumbo and Erin Richards.
Photo by Patrick McMullan.
Celine Rattray and Kelly Rutherford.
Photo by Patrick McMullan.
Zuleikha Robinson.
Photo by Patrick McMullan.
Debbie Bancroft.
Photo by Patrick McMullan.
Ian Nelson.
Photo by Patrick McMullan.