Emma Ellingsen, Norway's Rising Kendall Jenner, Wants You to Know That She's Transgender
The 17-year-old model, vlogger, and Scandinavian It girl is turning taking selfies into activism.
---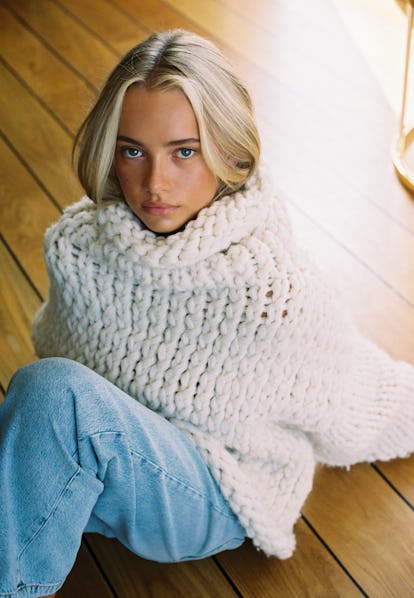 Luke Abby for W
Most of the Scandinavian It girls who've been making such a splash these days achieved their status by showing off their street style between fashion shows in cities like Stockholm and Copenhagen. Emma Ellingsen is the latest to join their influential ranks, despite the fact that she lives an hour outside of Oslo and has never been to Fashion Week. She does, however, have 250,000 followers on Instagram and 250,000 subscribers on YouTube. With a quick scroll through her selfie-filled feed, it's easy enough to understand how Ellingsen, who just turned 17, has already made it. And it's also easy enough to fall in love with her feed without knowing that she's transgender.
Ellingsen was already making a name for herself before she took a departure from her usual YouTube videos by uploading her first in English, titled simply "I'M TRANSGENDER," last July. After that, her follower count and popularity exploded, and hasn't stopped growing since.
This summer, while her friends were preparing to head back to school, Ellingsen was signed to Heartbreak Management, the Oslo- and Copenhagen-based agency that represents models like the fashion favorite Lexi Boling. She'll be taking the year off from school, she explained on a recent afternoon on the phone from Norway, to focus on modeling and make the time to star in an upcoming Norwegian TV series. Kicking off the new phase of her career, she posed in a shoot for W, wearing only Norwegian designers, and tried her hand at something she'll also no doubt soon be devoting her time to: doing press in English. She talked about mixing social media with activism, dealing with haters, and why she wants the world to know that she takes up to 1,000 selfies before posting on Instagram, here.
Are you getting into back-to-school mode right now?
I actually just took a year off to focus on everything, which is pretty cool. I went on summer vacation with all of my friends, and now that they've started school, I've started working, trying to do different things with social media and modeling and post more videos and everything. I really want to go back to school one day—I have two years left until I graduate—but I just feel like this is the right thing to do right now.
How have your parents reacted to you taking time off? Are they supportive?
They're very supportive—they said that school will always be there, but I get so many opportunities now that will just go away if I put them off. I want to try modeling—I just signed with an agency—and I've started doing social media collaborations with Norwegian brands. I also just want to post more videos and get better at uploading. But it's definitely something different to my parents; my mom works in a doctor's office, and my dad works on cars, and they don't really know about this world, about social media and everything, so they're pretty impressed and I think proud of what I've achieved. I look at it as work, because I do make and try to make money, but I also do it for my own pleasure. I definitely try to have fun.
What was your first experience with Instagram?
I first got it in sixth grade, probably when I was 11 or something. I just thought it was a lot of fun and got a passion for it really quick, so I just started posting pictures, and then I started gaining followers.
Who did you first start following?
Selena Gomez, Justin Bieber, Miley Cyrus—all of the people from the Disney community, because that's what I was watching. But after a while, I started following fashion pages for inspiration, like @passiionforfashion.
What about now—who are some of your favorite people to follow?
I really love how Kendall Jenner and Bella Hadid post a lot of fashion, but also just very cool, kind of different pictures. I don't know of any Norwegian models who post like they do. But there's a Norwegian blogger, Anniken Jørgensen, whose page I love—I think she has really cool style.
What are some of your favorite places to shop in Norway?
I live an hour away from Oslo—it's just a train ride and I'm there—so I go there for work and to shop at vintage stores. Where I live, though, we don't have Zara or anything, and I really feel like no one really wants to be different. All of the girls wear the same thing. So I've been trying be be more myself in my style—I've been wearing a lot of mom jeans lately. [Laughs.] I really admire Kendall Jenner's style, because it's really laid-back, so I get a lot of inspiration from her and whoever else I see on my Explore page on Instagram—when it's not all makeup and cute boys. [Laughs.]
Do you ever slide into people's DMs?
Not that much, but sometimes I try. Sometimes I get answers, and sometimes I don't—I usually just say, "Hey," or "You're cute," and hope they answer, which they don't always do.
Do you read your own DMs?
I don't get to answer every single person, but I actually try to read every one I get. But some of it's just hate or weird things, like people asking me to send them money. [Laughs.]
Do you read the comments, too?
Always, and I like every single one of the nice ones, because people actually take time out of their day to do that. I only sometimes respond to the negative ones, because I can get irritated, but a lot of the time I just ignore them. The first hate comments I got made me a little bit sad, but now, if anything, I'm just like, Ugh. But I'd say, like, 99 percent of the comments I get are nice and positive.
Did the comments you get change at all after you came out as trans?
Well, also because I made that video in English, I got a lot of comments from people from other countries saying things like, "This is not right." But I was very prepared for it. I knew I was going to get some hate from people from outside of Norway, because it's a very open country and everyone's pretty supportive here, which I know isn't true for everywhere. And then here were also a lot of people who would tell me they'd seen the video and were also trans, and some people from Norway who've told me that what I do has inspired them to come out and be themselves, which makes me very happy.
Has it always felt so accepting there? Have you ever felt like you were discriminated against in Norway?
I'd say Norway is pretty accepting; it's come a long way, maybe especially compared to other countries. I've never been bullied, and I've always been open about my situation, so maybe it's because people don't want to say something rude. I think it's pretty accepting for transgender models in Norway, too—I don't think the agencies here are really thinking about that.
Your coming out video was actually the first one that you posted in English. Was the idea behind that to reach a wider audience?
Definitely. I just wanted to talk about my story and share it with the world, and kind of normalize the fact that some people are transgender. I don't think I would have the amount of followers I do now if I didn't post in English; I actually just checked last night, and 39 percent of my followers are Norway, and the rest are from all over the world. I actually get a lot of comments now that I don't understand, because they're in languages I don't speak, like French.
Before that video, what was your first experience with going viral?
A year ago, a lot of English-speaking people saw a Norwegian makeup video I posted on YouTube, and everyone was like, "You have to speak in English!" I think I had around 40,000 subscribers then, but I didn't gain too many after, because it was all in Norwegian. After I started doing English videos, though, I gained a lot of followers, and another video of mine, which is me coloring my hair pink, just hit a million, which is the second most after my transgender video. After I posted that, I also got a lot of
new followers on Instagram, and a lot of them were English-speaking, too.
You were also in a documentary when you were growing up that was quite popular in Norway. Did that make you famous there?
It wasn't like I was famous, but I got a lot of attention in Norway. A lot of people were curious and wanted to know more about my situation. I realized I was transgender when I was really young, like 8 or 9. My mom showed me a documentary she found on TV, and even though it was in English, which I couldn't understand, I still understood a lot of it; I was like, Me, too. So the documentary that I did after—the name translates to Born in the Wrong Body—was basically just me and other kids in Norway, just talking about our lives and everything about being trans. I'm actually still pretty close with some of them, and I'm going to be in another series soon, too, called Generation Z.
Is it related to Born in the Wrong Body?
No—it's still all Norwegian people, and a Norwegian show, but it's just about how different our generation's world is from the one that our parents knew, with social media and how you don't need to go to school to do everything, like how I started using YouTube. The series follows seven kids and shows how their lives are as artists, boxers, YouTubers—a lot of different things. The scenes I've filmed so far have been of me on the set of this shoot, visiting a modeling agency, hanging with friends. Nothing's set up—they're just there with a camera, filming—so it's not really documentary or reality TV, but there's a bit of that.
Would you want to be, say, the Norwegian Kendall Jenner?
You know, I wouldn't mind. [Laughs.] But actually, I like her and I like her Instagram, but I don't know if I could have her life. I like to use social media as a platform for speaking out about me being transgender. And I also just think it's a lot of fun. I love getting ready for and taking pictures for Instagram.
What are your tips for taking selfies?
The main thing is good lighting. Just wear something you're comfortable in and do poses that you feel comfortable doing. Also, for me, I just hold down the button and take a lot—a lot, meaning, like, from 500 to 1,000.
Do you have a finsta?
I actually have two different accounts for my friends to follow. One is for all of my friends—it has, like, 140 followers—and the other one is just for my closest friends, which has like 40-something followers. That's where I put all the weird, silly things, like memes and ugly pictures of me, like, trying to be cute but looking super ugly—one of the thousand I take to actually get a good Instagram. [Laughs.]
How do you feel about thirst traps?
I don't know if we have something like that in Norway, but I think that if you feel hot in the picture, post it. I just don't like people posting pictures just to get likes or attention. Post it if you're happy with the picture, but don't post it trying to get attention from every single girl in the world.
Is there anything you would never post?
I don't think I would post myself in underwear. That's definitely a no.
Do you have a favorite meme?
I like Vine memes, and I definitely prefer English memes. Norwegian memes are definitely not as funny.
How do you unplug?
I try not to always have my phone with me. Like, I won't bring it along when I'm going to the grocery store or something. I just try to think of everything else. But I'm definitely on the phone the most when I'm in bed.
Is there anything about you that your followers don't see on social media, but you wish people knew about you?
I think a lot of people think this in general on Instagram, but some people will see pictures of me and think, Oh, that's a pretty girl. And I think it's important to think about how I took probably 1,000 pictures before I made that post, and only two of them turned out good. You have to remember that not everyone on Instagram is perfect and pretty 24-7, because we're not.
Related: Meet the Faces of New Pandemics, the LGBTQ+ Agency That Could Change Modeling Forever
Scandinavian It Girls Are Reigning Supreme at Copenhagen Fashion Week
Street Style in Copenhagen, Denmark during Copenhagen Fashion Week Fall 2018. Photo by Adam Katz Sinding for W Magazine.

2017 Adam Katz Sinding
Street Style in Copenhagen, Denmark during Copenhagen Fashion Week Fall 2018. Photo by Adam Katz Sinding for W Magazine.

2017 Adam Katz Sinding
Street Style in Copenhagen, Denmark during Copenhagen Fashion Week Fall 2018. Photo by Adam Katz Sinding for W Magazine.

2017 Adam Katz Sinding
Street Style in Copenhagen, Denmark during Copenhagen Fashion Week Fall 2018. Photo by Adam Katz Sinding for W Magazine.

2017 Adam Katz Sinding
Street Style in Copenhagen, Denmark during Copenhagen Fashion Week Fall 2018. Photo by Adam Katz Sinding for W Magazine.

2017 Adam Katz Sinding
Street Style in Copenhagen, Denmark during Copenhagen Fashion Week Fall 2018. Photo by Adam Katz Sinding for W Magazine.

2017 Adam Katz Sinding
Street Style in Copenhagen, Denmark during Copenhagen Fashion Week Fall 2018. Photo by Adam Katz Sinding for W Magazine.

2017 Adam Katz Sinding
Street Style in Copenhagen, Denmark during Copenhagen Fashion Week Fall 2018. Photo by Adam Katz Sinding for W Magazine.

2017 Adam Katz Sinding
Street Style in Copenhagen, Denmark during Copenhagen Fashion Week Fall 2018. Photo by Adam Katz Sinding for W Magazine.

2017 Adam Katz Sinding
Street Style in Copenhagen, Denmark during Copenhagen Fashion Week Fall 2018. Photo by Adam Katz Sinding for W Magazine.

2017 Adam Katz Sinding
Street Style in Copenhagen, Denmark during Copenhagen Fashion Week Fall 2018. Photo by Adam Katz Sinding for W Magazine.

2017 Adam Katz Sinding
Street Style in Copenhagen, Denmark during Copenhagen Fashion Week Fall 2018. Photo by Adam Katz Sinding for W Magazine.

2017 Adam Katz Sinding
Street Style in Copenhagen, Denmark during Copenhagen Fashion Week Fall 2018. Photo by Adam Katz Sinding for W Magazine.

2017 Adam Katz Sinding
Street Style in Copenhagen, Denmark during Copenhagen Fashion Week Fall 2018. Photo by Adam Katz Sinding for W Magazine.

2017 Adam Katz Sinding
Street Style in Copenhagen, Denmark during Copenhagen Fashion Week Fall 2018. Photo by Adam Katz Sinding for W Magazine.

2017 Adam Katz Sinding
Street Style in Copenhagen, Denmark during Copenhagen Fashion Week Fall 2018. Photo by Adam Katz Sinding for W Magazine.

2017 Adam Katz Sinding
Street Style in Copenhagen, Denmark during Copenhagen Fashion Week Fall 2018. Photo by Adam Katz Sinding for W Magazine.

2017 Adam Katz Sinding
Street Style in Copenhagen, Denmark during Copenhagen Fashion Week Fall 2018. Photo by Adam Katz Sinding for W Magazine.

2017 Adam Katz Sinding
Street Style in Copenhagen, Denmark during Copenhagen Fashion Week Fall 2018. Photo by Adam Katz Sinding for W Magazine.

2017 Adam Katz Sinding
Street Style in Copenhagen, Denmark during Copenhagen Fashion Week Fall 2018. Photo by Adam Katz Sinding for W Magazine.

2017 Adam Katz Sinding
Street Style in Copenhagen, Denmark during Copenhagen Fashion Week Fall 2018. Photo by Adam Katz Sinding for W Magazine.

2017 Adam Katz Sinding
Street Style in Copenhagen, Denmark during Copenhagen Fashion Week Fall 2018. Photo by Adam Katz Sinding for W Magazine.

2017 Adam Katz Sinding
Street Style in Copenhagen, Denmark during Copenhagen Fashion Week Fall 2018. Photo by Adam Katz Sinding for W Magazine.

2017 Adam Katz Sinding
Street Style in Copenhagen, Denmark during Copenhagen Fashion Week Fall 2018. Photo by Adam Katz Sinding for W Magazine.

2017 Adam Katz Sinding
Street Style in Copenhagen, Denmark during Copenhagen Fashion Week Fall 2018. Photo by Adam Katz Sinding for W Magazine.

2017 Adam Katz Sinding
Street Style in Copenhagen, Denmark during Copenhagen Fashion Week Fall 2018. Photo by Adam Katz Sinding for W Magazine.

2017 Adam Katz Sinding
Street Style in Copenhagen, Denmark during Copenhagen Fashion Week Fall 2018. Photo by Adam Katz Sinding for W Magazine.

2017 Adam Katz Sinding
Street Style in Copenhagen, Denmark during Copenhagen Fashion Week Fall 2018. Photo by Adam Katz Sinding for W Magazine.

2017 Adam Katz Sinding
Street Style in Copenhagen, Denmark during Copenhagen Fashion Week Fall 2018. Photo by Adam Katz Sinding for W Magazine.

2017 Adam Katz Sinding
Street Style in Copenhagen, Denmark during Copenhagen Fashion Week Fall 2018. Photo by Adam Katz Sinding for W Magazine.

2017 Adam Katz Sinding