Noah Centineo From To All the Boys I've Loved Before Responds to Becoming the Internet's Newest Boyfriend
There's a new Internet Boyfriend in town, and his name is Noah Centineo.
---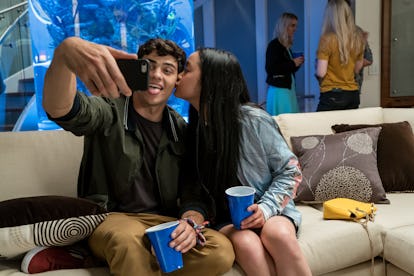 Awesomeness Films/Netflix
Let it be known that on the weekend of August 18, 2018, the Internet gained a new boyfriend. Everyone fell in love with Noah Centineo seemingly overnight, but the 22-year-old actor has been hiding in plain sight. In To All the Boys I've Loved Before, Centineo plays Peter Kavinsky, the scheming lacrosse player with a sensitive side, who becomes the object of affection of Lara Jean Covey (played by Lana Condor), a nerdy high school junior who is obsessed with romance novels and realizes that the five love letters she wrote to all of the boys she's ever crushed on have somehow been delivered. Peter—her first kiss from the seventh grade who is now popular—decides to perform a fake relationship with Lara Jean in an attempt to get back at his ex-girlfriend for breaking up with him.
The movie adaptation of Jenny Han's young adult novel is like She's All That, 10 Things I Hate About You, and Sixteen Candles all rolled into one—it's a cutesy romantic comedy marketed toward teens but resonant with plenty of adults online thanks to its obvious homage to the John Hughes films that defined a decade, and thanks to Peter Kavinsky, Noah Centineo has become the unexpected Internet Boyfriend of 2018. By the end of the film, Lara Jean, in all of her obtuse solipsism, eventually realizes that her fake relationship was never really all that fake, and the surprisingly sensitive Peter has been there for her all along. You could say Centineo's rise to recognition follows a similar path to that of Peter Kavinsky winning his way into Lara Jean's heart.
While most fans were introduced to the 22-year-old Florida native via this movie role, Centineo got his start on the Disney Channel before graduating to Freeform, replacing Jake T. Austin on The Fosters, then appearing as Camila Cabello's love interest in the music video for her sizzling song of summer, "Havana." As Peter Kavinsky, the actor has unlocked a whole new level of fandom coming from teens and young adults online. Centineo will play a romantic lead again in Sierra Burgess Is a Loser, another Netflix movie aimed at teens but sure to appeal to adults, and then he'll star in The Stand-In, with Camila Mendes of Riverdale fame. Centineo is going to be booked n the role of the understated heartthrob for quite some time, but for now he's keeping his head on straight while navigating the 2.4 million Instagram followers he gained in a matter of days, learning about the definition of the term "thirst trap," and challenging everyone to put their phones down for 10 minutes.
Fans of The Fosters have been familiar with you for a few years now, but as Peter Kavinsky in To All the Boys I've Loved Before, you've nearly broken the Internet. What do you think of the audience reception of your character?
I think that romantic comedies have a special place in most people's hearts, especially the younger demographic. I think the characters were pretty well developed, specifically in To All the Boys I've Loved Before, and I'm not surprised because there's a lot of love in that film. Jenny Han, the author of the book, did so much to develop the story, and Awesomeness and Overbrook Entertainment did so much to turn it into a film. There's so much love. I'm just happy people can relate to it.
Can you relate to Peter Kavinsky? Were you like him at all when you were in high school?
I can relate to him because he was going through some stuff with his parents, and because of that he had this outer shell and, really, inside he's a sensitive character. I'd like to think of myself as the same. Although, I don't think I'm as abrasive as Peter Kavinsky!
The rom-com resurgence definitely seems to be at a peak right now. What are some of your favorite romantic comedies?
Oh, man. I love 13 Going on 30, I love Failure to Launch, I love How to Lose a Guy in 10 Days. I love What Happens in Vegas, You've Got Mail. Serendipity is one I really, really love. It's great! [Laughs.] I take it you're a fan of rom-coms as well?
Of course. And speaking of the popularity of your film, I noticed yesterday morning you had around 1 million followers, and by the end of the night I saw the number had grown to over 2 million in less than a day. How are you handling that massive amount of attention on social media?
It hasn't really affected me yet. Whatever the numbers are, it's just a device, you know? [Laughs.] It's not like all of a sudden, I have 2.4 million people with me all the time. Nothing's really changed in my day to day.
For now!
Well, until my head gets so big I float up to Mars or something. [Laughs.]
What was your first experience with Instagram?
I chose the handle, @ncentineo, because it was something I'd used before. I don't know; I thought it was dope! I was like, I can post pictures of myself and what I'm doing for my friends to see. I always want my Instagram to be an expression of myself, an appendage of who I am. I understand in a business mind-set that people would say that when your following grows it becomes part of your brand and more of a business, and it's no longer your personal entity. I can get behind that to a certain extent, but at the same time I don't want to commercialize myself. Obviously, I understand the benefits of promoting my work and other people's work, and getting behind certain people's projects. Maybe I'll do a little bit of that for sure, but hopefully the things I'm promoting are altruistic in nature, or for the better of myself and other people around me. I never want to lose contact and sight of my expression and authentic creativity. Who knows! Maybe I'll become a completely different person, but hopefully nothing changes too much.
I notice on your Twitter that sometimes you will tweet about social issues, like the lack of clean water in Flint for example, and even in To All the Boys I've Loved Before, there's a scene where Peter calls out a racist caricature in Sixteen Candles, and The Fosters definitely addressed a variety of social issues as well. Is that something you'd like to use your social media platform for?
Absolutely. I'm currently strategizing the best way for me to leverage my platform, my growing platform, my friends' platforms, to help fight a various group of social injustices. Currently, I'm not really able to discuss it because it's still in the developing process, but to answer your question, absolutely.
Who are some of your favorite people to follow?
I like photography accounts. There's this guy, he's a photographer, I think his account handle is @harisnukem, I love his work. There's @freulerart, they post really beautiful, different forms of art expression. I like things that are visually stimulating, and things that move me, as opposed to falling an individual to see what they're up to in their day to day. It's more, So, what can I follow that will inspire me?
Do you have a finsta?
I think I might, but I don't remember. I haven't used it in well over a year.
You might need it if your follower count keeps going up.
Maybe!
What's your go-to selfie tip?
[Laughs.] Find your light! [Laughs.] I don't know. It's a lighting thing more than anything, and an angles thing. I don't really have any tips, but lighting is everything.
What's your opinion on thirst traps?
What's that? A thirst trap?
When you know you look good, and you post a photo of yourself looking really good, knowing that it will attract people or trap people into liking your photos and looking at your account because they're thirsty, that's a thirst trap.
[Laughs.] That's a cool name! I think for a lot of people, the point is to get high engagement and likes on their photos, so I think it's just good marketing. But at the same time, if you're posting pictures and you look nothing like your pictures, then it's false advertising.
What's the best way to slide into someone's DMs, especially if you're into the person?
I don't know! There's not really a good way to do it.
It is potentially embarrassing for all parties involved.
I mean, I'm definitely not a master of it, that's for sure. There have been times I've seen a girl on Instagram, and I've been like, Oh, my God, she's beautiful. And then you look at the Instagram, and you're like, Wow, yeah, she's so beautiful and cool! But, again, you're like, I don't know if this girl is anything like this, because Instagram is a facade of happiness for people pretending to be more happy than they are. Then it's like, Hey, I'm reaching out to you and I don't know you. It's such a "my generation" thing. I would so much rather meet somebody in real life.
Is there anything you would never post?
I mean, yeah, sure. I don't think I would ever shame someone.
Is there anything about you that your followers don't see on social media, but you wish people knew about?
I don't think so. I think I balance it pretty well, the happy posts and the model posts or whatever, with, like, the existential, pensive, depressed posts. I try not to overload it with the dark stuff. Just because everyone gets real worried when I post something that's dark. For good reason! For good intentions, they feel that way, because they're like, I don't want you to be sad. But being sad is such a beautiful thing! We've been given the full spectrum of emotions for good reason, and it helps us be happy in my opinion. I think it's totally normal to be sad, or angry, or frustrated, hopeless at moments. I don't think we would've been given these things if they were bad.
So you use social media as a form a therapy sometimes?
I think I use writing as a catharsis. I feel sometimes that I'd like to share that with people, so Instagram becomes a vehicle. It's about giving forms of expression that have come from me to people with the hope that maybe they read it and can identify or relate to it, or maybe even learn something or have a thought. If I can inspire one spark of awareness or get a spark of introspection or reflection about someone else's life, that's a beautiful thing, in my opinion.
What sort of stuff are you writing right now?
Just stream of consciousness, whatever I'm thinking or going through. I'll just write it. Sometimes it rhymes, so it could be like spoken word poetry, other times it's just narratives. But nothing formulaic yet.
My last Social Q is, how do you unplug?
It's pretty easy, I put my phone down.
That's not always easy!
I love it! Like, at the gym I don't touch my phone. When I go on a hike, I leave my phone in the car. If I'm eating, I'll leave my phone places and don't touch it for a few hours, daily. It's super important! Meditate. [Laughs.] Here's the thing: It's so simple, even if you put your phone down once a day and walk around the block in your neighborhood, you don't have to do anything for longer than 10 minutes, but if you consciously put your phone down, and go outside and walk around, or read for 10 minutes or do something not on your phone intentionally for a second where it forces you to engage with the outside world, it's very therapeutic and invigorating!
I need to do that later today.
Do it! I challenge you to put your phone down and walk for a couple blocks without it! When this comes out, you gotta put at the end of it, "And by the way, P.S., I went on the walk."
Related: How Joey King Handles Her Kissing Booth Fame, Which Multiplied Her Instagram Following Tenfold