Never Goin' Back Star Maia Mitchell Is Going to Be All Over Your Instagram Feed This Summer
The Australian actress Maia Mitchell made a splash on Disney Channel five years ago, but this summer she'll finally get her big silver screen break.
---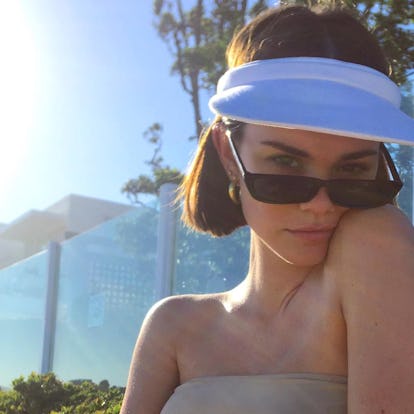 Photo by @maiamitchell.
Maia Mitchell is about to be all over your Instagram feed this summer (if she isn't already).
The 24-year-old Australian actress made a splash in Teen Beach Movie and Teen Beach 2, Disney's answer to the easily satirized teen surfer flicks of the 1950s, before making her moves from Disney Channel to the silver screen and back to cable television again.
In addition to her role in the Timothée Chalamet film Hot Summer Nights, this summer you can catch Maia Mitchell in Augustine Frizzell's buddy comedy Never Goin' Back, about two high school dropouts, played by Mitchell and her co-star Camila Morrone, as they sign up to work back-to-back shifts at their diner day job so that they can afford a trip to the beach in Galveston, Texas. The film is a wild ride for these two—their accidentally drug-fueled antics land them in some seriously sticky situations (quite literally)—and Morrone and Mitchell prove that they have both the chemistry and the acting chops to simultaneously handle some raunchy gross-out gag humor and uplifting, emotional heart-to-heart sessions.
Those familiar with Mitchell will know that her portrayal of Callie on The Fosters, a progressive Freeform blended family drama that ran for five seasons, is already indicative of her range as an actress. She and her co-star Cierra Ramirez—who played foster siblings turned best friends—will star in a spin-off called Good Trouble, which follows the pair and their adventures as roommates in Los Angeles. After five years on The Fosters, Mitchell and Ramirez have cultivated a friendship that extends past the screen, according to their respective social media presences, where Mitchell often shares sweet snaps of the two for her nearly 5 million Instagram followers. Their best friendship is even sealed with (somewhat) matching tattoos.
And Mitchell's relationship with Vine (RIP) star Rudy Mancuso has blossomed into a creative partnership in which the two share music they've made together on Instagram.
Congruous with her character on The Fosters, who stands up to ICE agents after raids at her school in the final season of the show, Mitchell also uses her social media platform for activist purposes; she protested the separation of immigrant families at the U.S. borders in June, and attended the second annual Women's March, in January.
Mitchell may have started on Disney Channel and Freeform, but she's grown up right along with her characters, and this summer she will finally get the big break on the silver screen she deserves.
Related: Who Is Camila Morrone? Meet the 20-Year-Old Model and Actress