Who Is Camila Morrone? Meet the 20-Year-Old Model and Actress Who Has Been Spotted with Leonardo DiCaprio
She's part of Kendall Jenner's feral pigs squad, and Al Pacino's stepdaughter, for starters.
---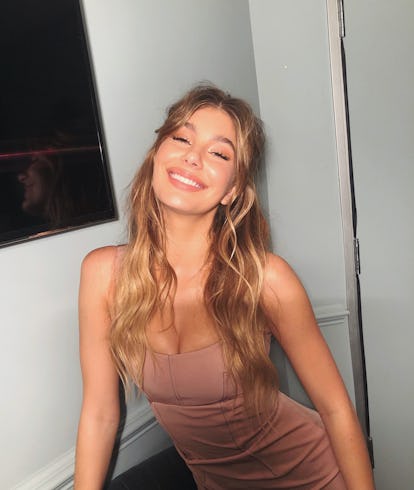 Courtesy of @camilamorrone
Leonardo DiCaprio has a tendency to date much younger women. Most recently, 43-year-old actor has been linked to 20-year-old, Argentine model named Camila Morrone. She's also an actor, just like her parents, Maximo Morrone and Lucila Solá, before her—and, most notably, her stepfather, who's none other than the actor Al Pacino.
Morrone was born in Buenos Aires, and now lives in L.A., where the rumors of the pair being together first started in mid-December, when they were seen shopping together at Barneys. Despite denials of rumors, more than three months later, the pair was spotted again, and much more publicly, strolling through West Hollywood arm-in-arm, with Morrone unabashedly kissing DiCaprio's shoulder. Naturally, Morrone's name has been in the spotlight since. But there's a lot more to know about the actress and model than the fact that she may or may not be dating DiCaprio. From the fact that her squad includes Kendall Jenner and some feral pigs to her Instagram skills, get know Morrone, here.
She's signed to IMG
Morrone's modeling career started when she teamed up with Victoria's Secret for their lookbooks and catalogues in 2016—the same year that she made her runway debut at Moschino's 2017 resort show, landed a cover of Vogue Turkey, and won a coveted spot in LOVE's annual advent calendar series. Although she seems to have turned her focus more toward acting, she's already been on the cover of Jalouse and in a Sephora campaign so far this year. Oh, and modeling runs in her family:
She's building up her acting chops
Morrone appeared in James Franco's 2012 documentary tribute to Joaquin Phoenix, My Own Private River, as well as his 2013 film Bukowski, which starred Josh Peck as the titular writer. But she's since moved on to work with other names, too: This summer, Morrone will appear in a film directed by Augustine Frizzell titled Never Goin' Back, which made appearances at Sundance and SXSW. (That'll come on the heels of Death Wish, her film that came out this month which sees her share the screen with heavyweights like Bruce Willis.)
She's Al Pacino's stepdaughter
And that, sources say, is how she knows DiCaprio—the pair are apparently "old family friends" and have known each other for 10 years. (Yes, half of Morrone's lifetime.) DiCaprio is friends with her 77-year-old stepfather, though recently he has likely spent more time with Morrone.
She spent New Year's with DiCaprio (and Tobey Maguire's two kids)
Pacino, of course, isn't DiCaprio's only friend, which is how Morrone came to spend New Year's Eve with Tobey Maguire and his two children, when she and DiCaprio headed to Aspen for the holidays. Even then, though, a source told People that, "They are family friends and the two families are very close." (Close enough, anyway, for DiCaprio to put his hand on Morrone's back when they left Ellen Degeneres' birthday party together last month.)
DiCaprio isn't her only big-name admirer
Morrone has more than a million Instagram followers, as well as quite a few fan accounts. Notably among her followers are Bella Hadid, Emily Ratajkowski, Karlie Kloss, and Kylie and Kendall Jenner—as well as more industry names like Gemma Ward and Virgil Abloh. (Also of note: among the less than 250 accounts she follows is Pizza Boys, Kendall Jenner's cryptic, "coming soon" Instagram account, as well as her two fellow notably younger partners currently causing media and Kardashian family outrage: Sofia Richie and Younes Bendjima.)
Kendall, Bella, and some feral pigs are all part of her squad
In November of last year, just a couple of weeks before she was linked to DiCaprio, Morrone was off in the Bahamas, accompanying Kendall Jenner and Bella Hadid in revisiting the site of the infamous Fyre Festival. They also avoided another fiasco by accepting those who attempted to crash Hailey Baldwin's 21st birthday party—even though they were all members of the Exuma Islands' colony of feral pigs.
She has a great sense of humor.
Case in point:
Related: Oprah Didn't Recognize Leonardo DiCaprio or The Weeknd at Ellen DeGeneres's Birthday Party