Oprah Didn't Recognize Leonardo DiCaprio or The Weeknd at Ellen DeGeneres's Birthday Party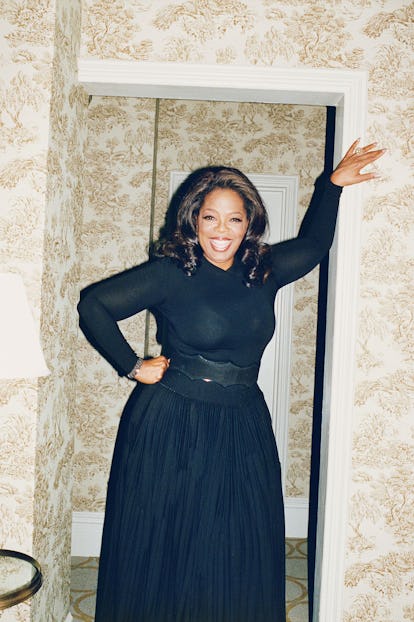 Juergen Teller
Oprah Winfrey is one of the most famous and recognizable people on the planet, and for the past three decades she has interviewed some of the most powerful celebrities and politicians in the world. And yet, Oprah can't seem to recognize A-listers when she's at a "regular" party. In a recent appearance on The Ellen DeGeneres Show, Oprah regaled her Ellen with compliments about her star-studded 60th birthday party, which Oprah called the "most fun she's ever had in her life." Pretty much every famous person within a 50-mile radius was in attendance, from Kim Kardashian and Kanye West to Reese Witherspoon and Jennifer Aniston. But there were a few famous folks Oprah could not place outside of the context of her TV show apparently, including Leonardo DiCaprio.
"When I was doing my show, famous people came on and they looked like themselves. At your party, they're all disguised," Oprah said. She then recounts a man—DiCaprio, unbeknownst to her—walking past her twice and asking her, "What's going on?" At some point The Weeknd, whom Oprah did not recognize until BFF Gayle King told her that the R&B singer had cut his hair, struck up a conversation with Winfrey and was shortly joined by a "disguised" DiCaprio. She had a hunch he was someone important, so she used her expertly honed interview skills to capitalize on a moment in the conversation when The Weeknd complimented one of DiCaprio's least favorite movies. "'So what was your favorite film,'" she said she asked DiCaprio. She says he said it was The Aviator, to which Oprah slyly said, "Leonardo, you're so funny!" Perhaps it was the mixture of the vodka followed by "special tequila" that O says she was sipping on all night, or the "womb-like" velvet decor Ellen says wife Portia de Rossi designed, but Oprah was clearly off her game that night. Her excuse? "I don't get out much, I really don't, I'm a homebody."
In any case, Oprah says she'll never miss a DeGeneres fête again—and let's hope Leo never gets wind of this. Watch the hilarious retelling and observe a picture of the exact moment Oprah realized she was speaking to Leonardo and The Weeknd, below.
Related: Oprah Flew to Hawaii to Throw Gayle King an "Almost Weight Watchers–Approved" Birthday Feast