See Timothée Chalamet as a Naïve Drug Dealer in the Trailer for Hot Summer Nights
The film stars a pre-Call Me by Your Name Timmy, when it was still plausible for the Oscar-nominated heartthrob to play a loser.
---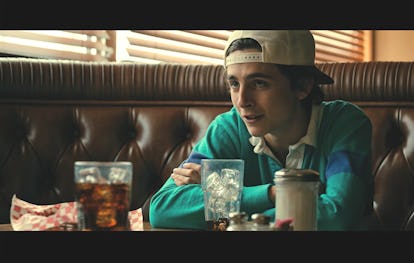 Courtesy of A24
Before Timothée Chalamet became Timmy, the Oscar-nominated Hollywood heartthrob—which is to say, of course, before the runaway indie hits that were Call Me by Your Name and Lady Bird—the actor signed on to star in another film, in 2015: Hot Summer Nights. The plot is your typical coming-of-age high school movie—as Chalamet's teen character Daniel says himself when his mom sends him off to spend the summer with his aunt in Cape Cod, remarking, "What a cliché." Daniel, much like Elio in the beginning of Call Me by Your Name, is the picture of naïveté, which in this case manifests as him being a complete loner at parties, solo with a Solo cup and completely lost at socializing, particularly when in the presence of teen girls (namely his crush, named McKayla, played by Maika Monroe).
After the film establishes his innocence, though, the reason for its R rating kicks in. Daniel saves the neighborhood weed dealer, a hunk improbably named Hunter Strawberry, played by Alex Roe, from a run-in with the cops, launching a friendship that sees Daniel getting high for the first time, even as he struggles to use a bong. Before long, though, their relationship transforms into more of a partnership, as Daniel becomes determined to get into dealing himself, escalating Hunter's operation from specializing in dime bags to dealing with grown, far less scrawny men who aren't afraid to fire their guns, as seen in the the film's new trailer, released on Thursday.
Hot Summer Nights, which is Elijah Bynum's directorial debut, is set in 1991 and in fact premiered more than a year ago, at last year's SXSW. Since then, it was picked up by A24, and is now set to be released this summer, on July 27, marking Chalamet's first film since Call Me by Your Name, which will no doubt give it plenty more added hype than one would expect from a film by a first-time director (alongside what seems like a first-ever glimpse at a short-haired Chalamet).
Related: Timothée Chalamet Is Worried He'll Never Outlive That Peach Scene
Timothée Chalamet Is On the Verge