Timothée Chalamet Is Worried He'll Never Outlive That Peach Scene
"I'm worried that 50 years from now I'll be signing peaches behind a desk."
---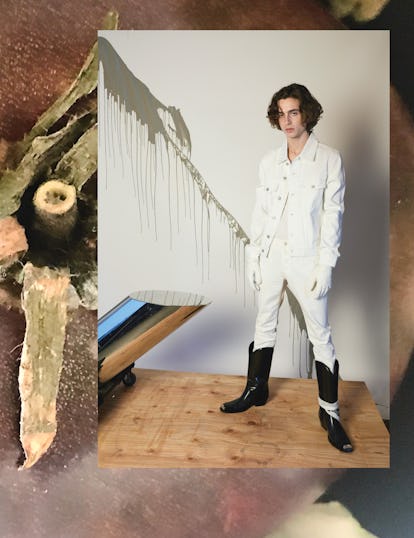 Photographs by Juergen Teller; Styled by Edward Enninful
Timothée Chalamet is undoubtedly the breakout star of Call Me By Your Name, but the breakout scene, well, that belongs to another entity entirely: a ripe peach. Ever since the movie premiered more than a year ago at the Sundance film festival, people have been buzzing about that peach scene to the point it achieved near-legendary status before the film was even released to general audiences. It is undoubtedly the single most talked about scene involving a piece of food and a horny teenager since American Pie, and Chalamet is starting to worry he'll never outlive it.
Chalamet appeared on Jimmy Kimmel Live! with his trademark endearingly nervous energy, and after some polite chatter about his role in Lady Bird and meeting Oprah, Chalamet realized that it would be Kimmel who would be hosting the Oscars next month. "Please no peach jokes, please no peach jokes," he jokingly begged.
Of course, we are all secretly hoping there is a peach joke at the Oscars, and Kimmel took the chance to make sure his audience was familiar with the scene by asking Chalamet to describe it.
"There's a scene where—I don't know how to describe this. There's a peach, and in life one has to explore sometimes. And the exploration commences," he says.
Kimmel asks if it's been mentioned to him a lot. "I'm worried that 50 years from now I'll be signing peaches behind a desk," Chalamet replied while miming the scene of the oddest fan convention ever.
Sure, the specter of the peach scene is omnipresent now—even Olmypian skier Gus Kenworthy referenced it in a recent cheeky Instagram post—but don't worry, Timmy, you will outlive this.
Just look at Cameron Diaz! Perhaps at one point in her life she thought she'd go down in history as the woman who used some unfortunate hair gel, but she's outgrown it. Heck, in a 2013 movie she had an intimate scene with a car windshield wiper, and her career remained totally fine (maybe because no one actually saw The Counselor, but never the less). Just last year, Tiffany Haddish did some nasty things to a grapefruit in Girls Trip, but she's done so damn much since that people barely remember. Even Jason Biggs has outgrown that American Pie scene. These days audience might remember him more as Piper's annoying fiancé from Orange is the New Black than the dude who humps a pastry. Speaking of American Pie, when was the last time someone brought up a flute when discussing Alyson Hannigan?
Kal Penn literally had sex with a bag of weed in Harold & Kumar Go to White Castle, and he ended up working in Obama's White House afterwards.
Thing are going to be fine, Timmy. You've already got three more movies in the works, including one on Netflix we're you'll play a literal King, and we're sure your agent's phone is ringing off the hook. You can outlive this. There's reportedly Call Me sequels on the way, too. If anything, Luca Guadagnino can probably give you something infamous scene that will make people completely forget about the peach. Please do not worry about one day sitting in an airport Hilton ballroom autographing fruit while Allison Williams sits in the booth across from you taking selfies with fans eating dry Froot Loops. It's not going to happen.
Related: Timothée Chalamet Thinks 'Date' Is "Very Much a Scary Word"