Call Me By Your Name Sequel Will Deal with AIDS, Says Director Luca Guadagnino
He says the second installment will deal with AIDS.
---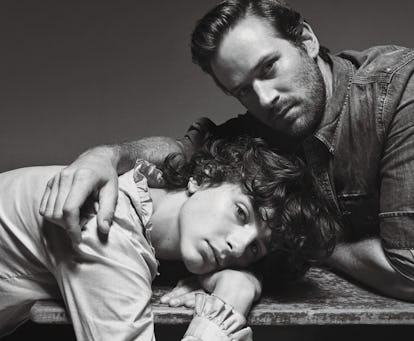 Photographs by Mario Sorrenti, Styled by George Cortina
Back in October, Call Me By Your Name director Luca Guadagnino revealed that the film's now-iconic ending (no spoilers here) might not be the final time we see Oscar nominee Timothée Chalamet as his character Elio. "I want to do a sequel because Timothée Chalamet, Armie Hammer, Michael Stuhlbarg, Amira Casar, Esther Garrel—they are all gems," Guadagnino said at the time. "The texture we built together is very consistent. We created a place in which you believe in the world before them. They are young but they are growing up." A few months later, we now have a closer look at what that could be like.
Yesterday, at Los Angeles Film Critics Association Awards, Guadagnino expanded on how the sequel could continue the storyline. For one, the director expects that the AIDS epidemic — which was in the book the film was based upon that took place four years later in 1987 — could provide a backdrop for it. "I think it's going to be a very relevant part of the story," he told The Hollywood Reporter.
Specifically, Guadagnino envisions a scene where Elio is watching it play out in the movies. "I think Elio [Timothee Chalamet] will be a cinephile, and I'd like him to be in a movie theater watching Paul Vecchiali's Once More, a 1988 film about a man who falls in love with a man after he leaves his wife, which was the first French movie to deal with AIDS, he said. "That could be the first scene [in the sequel]."
When he last spoke on the sequel, it's worth noting, Guadagnino said that just because Elio's first love was Oliver, that doesn't mean he's only into men. "I don't think Elio is necessarily going to become a gay man," he said, adding, "He hasn't found his place yet. I can tell you that I believe that he would start an intense relationship with Marzia [Esther Garrel's character] again."
As for how Elio and Oliver's relationship could continue, or if it'd continue, Guadagnino said, "The novel has 40 pages at the end that goes through the next 20 years of the lives of Elio and Oliver, so there is some sort of indication through the intention of author Andre Aciman that the story can continue. In my opinion, Call Me By Your Name can be the first chapter of the chronicles of the life of these people that we met in this movie, and if the first one is a story of coming of age and becoming a young man, maybe the next chapter will be, what is the position of the young man in the world, what does he want — and what is left a few years later of such an emotional punch that made him who he is?"