Call Me By Your Name Might Become a Trilogy
Hollywood really can turn anything into a franchise.
---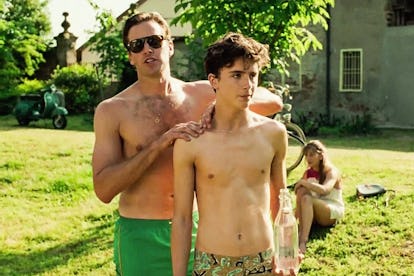 You know how everyone likes to joke that Hollywood tries to turn anything these days into a multi-film franchise? Yeah, well, Call Me By Your Name might actually become a trilogy. Director Luca Guadagnino is already talking about the plans, and hopes to have the second film ready for a 2020 release. This despite the fact that the book the film is based on has a clear ending.
The gay-themed and super sensual romance-meets-coming-of-age flick has already toured the international festival circuit where it's been met with rave reviews. As such, it's already an Oscar favorite in multiple categories, including best film, by various awards prognosticators. Also unusual for a European indie flick that hasn't even been released to the general public yet, the film has already built up a passionate online fandom. One that has already turned a dancing scene in the movie into a full fledged meme.
So, it's certainly a hot property in a sense, but not one you would necessarily assume has sequel and threequel potential. Eating Out it is not.
Lest you worry though that this may lead to a decade of franchise embarrassments like Call Me By Your Name 3: Baby on Board or CMBYN4: The Peach's Revenge, Guadagnino has more sophisticated plans. Plans that he's likened to Richard Linklater's Before Sunrise trilogy. That series followed Ethan Hawke and Julie Delpy's characters over 18 years with the first film debuting in 1995 and the final bowing in 2013. He also cited French director François Truffaut's recurring character Antoine Doinel, who appeared in five of the director's films over a span of 20 years.
"I want to do a sequel because Timothée Chalamet, Armie Hammer, Michael Stuhlbarg, Amira Casar, Esther Garrel—they are all gems," Guadagnino told Screen Daily. "The texture we built together is very consistent. We created a place in which you believe in the world before them. They are young but they are growing up."
He adds that a 2020 release would mean that both Timothée Chalamet and his character Elio would be 25, and hence the film would take place eight years after the events of the first in the early 1990s. Though, don't expect a happy or even clear-cut future for the characters.
"I don't think Elio is necessarily going to become a gay man," the director added. "He hasn't found his place yet. I can tell you that I believe that he would start an intense relationship with Marzia [Esther Garrel's character] again."
In the book, the main characters actually do meet up at two points in the future, though they're 15 and 20 years after the main events. Armie Hammer's character Oliver goes on to have a wife and children. Guadagnino however seems totally open to breaking from the final passages of the book and writing the character's future his way.
Though, everyone involved does have other immediate plans in the future. Guadagnino already has two other films in various states of production (there's his Chloë Grace Moretz-starring remake of Suspiria and the Jake Gyllenhaal and Benedict Cumberbatch team-up Rio). Chalamet is currently filming a Woody Allen project opposite Selena Gomez and has meth addiction drama Beautiful Boy in the works as well. And Hammer's future includes a role as Ruth Bader Ginsburg's husband in an upcoming biopic.
Related: Armie Hammer and Timothée Chalamet on Call Me By Your Name, the Year's Most Sensual Love Story
Pink Gets Interviewed by a Cute Little Kid: