Selena Gomez Cast in Woody Allen Film Alongside Elle Fanning and Timothée Chalamet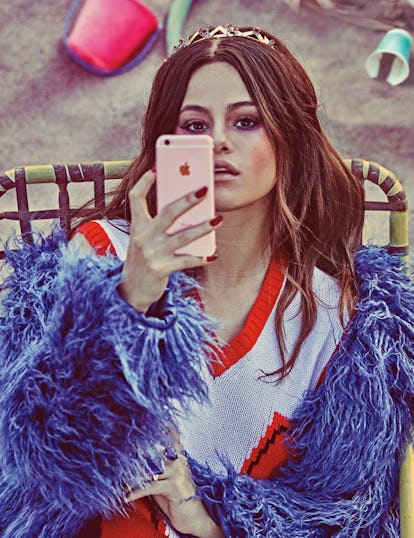 It's been four years since Selena Gomez's breakthrough as an actress in Spring Breakers, but soon the multi-hyphenate will grace the silver screen again. The actress, musician and reigning Instagram queen has just officially joined the cast of an upcoming Woody Allen film. While the film does not yet have a title, Gomez's other co-stars have also been announced: She'll be appearing alongside Elle Fanning and Timothée Chalamet, the buzzy young actor of the upcoming Call Me By Your Name. The film will be distributed Amazon Studios, which has partnered with Allen before on Cafe Society and the director's other upcoming project, Wonder Wheel, which features James Belushi, Juno Temple, Justin Timberlake, and Kate Winslet and is slated to premiere in October on the last evening of the New York Film Festival.
While Gomez has kept a relatively low profile since Spring Breakers, she's remained active in film. She recently lent her voice to the upcoming Hotel Transylvania 3 as well as the video short Puppy!, which viewers of The Emoji Movie might have seen among the opening trailers. Not to mention, she's also acted in James Franco's In Dubious Battle and The Fundamentals of Caring, both of which debuted last year.
Gomez has increasingly turned towards film over the couple of years since she announced she would be taking a hiatus following her lupus diagnosis. "I want to be proactive and focus on maintaining my health and happiness and have decided that the best way forward is to take some time off," she said in 2016 when she announced she'd be canceling the remainder of her Revival tour dates, as USA Today reported. "I was depressed, anxious," she later revealed of the time period to Vogue. "I started to have panic attacks right before getting on stage, or right after leaving the stage. Basically, I felt I wasn't good enough, wasn't capable. I felt I wasn't giving my fans anything, and they could see it — which, I think, was a complete distortion."
Meanwhile, Woody Allen has continued to attract A-list actors despite sexual abuse allegations which have mounted over the years, most recently with his son Ronan Farrow's widely read essay on them. "I never read anything about me, these interviews I do, anything," Allen told Vanity Fair shortly after the letter was published. "I said everything I had to say about that whole issue in The New York Times," referring to the op-ed he penned. "I have moved so far past it. I never think about it. I work. I said I was never going to comment on it again. I said everything I have to say about it."
Related: Selena Gomez Proves She Can Still Act in New Music Video for "Bad Liar"
See What's Trending in W Video: