Selena Gomez Proves She Can Still Act in New Music Video for "Bad Liar"
The singer slips into a number of roles in her new 1970s set music video.
---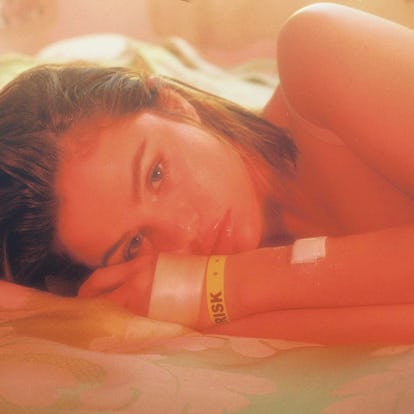 Selena Gomez may be known for many things these days—her ex-boyfriend, her new boyfriend, her Instagram account, etc.—but when she first emerged on the scene way back in 2002, Gomez was primarily known as an actress for many years. She was a friend of Barney, a teen wizard, and frequent straight-woman in young adult rom-coms or made-for-TV films, before turning her attention to music (and the aforementioned extra-curricular activities stated above).
Making hits may have been her main focus for the past several years, with the exception of a few small cameos in The Big Short and Neighbors 2, as well as Netflix's indie film The Fundamentals of Caring, but with her new music video for the song "Bad Liar," Gomez would like you to know that she still is an actor, thank you very much.
Gomez teased the clip on Instagram earlier this week, posting three identical images of a movie poster for the song, touting it in the caption as "Bad Liar- a film." The post kept most details under wraps, save for the director: Jesse Peretz, one of the founding members of '80s alternative rock band The Lemonheads, who directed several Foo Fighters music videos, episodes of New Girl, The Office, Orange Is the New Black, Girls, and Nurse Jackie. His feature-length credits include Our Idiot Brother, which starred Gomez's The Fundamentals of Caring co-star Paul Rudd.
As promised in the 'gram, Gomez officially debuted the clip today, which turned out to be less of a film and more a straight-forward music video, clocking in at 3 minutes and 44 seconds—which is not to say, however, there aren't plenty of dramatics in the compacted time.
The video is set in 1978, per graduation signs hanging around the sepia-toned high school halls were we enter, and perhaps a nod to the release date of the Talking Heads's "Pyscho Killer," which the song samples and Gomez has cited as an inspiration. (Not to worry, though—David Byrne has given his stamp of approval via Twitter).
We see Gomez awkward and day-dreaming in science class, peering out the window at a woman with Farrah Fawcett-feathered hair, played by—drumroll please—Gomez. Fawcett Gomez—the gym teacher, we will soon come to find out—is spotted flirting with a mustachio-ed man, also played by Gomez. And just when you thought you'd seen it all, she always plays the original character's mom, bobbed wig and all.
It's a steady four minutes of soap operatic drama, beyond the character depictions, as we come to find out that the mustache man is not the object of her affection (it's just her dad, actually), and she happens to have her eye on that feathered hair gym teacher. Plot twist!
But Gomez still has one more zag in store: a brief teaser for what is presumably the next song off her yet-to-be-announced new album. As the "Bad Liar" video ends, the words "Coming Soon" flash across the screen, followed by "Fetish," and just a few seconds of Gomez staring blanking into camera.
Let the speculating begin.
Behind the Scenes of Selena Gomez's W Magazine Cover Shoot
Selena Gomez Wore the Perfect Summer Outfit