Selena Gomez, Instagram Queen, Teases Secret Project With Instagram-Beloved Photographer Petra Collins on Instagram
The singer posted a picture of the duo with the caption, "Always playing and working on something magical." Could it a first glimpse of Gomez's anticipated Coach ads?
---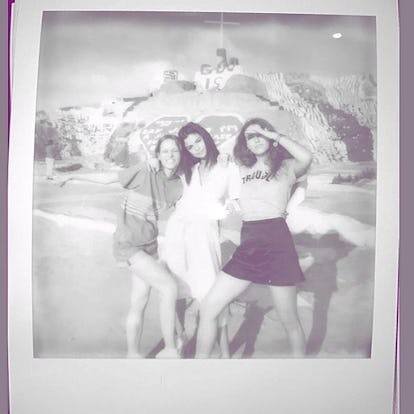 Selena Gomez is up to something. On Tuesday, the singer posted a cryptic black and white polaroid of herself, photographer Petra Collins, and Collins' sister, Anna, on Instagram. The caption? "Always playing and working on something magical."
Hmm. Curious.
Here's what we know. Gomez is the undisputed queen of Instagram, with more followers than any other user at 116 million and counting. The singer recently took a break from the limelight to deal with mental health issues, but has since come back in a big way with her first American Vogue cover, the debut of Netflix's Thirteen Reasons Why, which she produced with her mom, and a high-profile romance with The Weeknd (speaking of Instagram, the two just went public with a dimly-lit picture posted on his account).
While Collins may not be quite as Insta-famous as Gomez—though 494,000 followers is nothing to sneeze at—he's certainly a fashion favorite, as well as current Gucci muse. Most recently, she participated in designer Alessandro Michele's multimedia exhibition, "A Magazine," as part of Hong Kong's Art Basel, and directed a short for Gucci eyewear.
Both women are 24, and have previously worked together when Collins shot Gomez for the 10th anniversary issue cover of Wonderland in 2015. The also occasionally roll in the same crowd, thanks to overlapping friendships in Tavi Gevinson (Collins' former roommate) and Taylor Swift.
But let's dig a little deeper. Collins didn't post a picture, but rather a series of Instagram stories giving us some further insight into the day. Most of the series is your typical Instagram video content: front-facing selfies, singing along to the radio, etc. But then we arrive on a video of Gomez, swathed in red light in a desert landscape, staring directly into the camera for about four seconds (maybe she thought it was a photo?). Next we get a still of Gomez at a distance, with her back towards the camera, with the caption, "sat on a cactus to get this one." A true commitment to the arts. After this, we're back in the car for a shot of several empty In-N-Out cups.
So what can it be? The word "magical" in Gomez's caption is certainly worth noting. Perhaps it's finally time for a high-concept, artful reboot of Wizards of Waverly Place? What's more, Collins is a Toronto, Canada, just like The Weeknd. Maybe Gomez is simply picking up some tips for how to fit in up north?
Luckily, we have one final puzzle piece to put this altogether: the third lady in the picture, Anna, also posted the same image as Gomez, with the caption, "Best day with the best people." Nothing too revealing there—until you look at who has liked the picture: none other than Stuart Vevers, creative director of Coach, the brand that recently tapped Gomez as the new face of the brand and frequently sits Collins front row. Now things are adding up.
Could we be getting a first glimpse of Gomez's anticipated Coach ads? Only time, and future Instagram posts, will tell.
Related: Petra Collins Dreams of Sleeping in a Room That Is One Giant Bed, With Rihanna If Possible