Selena Gomez Is In with David Byrne, While Leonardo DiCaprio and Nina Agdal Are Officially On the Outs
Revelations out of the White House, Missy Elliott's Renaissance, and Dwayne "The Rock" Johnson top our must-reads for the week.
---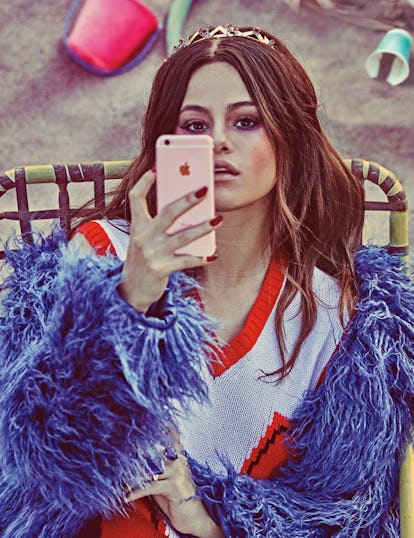 Cannes Film Festival Everyone—that is, actors like Julianne Moore, Marion Cotillard, and Tilda Swinton, and non-actors like Bella Hadid and Doutzen Kroes—has descended on the South of France to appear on the red carpet at the Cannes Film Festival, whether or not they've got a film in the festival. Keep up with all the outrageous, lavish looks here.
Comey, James In a gut-punch of a scoop, The New York Times revealed earlier this week that President Donald Trump had asked then-FBI Director James Comey to drop the Bureau's investigation into National Security Advisor Michael Flynn's ties to Russia, part of an ongoing probe into the Trump campaign and administration's suspected collusion with Russia. (They buried a second major insight in the same story, that Trump suggested jailing journalists who reported on leaks.) The story was just one in a cascade of major headlines reported by the Washington Post and the Times on the chaos that has enveloped the Trump administration.
Elliott, Missy '90s hip-hop icon Missy Elliott is back. Writer Rachel Kaadzi Ghansah's revealing portrait of the reclusive artist, songwriter, and producer, with assists from her closest collaborators and the generation she's inspired—Pharrell Williams, Syd of Odd Future—is a rare, sensitive story that charts not just Elliott's personal ascent but also how she has fit into, and influenced, two decades of hip-hop.
DiCaprio, Leonardo Single, again.
Essay, Personal The bubble has burst on the internet's confessional personal essays, which were the domain of early-'00s sites like the Awl, the Toast, Jezebel, and others—but that doesn't mean the personal essay doesn't still have a place.
Gainsbourg, Charlotte Like mother, like daughter: Charlotte Gainsbourg, daughter of '60s icon Jane Birkin, is now a Saint Laurent campaign star, just like her mom. She starred in a new teaser video for Saint Laurent's Fall 2017 collection—and honestly, we're just surprised it didn't happen sooner.
Gomez, Selena Is, apparently, a big fan of the Talking Heads. It turns out the feeling is mutual.
Johnson, Dwayne "The Rock" This exuberant profile of Dwayne "The Rock" Johnson treats his nascent political aspirations just as seriously as they deserve, when a celebrity has already seized the White House. He's depicted as an irresistibly charming movie star and fitness aficionado, which writer Caity Weaver experienced first-hand when The Rock brought her along for one of his early morning workouts.
"My Family's Slave" Alex Tizon's poignant, complicated story about Lola, the woman who worked for his family throughout her life and he later realized had been their slave, emerged as one of the most polarizing stories of the week. Published posthumously—Tizon died suddenly at the end of March—it's a lyrical work of memoir that uses one family's experience to get at some larger tensions in Filipino and immigrant cultures. After finishing the story, it's worth reading several of the responses on Twitter and beyond that put pressure on some of its assumptions.
Okja Tilda Swinton and Jake Gyllenhaal's new film, which finds Swinton reuniting with director Bong Hoon-Jo, with whom she worked on Snowpiercer. The movie, which premiered at Cannes Friday, looks something like a vegan fever dream.
Peaks, Twin Returning this Sunday after 26 years, with auteur David Lynch returned to his rightful place at the helm of the beloved series. We've done you the great service of tracking down all the actors from the original series and catching up with Lynch's favorite collaborators old and new, like Hailey Gates, Patricia Arquette, Laura Dern, and Naomi Watts.
Paris Hilton breaks down all her favorite 2000s trends and why they're still hot (or not):