Hailey Gates Thought the Secrecy on David Lynch's Twin Peaks Reboot Was "Pretty Funny"
David Lynch's latest muse recalls in a new interview: "I was like, 'You know, guys I'm kind of used to this. So who's going to throw the bag over my head and drag me to set? This is kind of my thing.'"
---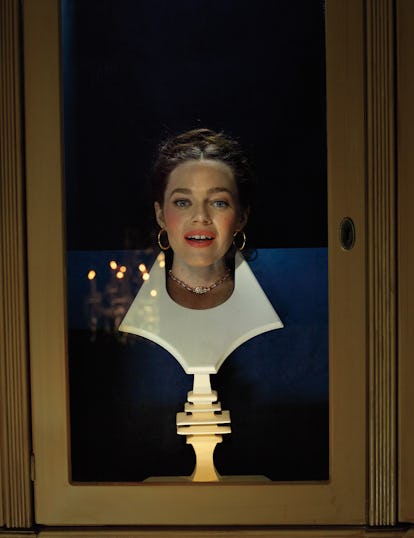 Photographs by Alex Prager, Styled by Patrick Mackie
Hailey Gates inherited her artistic temperament and likely her dark sense of humor from her grandmother Joan Tewkesbury, the famed director and screenwriter of Robert Altman's 1975 classic, Nashville. But the writer, actress, sometime model and current host of Vice's States of Undress has never appeared onscreen in a project as hotly anticipated, nor kept so under wraps, as David Lynch's reboot of Twin Peaks, premiering on Showtime this Sunday. And yet Gates was unfazed by the sheer amount of security around the series during the production of its 18-episode first season, having reported from the unlikely fashion weeks that have sprung up in hotbeds of conflict like Pakistan and the Democratic Republic of Congo for her Viceland TV docuseries, which returns for its second season June 8. "This is kind of my thing," as she said on set. Here, in a new interview with Lynn Hirschberg, Gates charts her strange path to becoming David Lynch's newest muse.
What was your first fashion moment?
Whoa. Um… I apparently had a deep aversion to wearing pants as a child.
Did you have a go-to outfit at that point?
I remember I wore these white cowboy boots almost every day, much to my mother's regret—with a dress. I don't know what was so limiting about pants to me but—
You didn't feel free.
I did not feel free.
Where are you in your family in terms of siblings?
I am the eldest of six.
Oh my word.
Yeah.
So you were in charge of everyone?
Indeed. My mom and dad had three girls in four years. And then they separated and my mom has a son on her side and my dad has two boys.
It was all girls and then all boys.
Yeah.
Did you read fashion magazines? Did you sew your own clothes?
I mean, I was doing plays as a kid and I studied ballet. And so I think a lot of it was about transformation and figuring out that I could make myself feel a different way if I wore different things.
And did you do ballet seriously?
Yeah I did. And then I shattered my knee cap.
Oh my god, dancing?
Yeah. Not on stage, but … My grandmother is a woman named Joan Tewkesbury [a director and the screenwriter of, most notably, Robert Altman's Nashville]. I didn't find out that she was my grandmother until a little later in my life, but she also was a ballerina when she started. She shattered the same knee.
Is it the right or the left?
The right.
And did you think about repairing it or did you just take it as a sign?
Yeah, it was a sign. I was ready to—it was not fulfilling me. I was 16 or 17.
Oh my god, so you had been with it for a while. How old were you when you went en pointe?
I was 12 or 13. But I was mostly acting at that point, doing plays, but yeah it was still a part of my life.
What was your first audition for anything?
We did a play of Frog and Toad at my elementary school. And I'm not sure if this is part of the book or it was something that we made up on our own, but I auditioned to play the black hole, which somehow makes sense to me.
What did you wear as the black hole?
Well, actually we created this kind of trifecta. So there were three kids and we made holes in this giant black fabric. We stretched this piece and then we glued all sorts of disgusting bits and things on the black hole as if it was eating whatever was in sight.
Did you think that you wanted to become an actress?
I'm not sure. I was writing a lot even as a kid. I was like a really embarrassing, precocious child. So I think it was just about making a world.
When did you become aware of what Joan Tewkesbury had written?
It was really strange to meet her later in life. I think I was 13 when I met her and we were really working in the same wheelhouse. So my paternal grandmother and my maternal grandmother both grew up in Los Angeles. And they're completely different. One of them is Joan and she lives in Santa Fe and only drinks tequila and she's of this Altman era of women who don't give a f—. And then my other grandmother is sort of prim and very proper and sort of WASP-y. A lady. And I found out that apparently they both dated the same lifeguard down at Santa Monica beach whose name was Roger Moore—not the Roger Moore.
Not the Roger Moore but a Roger Moore.
Yeah. And apparently his wooing tactic was to pop out his glass eyeball. That's how he got the ladies.
So at what point did you decide to move to New York?
I was miserable in high school and I was writing.
Did you go to your prom?
Oh no. No, no, no. My senior prom I went to Dan Tana's and I had a Helen steak and a margarita.
That's cooler than anything I've heard all day.
But I was underage so don't tell them. I was writing plays, one-acts about Warren Jeffs and like doing them at lunchtime for three people. I was interested in cults. I was interested in docudrama. Which I guess now sort of makes sense considering what I'm doing. And it was depressing, you know, because I hadn't found my people.
So that took you to New York.
Yeah, and then I found that I could study experimental theater, which my parents were very stoked about. Yeah, incredibly lucrative choice. I actually studied in Paris with this experimental theater ring before I moved to New York and started doing that pretty seriously.
And how did you get from there to documentary?
I finished school. I wrote a couple of plays that I put on which were about other family history. I've become kind of the family scribe, um, of the more unsavory events. Then I started working at The Paris Review, which was great and sort of strange. And Vice approached me and said that they wanted to make a show.
We talked about a bunch of different ideas for shows.The one we sort of landed on, we're going to places where you wouldn't necessarily imagine a fashion week would be held. And so it meant that I would be able to go to all these places that I'm not supposed to go to, or maybe would never have the chance to go to.
What's been the most surprising thing about doing it?
Hmm. I don't know what I thought, but what turned out to be the most surprising is that there was this conservatism on the rise everywhere I went. And it wasn't something I expected because I expected that the internet would sort of flower this kind of liberalism—that everybody would be wanting to live more like each other.
It's interesting, yeah. So were you a David Lynch fan growing up? You would have been a child when Twin Peaks came out.
I did know Twin Peaks. This is so stupid—my mom taught me how to tie a cherry stem in a knot with my tongue. I was a kid.
She thought that would come in handy.
Well, you know, it's like you hang out with WASPs. You have to learn bar tricks or something to entertain people. There was nobody else my age, so I had to keep up. So I learned how to do that and obviously there many an Audrey Horne joke made. I had no idea who that was at the time.
But being this kind of awful, precocious kid I insisted that in the summers I take a writing class with people that were older than me. And so I would take these like hilarious UCLA extension classes where I would be a teenager, you know, writing about whatever pathetic grievance I had. And Sherilyn Fenn [who played Audrey Horne in the original Twin Peaks] was actually in one of those classes with me. And so I was very star struck because I had been hearing Audrey Horne my whole life.
So how did you hear about this version of Twin Peaks that we don't know anything about yet?
There was no audition. I just got a call to come in and talk, just a conversation kind of like this. Which, I feel like if I were a director I would also prefer that. I think you get a better sense of people when they have to use their own words.
And what did you wear?
It's so lame. Like, a really '70s funky dress that I thought was so cool. I always struggle auditioning actually because I'm so obsessed with era-appropriate clothing. In all the plays that I've done, I've always been really intense about wearing era-appropriate underwear. It changes your gait and the way you hold your body. And, you know, I'm very into physical discomfort.
And where do you find these era-appropriate garments?
There's an amazing place on the Lower East Side [of Manhattan] that's run by Hasids. You can just walk in and they know your size on sight, which is very impressive.
But yeah, I didn't hear from [the producers of Twin Peaks] for months. I was like in Pakistan and, you know, in the Congo. I think I came back from the Congo and shot, you know, this thing that shall not be named. It was pretty funny because there was so much security. It was so secretive and I was like, "You know, guys I'm kind of used to this. So who's going to throw the bag over my head and drag me to set? This is kind of my thing."
Do you have a David Lynch film that you're particularly fond of, or is it the TV show?
I love Twin Peaks. I love Blue Velvet, Mulholland Drive. I think I've always been really interested in interpersonal female relationships.
So you like the dark and the light?
Yeah. And just that sort of really complicated space of a kind of tender competition that women have. Almost all of the plays that I wrote were between two women.
David Lynch's Heroines Like You've Never Seen Them Before
From left: Chrysta Bell wears Tiffany & Co. necklace. Hailey Gates wears Bulgari necklace. Laura Dern. Naomi Watts wears Robert Lee Morris SoHo earrings; Lagos necklace. Patricia Arquette wears Tiffany & Co. necklace.

Photographs by Alex Prager, Styled by Patrick Mackie. Hair by Giannandrea; makeup design by Fiona Connon; makeup by Levi Vieira for MAC Cosmetics. Set design by Thomas Thurnauer. Lighting Designer: Matthew Libatique; Key Gaffer: Jeffrey Ferrero; Key Grip: Tina Dubbe; Production: Josie Heiman; On-Set Production: Linsday Heimer; Retouching: Contact Photo Lab; Photography Assistants: Tyler Parker, Blake Brent; Fashion Assistant: Diana Choi; Hair Assistants: Jessica Mishler, Nancilee Santos; Makeup Assistant: Emily Jade Elliott; Set-Design Assistants: Aaron Wiley, Cliff Collins; Special thanks to Siren Studios
Blue Velvet, Wild At Heart, Inland Empire, and Twin Peaks (2017) "I hadn't read the script, but I knew the film was Blue Velvet. I was sitting on the floor, waiting to audition, and David walked out. I was startled by every aspect of him. He looked at me, and I was waiting for some magical words. He said, 'I have to pee,' and disappeared. When he came back, we talked about life and high school and meditation, and I was ready to audition—but that never happened. He said, 'Thank you very much,' and I left. Soon after, I got a call saying he wanted to meet me at Bob's Big Boy to see if Kyle MacLachlan and I could get along. We ordered malts and french fries, and David was doodling on napkins while Kyle was doodling with a knife in his ketchup. A girl either thinks, These are bizarre men, or, I am in love with both these people and want to spend the rest of my life with them. Needless to say, I fell in love."

Dern wears a Cartier necklace.

Photographs by Alex Prager, Styled by Patrick Mackie
Naomi Watts wears Bottega Veneta dress; Robert Lee Morris SoHo earrings; Lagos necklace.

Photographs by Alex Prager, Styled by Patrick Mackie
Mulholland Drive and Twin Peaks (2017) "I was in New York and my agent called and said, 'You have a meeting with David Lynch.' I didn't believe in traveling or breaking plans for auditions, but this was David Lynch, and it's not every day that you get that call. So I flew to Los Angeles and went straight from the plane to meet him. David had that intense ear-to-ear grin, and he was smoking up a storm. He said, 'How's your day? Tell me everything!' I was at a point where I'd been auditioning for 10 years and people would barely make eye contact, but David was genuinely interested in me. I was there for 40 minutes. When I left that room, I thought, No matter what happens, I had a great meeting with a legend."

Watts wears a Bottega Veneta dress; Robert Lee Morris SoHo earrings; Lagos necklace.

Photographs by Alex Prager, Styled by Patrick Mackie
Lost Highway "During Lost Highway, I would ask David, 'Am I playing two different people? Is one of them a ghost? A hallucination? Are they both real? What am I playing here?' And he'd reply, 'I don't know, Patricia. What do you think?' So I had to come up with a whole concept of what I thought Lost Highway was about. I decided to model these two characters after Salome and Jezebel, in the Bible. At some point, I told David that one should have dark hair and blunt-cut bangs like Bettie Page. David said, 'Who is that?' I turned him on to the famous nude pinup. David was like, 'Wow. Bettie Page. She's the bee's knees.' "

Arquette wears a Tiffany & Co. necklace.

Photographs by Alex Prager, Styled by Patrick Mackie
Twin Peaks (2017) "When he works, David Lynch uses a megaphone. Even if there are only three people in the room. I really like that kind of commitment. He'll have a cigarette hanging out of his mouth, and he'll say, through the megaphone, something like, 'I need a little more danger in her face.' At one point, he felt the table in front of me wasn't quite dirty enough. He was on the megaphone: 'Can I get some Bisquick?' Someone came right over with the Bisquick, and David started rubbing a paste of gunk over the table. The cig was still hanging out of his mouth. That was one of my favorite moments."

Gates wears Theodora Warre earrings; Bulgari necklace.

Photographs by Alex Prager, Styled by Patrick Mackie
Twin Peaks (2017) "For a long time, I felt like I was swimming in a different lake than everybody else. I would look around me and think, Hmm, maybe I'm not from this land; maybe I should try and venture into some other dimension. I think that is one of the reasons that David and I get along. He functions in all these juicy, mystical, esoteric dimensions. When David asks me to be a part of things, it's always a bit mysterious. Twin Peaks was no exception: He approached it with a little twinkle in his eye. I couldn't do anything but say yes excitedly."

Bell wears a Balmain dress.

Photographs by Alex Prager, Styled by Patrick Mackie
From left: Patricia Arquette wears an Akris jacket and skirt; Tiffany & Co. necklace. Hailey Gates wears a Norma Kamali swim dress and skirt; Theodora Warre earrings; Bulgari necklace; Michael Kors Collection belt; Manolo Blahnik shoes. Chrysta Bell wears a Balmain dress; Tiffany & Co. necklace; Rochas shoes. Laura Dern wears a Monse dress; Cartier necklace; Manolo Blahnik shoes; her own ring. Naomi Watts wears a Bottega Veneta dress; Lagos necklace; Paul Andrew shoes.

Photographs by Alex Prager, Styled by Patrick Mackie
Interesting. So who is your girl crush?
My girl crush, oh. Isabelle Huppert. Did you just see Elle, it's so good. Who else do I love … Charlotte Rampling. I'm very attracted to older women. I have body dysmorphia and I think that I like look like Mrs. Robinson, or something. That's how I imagine myself doing things. When really, I look like a weird child. When I was in the Congo I visited a witch doctor. And she was doing all these ceremonies on young girls who thought that they had this thing that called masque vieille, which is like mask of the old lady. And they go through this kind of exorcism ceremony to extract the old lady demon, because they think that their face somehow looks older than they are and that men are not attracted to them in that way. So they have the old lady taken out of them. And I was like, "This is funny because I have the opposite problem." When I was really young, I just always wanted to be older. I learned to speak before I could walk. My parents were so terrified of me.
I love that. Where was your first kiss?
My first kiss was with a girl. On a playground. I was really young.
And were you freaked out at all that your first kiss was with a girl?
No, it was all my doing. She was my age, but I was always trying to like get rid of firsts. I'm not really into ceremonies of firsts. I'm into ceremonies of lasts. I'm more of a funeral person than a wedding person.
I actually agree with you. I think weddings are really depressing. I avoid them like the plague.
It's my nightmare. I've been in, like, all of my parents' weddings. I was recently the maid of honor in my mom's wedding. My mom is from L.A. and she's blonde and very beautiful. And she has this penchant for constantly being barefoot which really drove me crazy as a kid because she can get away with anything because she's just so lovely and full of life and wonderful. And if I did things like that people would be like, "Put some shoes on, child." But I've been in Paris with her and she's got her shoes in one hand, in the street, barefoot. So I made her take her shoes off and hit a piñata.
Hit a piñata?
Yeah. Tiny forms of embarrassment are important, I think.
A Field Guide to Recognizing Your Favorite Twin Peaks Actors Now, 26 Years Later
Though Kyle MacLachlan has since starred in other cult series, even when he was Charlotte's impotent husband on Sex and the City and a murderer on Desperate Housewives, he'll always be known as Special Agent Dale Cooper, a man never too far away from a slice of cherry pie or cup of strong, black joe. (No word yet on whether Diane will be returning, too.)

CBS Photo Archive/Getty Images
Death be damned, Laura Palmer is coming back with a bang by starring in all 18 episodes of the new series—that is, unless Sheryl Lee, whose first post-Peaks role was Salome opposite Al Pacino, and who has since showed up in Winter's Bone and Woody Allen's Café Society, is simply reprising her role as Laura's suspiciously identical cousin, Maddy.

ABC Photo Archives/Getty Images
Dana Ashbrook has kept up acting with a steady roster of smaller films, including 2012's The Agression Scale with Ray Wise, aka Leland Palmer, and more than a few appearances on Dawson's Creek, presumably making him more than up to the job in reprising his role as the annoying ultimate bad boy Bobby Briggs—even now that his hair's gone gray.

CBS Photo Archive/Getty Images
Though she's now a long way from a schoolgirl, the ever flirtatious Audrey Horne may have a chance at getting together with Coop after all, especially since actress Sherilyn Fenn has been keeping up her acting chops on shows like Gilmore Girls and Shameless (not to mention appearing on the cover of Playboy in the '90s).

ABC Photo Archives/Getty Images
At 70, Peggy Lipton scarcely seems to have aged since she last played Norma Jennings, the owner of the Double R Diner, though she has since raised another actress, her daughter Rashida Jones.

ABC Photo Archives/Getty Images
Richard Beymer's eyes seem only bluer than ever since the now 79-year-old actor last turned up as Benjamin Horne, Audrey's father and the owner of the Great Northern Hotel (not to mention an appearance in West Side Story, which helped to earn him a Golden Globe for New Star of the Year that he shared with Warren Beatty). Not that viewers have been able to appreciate them: Twin Peaks is only Beymer's fourth on-screen appearance so far in the 2000s.

Sylvain Gaboury/Getty Images
From blue streaks to twin top knots, Kimmy Robertson seems to have as much appreciation for an out-there hairdo as Lucy Moran, her curly-haired secretary in the sheriff's office. Robertson has since lent her high-pitched voice to shows like Batman and The Simpsons, plus appeared onscreen on an episode of Drake & Josh—all good practice for appearing on all 18 episodes this season.

ABC Photo Archives/Getty Images
Like Leland Palmer, Laura's potentially murderous father, actor Ray Wise has since gone gray, a new look he's shown off in shows like Mad Men, Fresh Off the Boat, Gilmore Girls, 24, and How I Met Your Mother. That's range.

ABC Photo Archives/Getty Images
Another face who'll be showing up in the full series, Mädchen Amick has lately turned up on Riverdale, plus a host of cult shows like Mad Men, Gossip Girl, ER, Gilmore Girls, and Dawson's Creek. Fortunately for her character, the waitress Shelley Johnson, though, her abusive husband Leo won't be back.

CBS Photo Archive/Getty Images
Since playing Deputy Hawk, one of the most reasoned voices in the sheriff's office, Michael Horse has gone on to not only appear in shows like Malcolm in the Middle, but pick up a full-on artistic career as a jeweler and painter.

Steve Snowden/Getty Images
Though Michael Ontkean has maintained his curly head of locks since starring as Sheriff Harry S. Truman, the actor, who last showed up in The Descendants in 2011, has decided to leave Coop hanging and won't be returning to Twin Peaks.

ABC Photo Archives/Getty Images
Lara Flynn Boyle won't be returning to this season but she'll always live on as Donna Hayward, Laura's best friend of sorts who was never short on spectacular sweaters.

CBS Photo Archive/Getty Images
Russ Tamblyn's daughter Amber has since gone on to become an actor and even director herself, but Tamblyn has kept up an acting career of his own since playing the ever eccentrically-outfitted psychiatrist Dr. Lawrence Jacoby, recently picking up roles in films like Django Unchained.

ABC Photo Archives/Getty Images
Like the actor who plays fellow bad boy Bobby Briggs, James Marshall, aka James Hurley, Big Ed's nephew who can't get enough of riding his bike, has also gone gray, but still showed up on-screen with a few films and an appearance on CSI.

ABC Photo Archives/Getty Images
Like her on-screen daughter, Laura, the grief-stricken Sarah Palmer will be returning for all 18 episodes, although actor Grace Zabriskie has turned up in shows like Charmed and Big Love.

Tibrina Hobson/Getty Images
Fittingly, like her beau Sheriff Harry S. Truman, sawmill owner Josie Packard won't be returning to the series—like fellow mill worker Piper Laurie, aka Catherine Martell, David Lynch apparently never asked her back. But actor Joan Chen has been looking young as ever lately in shows like Netflix's Marco Polo.

ABC Photo Archives/Getty Images
Related: Laura Dern Reviews the New Twin Peaks: David Lynch "Blew My Mind"