Tiffany Haddish, Master Raconteur, Reveals What Beyoncé Did When A Stranger Tried to Touch Jay-Z
America's comedic sweetheart is also the eyes and ears you may need on the ground at your party.
---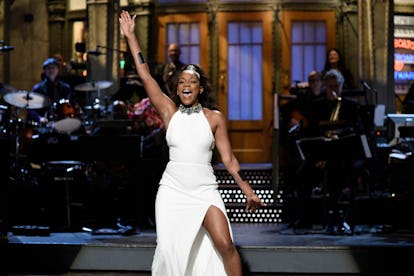 Photo by: Will Heath/NBC/NBCU Photo Bank via Getty Images
Not only is she America's comedic sweetheart, but Tiffany Haddish is also the eyes and ears you want (and maybe even need) on the ground at your or any party. Now, in UNCENSORED, a new docu-series from TV One, Haddish gave a full report on what happened when she met Beyoncé at a party with Jay-Z.
The night started with Haddish meeting Beyoncé, who introduced herself to the comedian before Haddish could reply, "I know who you are!" Then, the comedian mingled around a bit until she started talking to Jay-Z. "There was another actress that was there who was also talking to Jay-Z," she reported, without naming any names. After the other actress reached out to touch Jay-Z's chest, Haddish saw that "Beyoncé came walking up like . . . 'Biittchh!', but she didn't say that." According to Haddish, "Her demeanor, the way she walked up was like, get your hand off my man's chest." That's right—Beyoncé is so powerful that all she needs to do is look at you to convince you to step off and leave her husband alone. At least now we know more about the story behind the selfie Haddish took with Beyoncé back in January.
Once you've watched her appearance on Jimmy Kimmel Live!, where she told the story of how she introduced Will Smith and Jada Pinkett Smith to the wonders of Groupon, or her episode of Drunk History, wherein she narrated the story of Rose Valland, a French museum curator—in addition to countless other interviews and public appearances on radio programs, red carpets and late night talk shows—it should go without saying that Tiffany Haddish is a master storyteller. The lesson learned from this particular ordeal? Don't touch Jay-Z in front of Beyoncé, because she will swerve in there to stop you, and Tiffany Haddish will be the one to expose you on national television.
Related: Let Tiffany Haddish and Busy Philipps Teach You an Important History Lesson
See W's most popular videos: