Let Tiffany Haddish and Busy Philipps Teach You an Important History Lesson
The two team up to tell the true story of the French woman Cate Blanchett plays in The Monuments Men in the season premiere of Comedy Central's Drunk History.
---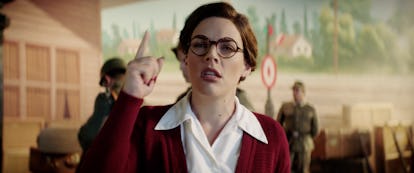 Drunk History/Comedy Central
Tiffany Haddish can now add "history teacher" to her impressively eclectic occupational resume. As part of Drunk History's episode based on heroines in history, the story of the midcentury art curator Rose Valland is told through the eyes of both Tiffany Haddish and Busy Philipps. Come for Haddish's attempt at a French accent and Philipps' period-appropriate eyewear, stay for the history lesson.
The conceit of Drunk History in case you weren't aware is simple—one comedian has too many drinks with the series creator and host Derek Waters, and attempts to narrate the story behind a true historical event. Then other actors and comedians get into character and recreate the narration on camera, slurred words and all. In the upcoming season premiere, Tiffany Haddish narrates the story of art curator Rose Valland, with Busy Philipps in the starring role as the French curator, and lessons are indeed learned. The World War II-era curator was a member of the French Resistance, and responsible for working with the Monuments Men—a group of both men and women from thirteen different countries that inspired the 2014 George Clooney film of the same name—to save as much artwork as possible from being plundered and destroyed by Nazis during their occupation of France. The character Cate Blanchett plays in The Monuments Men is said to have been inspired by Valland, who has been somewhat overlooked in the telling of this important historical moment in European history.
Beginning in 1941, Valland oversaw the Jeu de Paume Museum in Paris, and during World War II, unsuspecting Nazis were unaware that Valland was able to speak and understand German, so she was able to jot down their plans for plundering and used her knowledge of the German language save thousands of important pieces of art from destruction. As serious as the topic is, seeing Philipps act out Haddish's description of the true events that occurred during World War II France is both hilarious and highly educational.
A Brief History of Michelle Williams & Busy Phillips' Red Carpet Friendship