Emma Roberts Debuts Pink Hair
It's for an upcoming role.
---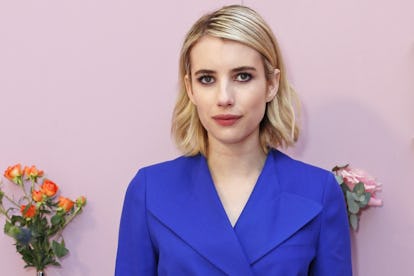 David M. Benett/Getty Images
There's getting into the spirit of spring by mixing in some pastels into your wardrobe, and then there's what Emma Roberts just did by dying her hair pink.
The Scream Queens star debuted her latest look on her Instagram Story on Monday. She paired the new 'do with heavy rose-gold eye makeup, matte blush, and a rose lip, making for a full face that looked extra pretty in pink.
Emma captioned the video "#ParadiseHills," implying that the dye job is for her role in the upcoming flick. She'll star as Uma, "the daughter of a magnate who commits suicide after his company is targeted for hostile takeover by a predatory billionaire named Son Prescott. Prescott decides to marry Uma, but only after kidnapping and sending her to Paradise Hills, a private sanitarium where she is to have her mind systematically destroyed," Deadline reports. The film, which is expected to come out later this year, sounds like it has some slight Handmaid's Tale vibes with a focus on strong female leads.
This may by the first time the world has seen Emma in a bubblegum hue, but she has been known to change up her hair on the regular. She's had 14 different hair colors in as many years, which is some Kylie Jenner–level chameleon-ing. (She's worn everything from brown to blonde to auburn.) Of course, it's not just color changes that make Roberts an unabashed hair adventurer, she's also chopped and cropped her hair into bobs and lobs and everything in between, and has been known to hit the red carpet with optical-illusion inducing updos, like one involving a ponytail and artfully placed knots.
Related: Emma Roberts Wants You to Read More, and She Has the Book Club To Make You Do It
In the Mood for… Short Hair
Photograph by Richard Burbridge for W Magazine, November 2014.
Photograph by Craig McDean for W Magazine, August 2014.
Photograph by Mert & Marcus for W Magazine, September 2012.
Photograph by Mario Sorrenti for W Magazine, April 2012.
Photograph by Steven Meisel for W Magazine, March 2011.
Photograph by Erik Madigan Heck for W Magazine, May 2014.
Photograph by Santiago & Mauricio for W Magazine, November 2013.
Photograph by Mert & Marcus for W Magazine, September2012.
Photograph by Juergen Teller for W Magazine, February 2014.
Photograph by Juergen Teller for W Magazine, February 2008.

Teller Juergen
Photograph by Patrick Demarchelier for W Magazine, February 2014.

Patrick Demarchelier
Photograph by Alasdair McLellan for W Magazine, March 2016.

MCLELLAN ALASDAIR
Photograph by David Sims for W Magazine, March 2008.

Sims David
Photograph by Andreas Laszlo Konrath for W Magazine, June 2011.

Andreas Laszlo Konrath
Photograph by Alasdair McLellan for W Magazine, March 2016.

MCLELLAN ALASDAIR
Photograph by Michael Thompson for W Magazine, April 2008.

Michael Thompson
Penelope Cruz photographed by Mert and Marcus for W Magazine, August 2008.

Mert Alas and Marcus Piggott
Photograph by Matthias Vriens McGrath for W Magazine, December 2015.

MATTHIAS VRIENS MCGRATH