Emma Stone and Jennifer Lawrence Became Friends in the Most Millennial Way
Emma Stone and Jennifer Lawrence's guide to Millennial friendship: just text each other until one day you're holding the other's hair back when they've had a messy night.
---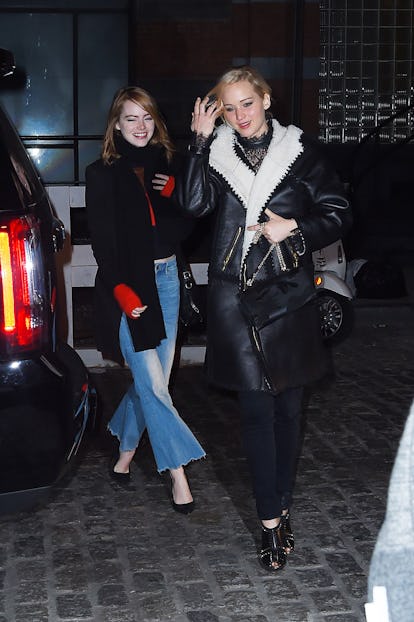 BuzzFoto via Getty Images
With all due respect to classic Hollywood best friendships like Jennifer and Courtney or Tina and Amy or younger duos like Gigi and Kendall or Taylor and whoever is in her squad at the moment, Emma Stone and Jennifer Lawrence have quietly emerged as celebrityland's biggest power friendship.
The two have been spotted out from time-to-time over the past year, and they made their bond red carpet official last month when Stone brought Lawrence as her date to the premiere of La La Land.
But how do two of Hollywood's hottest young actresses, one with an Academy Award already on her mantel and another hotly tipped to take home her first next year, become best friends in the first place? Were they both in Cannes and introduced by some wealthy sheik at an afterparty at Le Baoli? Did they both have their eye on the same Dior couture gown for a red carpet event and then realize they actually had a lot in common, like having the same vampire facialist? Give us some sort of backstory with at least a hint of glamour!
Alas, it's none of the above. The 26-year-old and 28-year-old are after all Millennials and they met in the most Millennial way possible. In fact, their friendship first started before they even meet face to face according to Jennifer Lawrence's cover story in the latest Vanity Fair.
Both had worked with Woody Harrelson (Lawrence in The Hunger Games and Stone in Zombieland) and he realized the two might hit it off, so he gave Stone Lawrence's number.
"She texted me that she got my number from Woody," Lawrence says in Vanity Fair. "I replied, Fuck off!' And we've been really good friends ever since."
The pair then texted each other back-and-forth every single day for a year. "I feel like it was our version of The Notebook—365 texts," Lawrence adds.
It's unclear when the two decided to take things to the next level by meeting up face-to-face, but Lawrence told Harper's Bazaar earlier this year that they had already reached the most sacred level of Millennial friendship when they attended an Adele concert last year: one comforting the other when she got a little too messy after a night out.
"I don't really stay out late. I'm kind of a bummer. I'm a nana. It's hard to get me out, and when I do go out I don't really stay out late. If I do stay out late and I'm partying hard, I will throw up," Lawrence said. "I don't have the tolerance to black out; I just start puking."
"Ask Emma Stone," she added. "It was the night we saw Adele in L.A. She just started rubbing my back. She was really sweet. I was like, 'Get out of here. It's so gross.'"
This, of course, is pretty much the way all Millennials make friends. Just text someone incessantly until they ghost you or, one day, you're holding their hair back while they puke and you realize you're now best friends forever.
The two do realize that from time to time they may be in competition for the same roles or even against each other on the awards circuit, but they've learned to accept that.
"We both really do love each other and care about each other as people, beyond being actors," Stone told Vanity Fair over email. "I support her completely when it comes to work and I feel the same from her, but I know we'd be friends even if we didn't do the same job."
"I don't know what I would be without acting," added Lawrence. "So if there is someone who loves the same thing, it should bring us closer. But it depends on how that person is, and Emma is so normal and lovely."
This is all so adorable and relatable and high Millennial. You know, except for the part about Woody Harrelson playing a pivotal part in all of this.