Emma Watson Donated a Million Pounds to Fight Sexual Harassment and Abuse Around the World
The British version of the Time's Up movement is here: 200 celebrities just published an open letter about fighting sexual harassment, and Emma Watson donated a million pounds to the new fund.
---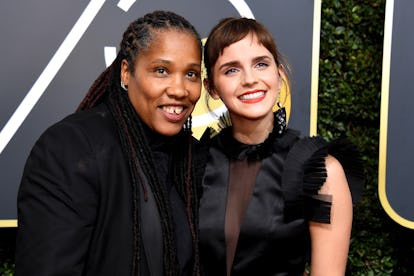 Kevork Djansezian/NBC/NBCU Photo Bank via Getty Images
Belle would be proud. Beauty And The Beast star Emma Watson just donated a million British pounds (roughly 1.4 million American dollars) to the Justice and Equality Fund, which aims to "provide support for those affected by sexual harassment," per the Daily Mail.
Watson, along with hundreds of other actresses and activists like Claire Foy, Emilia Clarke and Felicity Jones, signed a powerful open letter published yesterday in the Observer calling for an end to sexual harassment and abuse in the entertainment industry and in every workplace. "This moment has already raised a staggering $21m for an American Time's Up legal defence fund. But women all over the world need support and funding in order to be able to fight injustice. The revolution we want and need cannot happen without this resourcing. So, we invite you to join us in donating to the new UK justice and equality fund, to spread the word to others and be a catalyst for change. Everyone can make a difference by using your platform, your voice and your power as a changemaker," reads the letter. The fund went live this morning on GoFundMe and if you want to contribute, you can right here.
This is hardly Watson's first foray into the world of activism. She previously helped launch the HeForShe campaign at the UN, and often uses her platform to highlight feminist and intersectional writers and thinkers. In addition to financial support, Watson and other celebrities are expected to wear black and walk to the red carpet with activists at tonight's BAFTA awards, like many stars did at the Golden Globes in support of Time's Up.
"It's easy to dismiss harassment and abuse as being caused by 'one or two really, really bad men' but the UK statistics point to a much bigger and more structural problem. This issue is systemic, as opposed to individual, one-off events," said Watson, per the Guardian. "More than half of all women, and nearly two-thirds of women aged 18 to 24, say they have experienced sexual harassment at work. One in five women in England and Wales have experienced some type of sexual assault after the age of 16. This should not be tolerated and cannot and should not be our norm. We can do better than this."
Related: Emma Watson Addresses Her White Privilege and 'White Feminism' in Letter to Her Book Club