Meet Emma Weymouth, Britain's First Black Marchioness Who Just Modeled for Dolce & Gabbana
The multi-hyphenate also has her own lifestyle blog and food business.
---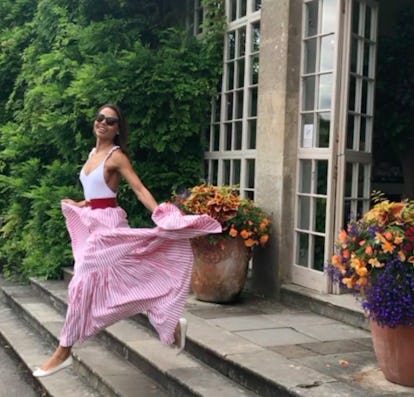 instagram.com/emmaweymouth
For Statesiders, the name Emma Weymouth may not yet ring a bell, but it's certainly one to know. As the first black marchioness in Britain, Weymouth—born Emma McQuiston—marks a historical turning point in English royalty. Ever since she married the Viscount Weymouth Ceawlin Thynn, who is due to inherit the Longleat Estate in Wiltshire, Weymouth has been adding some much-needed modernity to royal traditions. She's revived recipes found at Longleat that date back as far as 400 years for her own business Emma's Kitchen, which currently operates out of the estate — though, she has plans eventually to open more brick-and-mortar locations as well as expand to online retail, as she recently revealed to Mayfair Times. She shares some of them on her Instagram, which serves as her own lifestyle blog, with Weymouth sharing everything from her Shepherd's Pie recipe to how to make the perfect carrot cake, her skincare secrets, and what goes into her favorite cocktail—a rose and lychee martini. It's this kind of accessibility—especially when the royals have walled themselves off from the public for centuries—that makes the Viscountess such a refreshing addition.
For as approachable as she seems, Weymouth has also become a fixture in the fashion world. She's not only an ambassador for Fiorucci, but most recently, she served as a model for Dolce & Gabbana at Harrod's, where she wore a sequin floral gown with—what else—a jewel-encrusted headpiece. "So thrilled to have been part of the amazing @dolcegabbana #DGHARRODS show last night. Thank you @domenicodolce_oficial @stefanogabbana" she wrote on Instagram. "A #dream behind the scenes and on the runway."
It's on Instagram where the Viscountess most often shares glimpses into her life, from her wedding photos to photos of her two sons John and Henry, her baby she had with a surrogate this past year. Henry was born in West Hollywood, where the couple relocated to for his birth and a handful of months after. "We have certainly been worried about how people will react to the news," she told Daily Mail at the time, opening up about a health problem that prevented her from safely having her second child. "I just want them to know this is not about my vanity or that I was too lazy. I'm not the kind of person who would have done this for anything less than a very important reason… This time around I am able to enjoy the pleasure of being a mother without any shadows."
Outside of running Emma's Kitchen, the Viscountess is an active philanthropist, who supports the Women's Institute and, recently, held a charity 6k at Longleat called Glow in the Park.
Another thing that makes Weymouth unique is that her home, Longleat, is basically the real-life version of the Magic Kingdom. It houses England's first safari, where giraffes, lions, zebras, a gorilla named Nico, the oldest silverback in Europe, and tigers roam, which she frequently shares pictures of on Instagram.
Apparently the monkeys hop all over the cars.
The deer are extra friendly, too.
And you might even see a camel there.
To top it off, Longleat offers a very Instagrammable tea service that Weymouth has personalized.
Related: Meet Lexi Bowes-Lyon, the Wildlife Conservationist Who Happens to Be Prince William and Harry's Cousin
The 15 Best-Dressed Royal Kids Around the World