Emmanuel Perrotin: French Connection
He helped make Takashi Murakami a superstar and launched the career of Damien Hirst. Now the ballsy Parisian dealer has set his sights on New York.
---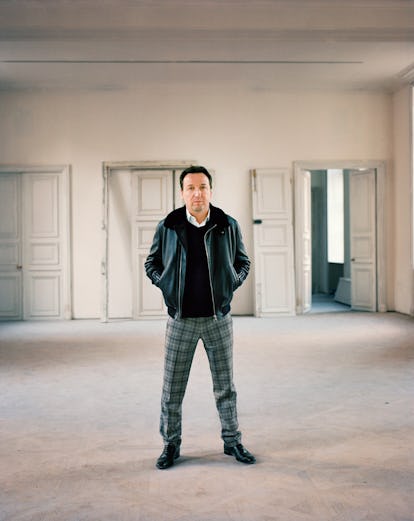 Photographer: François Halard
The art world, like any exotic subculture, has its own behavioral codes, its own unwritten rules about how things should be done. And in Paris, those rules evolve very slowly, when they evolve at all. For generations, the city's top art dealers tended to boast bonne famille pedigrees and fancy educations, and they ran their businesses with a certain kind of old-world discretion. Among the major no-no's: anything that smacked of overt salesmanship or self-promotion or, worst of all, silliness.
Which is why many Parisians were surprised when, in 1995, an ambitious 27-year-old dealer named Emmanuel Perrotin agreed to spend several weeks at his gallery dressed in a giant pink penis costume topped with bunny ears. The getup was part of an exhibition by the then little-known Maurizio Cattelan, who was taking a jab at both the artist-dealer relationship and Perrotin's reputation as a womanizer. Cattelan had proposed similar humiliating stunts to other dealers, but they had all turned him down.
Perrotin, indeed, has a knack for saying yes when everyone else says no. Last September, when he opened his first Manhattan space, in the landmark Bank of New York building on Madison Avenue at 73rd Street, much was made of the boldness of the venture. (Paris galleries have a notoriously poor track record in comparatively cutthroat New York.) But in his native France, Perrotin is already considered the most américain of art dealers, with all the pros and cons associated with that term. At a time when the line between art and commerce has become so blurry as to be often nonexistent, Perrotin has been one of the era's most eager boundary busters, forging new links between his artists and the worlds of fashion, music, and design while steadily raising his own profile (and profits) in the process.
"There are a lot of dealers in Europe who just want to complain," Perrotin says over a late breakfast in a café near his gallery in Paris's Marais district. "I'm rather positive and energetic. But it's true that the bigger you get, the more you start to worry and to ask yourself how well you're really doing."
Right now he seems to be doing pretty well. In addition to opening the Manhattan gallery and a renovated 17th-century hôtel particulier in Paris that will serve as a VIP showroom, Perrotin just celebrated his 25th anniversary as a dealer with a massive retrospective in the Northern French city of Lille. The 65,000-square-foot exhibition showcased the work of several art superstars whom Perrotin is credited with discovering: There were six Takashi Murakami pieces, some of them owned by Perrotin, along with a roomful of works by Damien Hirst, most on loan from the artist, who was snatched away by the London dealer Jay Jopling shortly after Perrotin gave him his first commercial show, in 1991. (Perrotin says he and Hirst are still friends and have discussed the possibility of reteaming.)
If 45 seems a bit young for someone to have a self-congratulatory career retrospective, it should be noted that Perrotin got an early start. The son of middle-class suburbanites, he barely finished high school and by 17 was working as the assistant to the Paris dealer Charles Cartwright; at 18 he was the gallery's director, and by 21 he'd opened a space in his living room. Perrotin spent his downtime hitting Paris nightclubs and haunting Kenzo sample sales, where he would snatch up clothes for 90 percent off and resell them, using the profits to buy more. He would also wear his finds: One of his choice looks from the time featured an oversize purple silk coat and a pearl necklace. "People always wanted to beat me up when I changed trains on the way home," he recalls.
New Wave fashion statements aside, there was something about Perrotin that made seasoned art world insiders—along with promising young artists like Cattelan, Murakami, and Hirst—want to take a chance on him. The Paris gallerist Marie-Hélène Montenay lent him $200,000 and set him up with a proper space. And Hirst, whose work Perrotin first saw at a group show in London in 1989, agreed to let him transport two of his pieces to Paris on top of his mother's Peugeot 205. Murakami met Perrotin in 1994 at an art fair in Yokohama, Japan, where the cash-strapped young dealer's entire stock consisted of artworks he'd brought in his luggage. "I thought, Oh, my God, this is a revolution!" Murakami recalls.
A year later, the two men ran into each other in New York at the Gramercy art fair, and this time Perrotin made room in his booth for three T-shirts printed with Murakami's manga-inspired Hiropon figures. When the shirts sold out, he proposed a solo show in Paris. According to the short version of the story that's often told, before long Murakami was one of the biggest artists on the planet, collaborating with Marc Jacobs on a line of Louis Vuitton handbags, exhibiting at the Palace of Versailles, and selling his giant fiberglass Hiropon sculptures for more than $2 million each.
But that account glosses over the many long years when Perrotin was hustling to earn Murakami's trust. The artist's first two gallery shows in Paris sold poorly, and even after Perrotin helped finagle Murakami's big break in the West, a 2001 solo exhibition at the Cartier Foundation in Paris, their relationship was often strained as Perrotin played middleman between the increasingly famous artist and demanding curators and collectors. In a dispute over financing with a curator at the MMK Museum für Moderne Kunst in Frankfurt weeks before Murakami's 2008 retrospective opened there, the artist was ready to pull out of the show. "Honestly, I wanted to tell them, 'Fuck you,' " Murakami recalls. But Perrotin calmed him down and negotiated a solution. "Emmanuel never gives up—ever," the artist says.
Perhaps it's inevitable that Perrotin, with his intense drive and his unapologetic salesmanship, is sometimes called the Gallic Larry Gagosian. But Murakami, who is represented separately by both dealers, dismisses the comparison. "The Gagosian style is very simple," he explains. "Larry says, 'Oh, I love that piece. And I love you, Takashi. And I'm the biggest art dealer, so follow me.' " Perrotin, with his much smaller empire, is by necessity a more assiduous and resourceful suitor, plunging into the minutiae of the artistic process at every stage, from conception to exhibition. Murakami, who often sends Perrotin early sketches of new pieces for his feedback, compares the dealer's role to that of a music producer, someone who is ever present in the background. "If a musician goes to a good producer, it changes everything," Murakami says.
The music analogy is an apt one. Galerie Perrotin is known for hosting glam late-night parties and dinners that are likely to feature surprise concerts by the French singer Sébastien Tellier or the English band Massive Attack; Pharrell Williams has teamed with the gallery to design limited-edition chairs. Two weeks after Perrotin inaugurated his New York space with a splashy carnival-themed soirée that drew Hirst and Murakami, he is back in Paris hosting a party on the opening night of the FIAC art fair, at the construction site that will be his showroom. The crowd consists of what appears to be the 100 best-looking people from the FIAC preview, plus assorted artists and collectors. "It's kind of cool how Emmanuel gathers all these different people and makes them dance together," says Colombian-born Iván Argote, who at 30 is one of the gallery's youngest artists. During a performance in the basement by the goofy French band Naïve New Beaters, Perrotin is in the crowd with a big smile, singing along with the lyrics: "Shit happens every day, but it's all right!"
A few days later, Perrotin, dressed in one of his custom-made dark suits, walks me around his main gallery, housed in another limestone mansion just up the Rue de Turenne. In a second-floor office, two computer programmers keep minute-by-minute tabs on sales. When someone jokes about the possibility of inter-gallery cyber-espionage, Perrotin smiles and says, "Hmm, do you think Larry [Gagosian] has access to our software? Surely, there must be agreements between Larry and the NSA."
Though the spotlight generally shines on the most pop-oriented and media-friendly artists of the bunch, like Murakami and KAWS, Perrotin's roster of 40 artists also includes conceptualists (Michael Sailstorfer and Sophie Calle). Perrotin, who is completely self-taught, acknowledges that his eclecticism is more instinctive than intellectual. But if there's a lack of coherence to his stable, he insists it works to his advantage. "My program creates bridges between very different artists," he says. "When a gallery's artists are all a kind of 'total look,' they are all competing against each other."
These days, of course, Perrotin's instinct for making contemporary art simultaneously hipper and more democratic—something that initially had him labeled as a lightweight in Paris—has proved visionary, as elite museums and institutions adopt a more crowd-friendly approach. He clearly gets a charge out of taking financial risks, whether that means transporting zebras to a snow-covered mountaintop for a Paola Pivi photograph or opening a huge outpost in Miami (it proved unprofitable and closed in 2010). Less visible but no less costly, Perrotin says, are the countless mundane outlays and obligations that major dealers rarely discuss publicly. "There are artists who haven't been with my gallery in 10 or 15 years, whose work I have in huge storage spaces that I'm paying for," he says. "They tell me they don't have the space. So what do you do, destroy the works?"
Not long ago, Perrotin confessed to Murakami that he sometimes fantasizes about retiring. When I ask him why, he cites the pressures of his schedule, which has been particularly frenzied lately. He's also going through a difficult split with Patricia Kamp, the mother of his 2-year-old daughter, and he recently got hit with a tax audit—his sixth. Is someone in the French government out to get him? "No, this happens because I'm the gallery that declares the most sales in France," Perrotin says. Then he adds pointedly, "You understand what I mean." (He doesn't claim to be the biggest French gallery, only that he reports more income than the others.)
Though he projects the world-weary confidence of someone who has spent decades in the trade while he's discussing its hard realities, Perrotin also manages to exhibit traces of the eager-to-please 22-year-old who once lived in his gallery to save on rent. He's the rare Parisian who makes no attempt to camouflage his sensitivity to criticism. "I've always cared about the opinions of others," he says. "I know it's not very chic to admit it." For a lifelong dreamer-cum-operator like Perrotin, the new Manhattan outpost is clearly the ultimate bid for validation, though he emphasizes the opportunities it will provide for his artists. "I know New York doesn't need me," he says.
Perrotin recently signed, along with emerging talents such as Argote, two defiantly noncommercial éminences grises—Claude Rutault and Pierre Soulages, both French abstract painters—prompting some to speculate that he's making a transparent play for gravitas. Rutault, 72, who paints his canvases the same color as the walls on which they are hung, is known as a rather grumpy outsider, the kind of artist who's likely to skip his own openings. "The truth is I don't like galleries very much," he tells me, though he says Perrotin has pursued him for years and hints that the possibility of showing in New York was a big draw.
Soulages, 94, has spent most of his career quietly producing work that explores the nuances of the color black. Reached by phone at his studio in Southern France, he recalls how Perrotin paid him a visit two years ago and won him over with his dynamism; Soulages eventually agreed to do a large show at the New York space in April, co-organized with Dominique Lévy, whose gallery shares the building. As for the mauvaises langues who criticize Galerie Perrotin for being too trend-driven and sales-oriented, Soulages notes drily that the whole point of a gallery, after all, is to sell works of art. "When a gallery like Perrotin's succeeds, it's criticized as 'commercial,' " Soulages says. "Unsuccessful galleries—well, they are less commercial, that's for sure."
Photos: Emmanuel Perrotin: French Connection
Perrotin in the ballroom he's converting into a VIP viewing space in Paris

Photographer: François Halard
Perrotin dressed in a giant pink penis costume with bunny ears—part of an exhibition by Maurizio Cattelan, at the Perrotin gallery in Paris in 1995. Courtesy of Maurizio Cattelan's Archive and Galerie Perrotin.
Perrotin with Paola Pivi's Who Told You White Men Can Jump?, at the opening of his New York gallery in September 2013. Photograph by Guillaume Ziccarelli; courtesy of Galerie Perrotin.
KAWS's "Pass the Blame" show, New York, 2013. Photograph by Guillaume Ziccarelli; courtesy of Galerie Perrotin.
Swizz Beatz, Alicia Keys, KAWS, Helen Lasichanh, and Pharrell Williams at the opening. Photograph by BFAnyc.com.
View of the Perrotin gallery's 25th anniversary exhibition in Lille, 2013. Courtesy of ADAGP/ Galerie Perrotin.
Damien Hirst and his With Dead Head, 1991. Courtesy of Galerie Perrotin.