Emmy Rossum's Angelyne Gives Life to an L.A. Enigma
The trailer for Angelyne reveals Emmy Rossum as the blonde bombshell who was one of the first celebrity figures to become famous for being famous.
---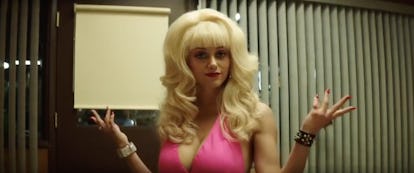 Image courtesy of Peacock TV.
She's blonde, she drives around town in a pink Corvette, she's famous for being on billboards. We're talking about Angelyne, the mysterious Los Angeles legend who became well known after appearing on billboards across L.A. in 1984.
When Angelyne showed up on those billboards, she pioneered a new kind celebrity as we know it, long before social media and before that family of eight got famous for being famous and built a multimedia empire. Shortly after the West Coast icon's real identity as a Polish-born daughter of Holocaust survivors was revealed by The Hollywood Reporter, it was announced that Emmy Rossum would play Angelyne in a limited series.
Teaming up with her husband, Mr. Robot creator Sam Esmail, Rossum will appear as the bombshell in Angelyne, which will debut on Peacock, NBC's new streaming service slated to launch in July. Jefferson Hall, Martin Freeman, Euphoria's Lukas Gage, and Brian Carpenter will co-star alongside Rossum in the series.
It was Rossum's fascination with Angelyne that led to the development of the series about the L.A. legend's origins in the first place. "I have always been fascinated by the enigma that is Angelyne," Rossum told The Hollywood Reporter in 2017 after taking the role. "At a young age, I can vividly remember staring up at her on a billboard above me and wondering, 'Who is that woman?' Gary Baum's investigative journalism has finally unearthed the true, complex identity of the infamous woman who has fascinated Los Angeles for over 30 years. From the moment I read Gary's recent piece, I knew I had to tell this story. It's a poignant and bizarre tale about the hunger for fame, the sexualization of women and the erasing of past traumas."
Related: Emmy Rossum Will Star As LA's Most Glamorous Folk Hero Angelyne in a New Limited Series