Emmys 2017: The Show's 9 Most Surprising Moments
There was never a dull moment.
---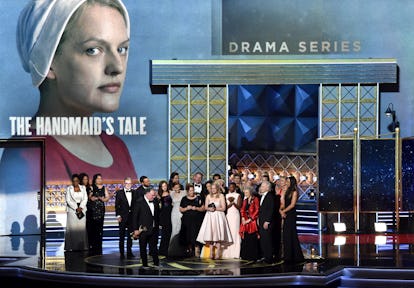 Lester Cohen/WireImage
From Stephen Colbert's musical opener to Margaret Atwood's on-stage appearance when The Handmaid's Tale won Best Drama, there were many moments to savor while watching Emmys 2017 on Sunday night. The 69th annual awards show flew by as it made history with unprecedented wins by a number of minorities, most prominently Best Director for a Comedy Series (Donald Glover, Atlanta) and Outstanding Writing in a Comedy Series (Lena Waithe, Master of None) and took more risks than the average awards show. That was largely in part due to host Colbert's overt political commentary, which started in his opening song with lines like, "Dear friends, the next time the world's problems/ Make you feel the blues/ Turn on any channel/ Well, except the news'/ Cause troubles aren't so troubling/ If you see them in HD/ The world's a little better on TV…" Indeed, the show was a celebration of television's current renaissance, a medium where inclusivity reigns—this year's class of nominees was the most diverse in history—and where Hollywood seems to be bringing its most ambitious projects. Streaming services are partly to thank for that, and, this year's ceremony was a validation for Netflix, Amazon and Hulu, which walked in with a slew of nominations and eventually picked up some of the major trophies of the night, including the eight wins for Hulu's Handmaid's. (Broadcast television, it should be noted, also had a good night, with NBC picking up awards for stalwart Saturday Night Live and newcomer This Is Us.) Below, take a look at some of the biggest upsets and surprising moments from the evening.
1. Sean Spicer Allowing Himself to Be a Punchline
One of the most unexpected moments of the evening was when disgraced former White House Press Secretary Sean Spicer was rolled out on the stage in an imitation of Melissa McCarthy's Spicer parody for SNL. The bit came after Colbert mocked Donald Trump's sore Emmy loss—the president had brought this up in a debate against Hillary Clinton, calling the awards show "rigged" and questioning its ratings—the host asked, "Is there anyone who can say how big the Emmys are?" Enter Spicey, who has a spotty history when it comes to summing up crowd sizes. "This is the largest audience to witness the Emmys, period," Spicer said, riffing on his false claim that Trump's inauguration crowd eclipsed any other. "Both in person and around the world. Both in person and around the globe."
"Melissa McCarthy everyone, give it up," Colbert joked after, cutting to McCarthy's shocked reaction. The exaggerated reaction belonging to Veep's Anna Chlumsky might have been the most relatable, though. Many viewers found Spicer's cameo to be less funny than concerning, considering all of the lies Spicer told while serving as Trump's mouthpiece.
"What fun to watch @seanspicer having a sense of humor about all the times he lied to the American public! GOOD SPORT! #emmys," tweeted comedian Paul F. Tompkins.
2. Nicole Kidman Revealing Big Little Lies Came Out of the Stars' Frustration Over Not Getting Roles
What was more surprising than Nicole Kidman winning the competitive Emmy for Outstanding Lead Actress in a Limited Series—her first— was when she revealed that she and Reese Witherspoon teamed up on the series because they weren't getting the roles they wanted. "This is a friendship that then created opportunities," Kidman said. "It created opportunities out of a frustration because we weren't getting offered great roles. So now, more great roles for women please." She passed back the mic to Witherspoon, who closed out with, "It's been an incredible year for women in television. Can I just say, bring women to the front of their own stories and make them the heroes of their own stories."
3. Alexander Skarsgård Kissing Nicole Kidman on the Lips
On Big Little Lies, Skarsgård played Kidman's abusive husband and their scenes together were violent and difficult to film, as both actors confessed to W earlier this year. So, it was touching to see that the two had formed a bond in the filming of a show that required mutual trust and intimacy. Upon winning his award for Best Limited Series Supporting Actor, Skarsgård greeted Kidman affectionately, planting a kiss directly onto his co-star's lips. On stage, he singled out his mother, Swedish actress My Agnes, the "incredible women" in his life, and "the ladies of the show—thank you for making this boy feel like one of the girls."
4. The Handmaid's Tale Sweeps the Emmys
Before 2017, Hulu had no track record of delivering Emmy awards, let alone nominations. But that all changed with The Handmaid's Tale, which delivered first Emmys to both veteran actress Ann Dowd and Mad Men's Elisabeth Moss and took home the award for Best Drama Series. Dowd's win for Best Supporting Actress in a Drama was such an upset—she was competing against a fellow castmate, Samira Wiley—even she was not prepared for it. "I think this is a dream," she said, holding back her tears. "I know it's an actor's dream. I've been acting for a long time and that this should happen now, I don't have the words but I thank you." Meanwhile, Moss beat out Viola Davis, Claire Foy, and Robin Wright, to name a few, to win Lead Actress in a Drama. The most unexpected moment of The Handmaid's Tale dominating the evening though might have been when writer Margaret Atwood came out to assist in collecting the award for Best Drama Series and received a standing ovation. "Go home, get to work," show-runner Bruce Miller told the audience. "We have a lot of things to fight for."
5. Lena Waithe Makes History
In one of the more emotional moments of the night, Lena Waithe made history as not only the first black woman to be nominated for Outstanding Writing in a Comedy Series but the first to win it. Taking the stage with her Master of None co-star and co-writer for their winning "Thanksgiving" episode, Waithe delivered a tissue-grabbing speech. "Wow, wow, wow," she said as if in disbelief. After thanking her mother as well, among others, she spoke to her "LGBTQIA family," saying, "I see each and every one of you. The things that make us different, those are our super powers. Every day when you walk out the door and put on your imaginary cape and go out there and conquer the world because the world would not be as beautiful as it is if we weren't in it. And for everybody out there that showed so much love, thank you for embracing us, a little Indian boy from South Carolina and black girl from the South Side of Chicago. We appreciate it more than you could ever know."
6. RuPaul's Mid-Show Interview with Stephen Colbert as an Emmy
There were many attempts at jokes throughout the 69th installment of the Emmy Awards but none landed as well as RuPaul's. Dressed as the gilded statue, the Drag Race host, and actual Emmy winner, gave an interview to Colbert as an actual Emmy. "I'm excited to be sitting down at all," RuPaul told Colbert. "I've been holding that thing for 69 years." "Do you like Oscar?" Colbert asked. "He's cute," RuPaul replied. "We actually dated for a little while. I had to break it off, I just couldn't date a man who's naked all the time holding a sword."
7. Donald Glover Wins Big
Donald Glover wasn't an unexpected winner for Best Director for a Comedy Series for Atlanta, but he was a historic one. The comedian, actor and musician became the first black director to win in that category. "Oh man," he began his acceptance speech. "First, I want to thank the great algorithm that put us all here…" He then dedicated his his best friend and mentor, music video director Hiro Murai. "I just love everyone out here…This really beyonds to Hiro Murai. He taught me everything about directing. He had the eye for this show and he's just amazing. I really want to give this to Hiro and just say 'I love you and thank you for being my best friend.'" Glover also took home lead actor for a comedy series, delivering another memorable speech. "I want to thank Trump for making black people number one on the most-oppressed list," he said. "He's probably the reason I'm up here."
8. Chance the Rapper's Activistic Cameo
Stephen Colbert's overtly political opener was full of cameos, from Anthony Anderson to Julia Louis-Dreyfus, but none were as surprising as Chance the Rapper. The Chicago MC furthered Colbert's call to action in a freestyle with lines like "I love television, it's a pleasant distraction / But just imagine taking action/ I like Brooklyn Nine-Nine/In fact I'm addicted/But where's the cop show where one gets convicted…I get it the finales that got you focused, just record the show and try to show up at the protest." Chance the Rapper may have lost for the Outstanding Original Music Emmy with his with track in the Saturday Night Live sketch "Last Christmas," but he won the show's opener.
9. Roger Ailes' Inclusion in the Emmys "In Memoriam"
For as diverse as the 2017 Emmys were, there was still at least one moment many viewers found to be offensive: the citation during the In Memoriam segment of Roger Ailes, the late Fox News Channel chief who was forced to step down over a litany of accusations of sexual harassment at the conservative news outlet. The toxic executive, whose propaganda-driven outlet arguably helped Donald Trump get elected, died this past May and was included in the show's tribute reel, but to add insult to injury, he was included alongside respected broadcasters like Gwen Ifill, and during a segment that was soundtracked by Stevie Wonder's "As." Many took the opportunity to point out the flaws in that on Twitter.
Emmys 2017: See What All Of the Stars Wore On the Red Carpet
Millie Bobby Brown in Calvin Klein By Appointment attends the 69th Annual Primetime Emmy Awards at Microsoft Theater on September 17, 2017 in Los Angeles, California.

Photo by J. Merritt/Getty Images
Issa Rae in Vera Wang attends the 69th Annual Primetime Emmy Awards at Microsoft Theater on September 17, 2017 in Los Angeles, California. (Photo by Frazer Harrison/Getty Images)

Frazer Harrison
Anna Chlumsky attends the 69th Annual Primetime Emmy Awards at Microsoft Theater on September 17, 2017 in Los Angeles, California. (Photo by J. Merritt/Getty Images)

J. Merritt
Julianne Hough in Marchesa attends the 69th Annual Primetime Emmy Awards at Microsoft Theater on September 17, 2017 in Los Angeles, California. (Photo by Frazer Harrison/Getty Images)

Frazer Harrison
Finn Wolfhard, Noah Schnapp, Gaten Matarazzo, in Ted Baker, and Caleb McLaughlin attend the 69th Annual Primetime Emmy Awards at Microsoft Theater on September 17, 2017 in Los Angeles, California. (Photo by J. Merritt/Getty Images)

J. Merritt
Sterling K. Brown and Ryan Michelle Bathe attend the 69th Annual Primetime Emmy Awards at Microsoft Theater on September 17, 2017 in Los Angeles, California. (Photo by Frazer Harrison/Getty Images)

Frazer Harrison
Felicity Huffman, in Tony Ward, attends the 69th Annual Primetime Emmy Awards at Microsoft Theater on September 17, 2017 in Los Angeles, California. (Photo by J. Merritt/Getty Images)

J. Merritt
Tessa Thompson in Rosie Assoulin attends the 69th Annual Primetime Emmy Awards at Microsoft Theater on September 17, 2017 in Los Angeles, California. (Photo by J. Merritt/Getty Images)

J. Merritt
Rachel Bloom attends the 69th Annual Primetime Emmy Awards at Microsoft Theater on September 17, 2017 in Los Angeles, California. (Photo by J. Merritt/Getty Images)

J. Merritt
Kiernan Shipka in Miu Miu attends the 69th Annual Primetime Emmy Awards at Microsoft Theater on September 17, 2017 in Los Angeles, California. (Photo by J. Merritt/Getty Images)

J. Merritt
Shannon Purser attends the 69th Annual Primetime Emmy Awards at Microsoft Theater on September 17, 2017 in Los Angeles, California. (Photo by J. Merritt/Getty Images)

J. Merritt
Sarah Hyland in Zac Posen attends the 69th Annual Primetime Emmy Awards at Microsoft Theater on September 17, 2017 in Los Angeles, California. (Photo by J. Merritt/Getty Images)

J. Merritt
Yvonne Strahovski in Julien Macdonald attends the 69th Annual Primetime Emmy Awards at Microsoft Theater on September 17, 2017 in Los Angeles, California. (Photo by Jeff Kravitz/FilmMagic)

Jeff Kravitz
Angela Sarafyan attends the 69th Annual Primetime Emmy Awards at Microsoft Theater on September 17, 2017 in Los Angeles, California. (Photo by John Shearer/WireImage)

John Shearer
Laverne Cox attends the 69th Annual Primetime Emmy Awards at Microsoft Theater on September 17, 2017 in Los Angeles, California. (Photo by J. Merritt/Getty Images)

J. Merritt
LOS ANGELES, CA – SEPTEMBER 17: Actor Amanda Crew attends the 69th Annual Primetime Emmy Awards at Microsoft Theater on September 17, 2017 in Los Angeles, California. (Photo by Kevin Mazur/WireImage)

Kevin Mazur
Edie Falco attends the 69th Annual Primetime Emmy Awards at Microsoft Theater on September 17, 2017 in Los Angeles, California. (Photo by Frazer Harrison/Getty Images)

Frazer Harrison
Sofia Vergara attends the 69th Annual Primetime Emmy Awards at Microsoft Theater on September 17, 2017 in Los Angeles, California. (Photo by Frazer Harrison/Getty Images)

Frazer Harrison
James Corden and producer Julia Carey attend the 69th Annual Primetime Emmy Awards at Microsoft Theater on September 17, 2017 in Los Angeles, California. (Photo by Frazer Harrison/Getty Images)

Frazer Harrison
Madeline Brewer attends the 69th Annual Primetime Emmy Awards at Microsoft Theater on September 17, 2017 in Los Angeles, California. (Photo by J. Merritt/Getty Images)

J. Merritt
Yara Shahidi attends the 69th Annual Primetime Emmy Awards at Microsoft Theater on September 17, 2017 in Los Angeles, California. (Photo by J. Merritt/Getty Images)

J. Merritt
Judith Light attends the 69th Annual Primetime Emmy Awards at Microsoft Theater on September 17, 2017 in Los Angeles, California. (Photo by Frazer Harrison/Getty Images)

Frazer Harrison
Ellie Kemper in Jenny Packham attends the 69th Annual Primetime Emmy Awards at Microsoft Theater on September 17, 2017 in Los Angeles, California. (Photo by J. Merritt/Getty Images)

J. Merritt
Regina King attends the 69th Annual Primetime Emmy Awards at Microsoft Theater on September 17, 2017 in Los Angeles, California. (Photo by J. Merritt/Getty Images)

J. Merritt
Heidi Klum attends the 69th Annual Primetime Emmy Awards at Microsoft Theater on September 17, 2017 in Los Angeles, California. (Photo by J. Merritt/Getty Images)

J. Merritt
Jessica Biel attends the 69th Annual Primetime Emmy Awards at Microsoft Theater on September 17, 2017 in Los Angeles, California. (Photo by Frazer Harrison/Getty Images)

Frazer Harrison
Michelle Pfeiffer attends the 69th Annual Primetime Emmy Awards at Microsoft Theater on September 17, 2017 in Los Angeles, California. (Photo by J. Merritt/Getty Images)

J. Merritt
Uzo Aduba attends the 69th Annual Primetime Emmy Awards at Microsoft Theater on September 17, 2017 in Los Angeles, California. (Photo by Frazer Harrison/Getty Images)

Frazer Harrison
Kate McKinnon in Narciso Rodriguez attends the 69th Annual Primetime Emmy Awards at Microsoft Theater on September 17, 2017 in Los Angeles, California. (Photo by J. Merritt/Getty Images)

J. Merritt
Vanessa Bayer attends the 69th Annual Primetime Emmy Awards at Microsoft Theater on September 17, 2017 in Los Angeles, California. (Photo by J. Merritt/Getty Images)

J. Merritt
Watch: Nicole Kidman Could Go on "Survivor" and Crush It
Nicole Kidman Could Go on "Survivor" and Crush It