Lena Waithe Is the First Black Woman to Win an Emmy Award for Comedy Writing
"Let me reclaim my time."
---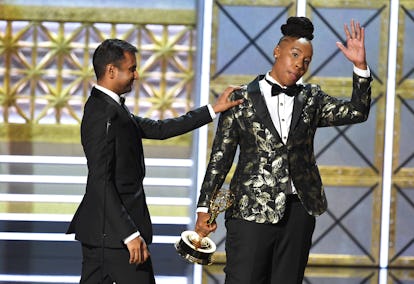 Kevin Winter/Getty Images
Lena Waithe is definitely not a master of none: The writer and actress made history on Sunday night when she became the first ever black woman to win an Emmy Award for comedy writing, for Master of None.
Waithe and Aziz Ansari took home the statuette at the 2017 Emmys for Outstanding Writing for a Comedy Series for the "Thanksgiving" episode in the second season of Netflix's Master of None. Waithe began her breathless acceptance speech with, "Let me reclaim my time, give me a second. I got to thank god or else I wouldn't be standing here." She continued, "I want to thank my mother for inspiring the story and allowing me to share it with the world. I love you, mom." Waithe also thanked Ansari and Alan Yang, the co-creators of the series, before giving a shout-out to her girlfriend: "I love you more than life itself," she said.
The 33-year-old ended her speech with a powerful message to the LGBT community. "Last but not least, my LGBTQIA family, I see each and every one of you. The things that make us different, those are our superpowers. Every day when you walk out the door and put on your imaginary cape and go out there and conquer the world, because the world would not be as beautiful as it is if we weren't in it," she said. "And for everybody out there that showed so much love, thank you for embracing us, a little Indian boy from South Carolina and a queer black girl from the South Side of Chicago. We appreciate it more than you could ever know."
In an interview with the Los Angeles Times last month, Waithe shared how her own coming-out story had influenced the winning episode, which takes place over the course of several years and portrays her character Denise's family's struggling to accept her sexuality. "Aziz was just like, 'What you can do with this story… I can't duplicate that,'" she said. "I had survived that thing that I was so afraid of." Waithe continued, "It is less taboo for a girl to be a tomboy than it is for a young man to be effeminate. But that's why I thought it was so important to show that, but also show how a mom, a black mom especially, of that generation was like, 'No. Wear the dress. We'll make it fit,'" she said. "There's that desire for appearances, but there's not that much worry. But when it confronts her, whether it's me coming out or me bringing another girl home, she doesn't like it too much."
Countless stars turned to Twitter to congratulate Waithe and Ansari on the historic win, including Insecure's Issa Rae, Ellen DeGeneres and The Roots' Questlove.