Erdem Moralioglu Can Now Add Amateur Photographer to his Resume
For fashion designer Erdem Moralioglu, photography offers a new creative outlet. Here, an alternative view of his designs through his own lens.
---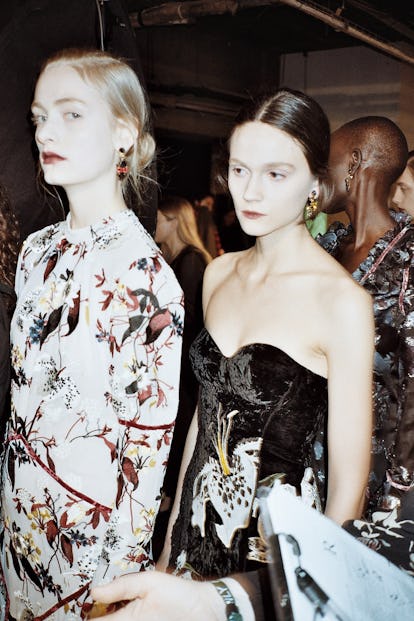 Photo by Erdem Moralioglu.
Fashion designer Erdem Moralioglu is known for his romantic floral prints, love of refined beauty, and more recently, his interest in art. He recently curated a contemporary sale at Sotheby's, and for his fall 2015 runway show set, he collaborated with the visual artist Robin Brown. "I started collecting art about seven years ago, and the first thing I bought was a Wolfgang Tillman's photo – I love his photos," says Moralioglu, who also recently acquired works by Anne Collier, Candida Höfer and Rineke Dijkstra.
This fall's collection, staged in a theater, was inspired by Hollywood screen sirens of the 20s, 30s, and 40s ("My eyes are always open and I get inspired by all sorts of things, music, movies, books, art…"). The collection felt glamourous, what with a silver sequin cape and gold fringed skirt among the runway hits. There was something theatrical about that night, and having documented everything around him as a young boy, it seemed natural for Moralioglu to pull out his camera and "capture that moment the night before a show."
"I bought the Contax T2 [camera] from eBay," he says. "Growing up, I always used to shoot everything on film to remember everything and keep a visual diary." When he's not shooting behind-the-scenes at his own shows, "I love being a tourist and taking pictures of random things, like the backs of people's heads, looking at paintings in museums or random architecture," he says, of his newly public hobby. "It could be anything."
For Moralioglu, designing and photography go hand in hand, and the latter is just an additional creative outlet. "It's the idea of being able to record something, but not actually knowing what you had recorded until you get the photos developed," he says. "It is almost like a blind recording of events."