Erykah Badu and Kerby Jean-Raymond: Partners in Politics and Fashion
Together, the singer and designer worked on an emotionally resonant fall show for Pyer Moss.
---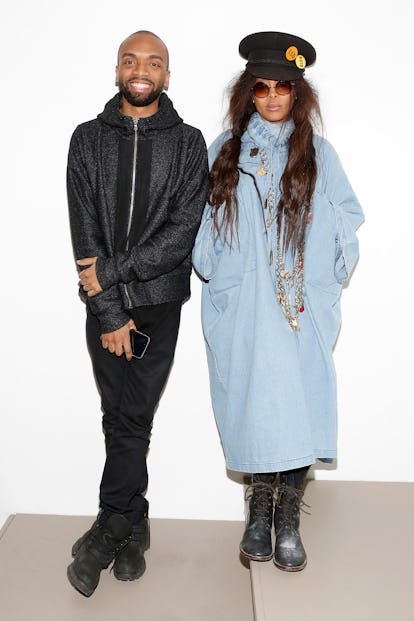 Backstage at the Pyer Moss on Saturday, Erykah Badu sat in a denim caftan and calmly adorned chauffeur hats with neon-colored pins that read: "Zoloft," "Oxy" and "Booze."
"These are the cocktails that numb the pain," she said. "The driver's ed."
Badu, an acclaimed, Grammy award-winning singer and songwriter, has starred in campaigns for Givenchy and Tom Ford in the past, but this was her first time styling a New York Fashion Week show. "I have absolutely no relationship with the fashion industry," she declared.
Pyer Moss' designer, Kerby Jean-Raymond, became acquainted with the singer through a mutual friend over a year ago when he loaned her a pair of overalls. "I loved them so much, I stole them," Badu recalled. When she called Jean-Raymond to politely inform him she wasn't planning on giving the overalls back, he offered a compromise: "I'll let you keep them if you style my show."
The collection they showed on Saturday at Milk Studios was the result of their collaboration but also of a friendship rooted in a shared sensibility and built over the many, many telephone conversations they've enjoyed since the purloined overalls episode.
Jean-Raymond, 29, founded his label in 2013, after stints at Kay Unger – he was an apprentice at 14 – and later at Marchesa. But like Badu, he also has a funny relationship to the fashion industry. "I've always felt like an outcast," he said. "My aesthetic is very high-end, but I still get classified as streetwear."
He continued: "There's really no other reason for than other than my age, the way I look, and where I'm from. If you put the collections together, whether it's Rick Owens, Alexander Wang, or whomever, sometimes they do streetwear, but they're never called that. They're always called 'sportswear' or 'high-end' or 'luxury.' I feel like I'm tossed into that streetwear category so that I don't exist in this space. At a certain point, you just stop trying to be a part of it. You stop trying to get invited to the parties. You stop trying to get certain coverage. You're just happy with what you have."
For instance, he may be alone as a designer in commenting on race through his work. In September, he made waves when he showed blood-splattered shoes that read "I can't breathe" at his spring presentation — a reference to the last words of the late Eric Garner. Though the show received positive notices, he still got death threats and decided to flee to Los Angeles. When he told Badu about the controversy, she offered words of encouragement: "It means you're doing something right."
The City of Angels wasn't quite the refuge he was looking for and his fall collection is in fact a response to his time there, an experience he deals with both seriously and with humor. He included hoodies with the words "You don't have any friends in L.A." printed on them, a line that got a laugh from his New York audience.
And he also sent out a model with a sign that read "My demons won today I'm sorry," a reference to MarShawn McCarrel, a Black Lives Matter activist who recently committed suicide. Throughout the show, a choir dressed in medical gowns performed trap songs by Future and Fetty Wap. As the lyrics "My [expletive] stack their money just to spend it / Cause when you die you cannot take it with you" echoed through Milk Studios, the crowd reaction turned sincere.
"With things that I'm going through, whether they be on a small scale or a large scale, I'm thinking: Who else is going through this? And how can I address it and bring it to light to help someone else?" Jean-Raymond said.
Tackling emotional issues, the personal and the political, through his work is something else he shares with Badu.
Backstage before the show began, the singer was down on the ground wrapping tape around a model's ankles. On a DIY hem, she wrote in Sharpie, "Help!"
"I don't know a lot about fashion," she said, finally. "But my personal style is honesty. Art is my therapy."
Photos: Erykah Badu and Kerby Jean-Raymond: Partners in Politics and Fashion
Kerby Jean-Raymond and Erykah Badu. Photo by Getty Images.