Essential Summer Hair Treatments Prescribed by Celebrity Hair Experts
The hairstylists behind Gabrielle Union, Ciara, Kendall Jenner, and more, list their favorite products and treatments to repair dryness and damage.
---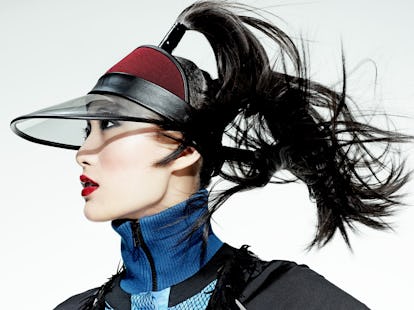 The concept of the summer hairstyle tends to evoke visions of soft, loose, beach waves that mirror the carefree vibes of the season. But in reality, the measures necessary to mimic these looks are often anything but loose and carefree. The damaging elements of sun, salt water, and chlorine are constant during the summer months. Plus, due to humidity, you're likely over-washing your hair and stripping it of natural oils. Regularly scheduled colorings (which, during quarantine, have probably taken the form of boxed dyes done haphazardly in your bathroom at home) and use of styling tools do your locks no favors in the long run, as they continue to dry out hair.
But a slate of new products, with innovative ingredients and treatments, are providing solutions to address these seasonal issues. We consulted a handful of the most esteemed and trusted celebrity hair experts to weigh on essential and effective hair treatments that will bring your hair to its most vital luster.
Hydrating Color Relief
Ursula Stephen, Ursula Stephen The Salon
Clients: Rihanna, Charlize Theron, Kerry Washington, Laverne Cox, Ciara, Tiffany Haddish
Stephen, the celebrity hairstylist responsible for some of Hollywood's most glamorous tresses on the red carpet and in print editorial, is a longtime fan of vitamin E for hair repair. "The most essential component for sun-damaged hair is hydration," Stephen says. "I recommend starting with Tresemmé's Moisture Rich Shampoo, followed by the Moisture Rich Conditioner. This product is a hair staple that will consistently work and has never let me down.
Vitamin E targets the dryness by restoring and sealing in moisture for locks.
"It is incredibly hydrating, which makes hair softer and more manageable," Stephen adds. "During quarantine, I also became obsessed with Overtone's coloring conditioning treatment for my grays. It allowed me to safely color my hair and treat it at the same time. I didn't have to worry about the risk of damage, because it's ammonia free and made with coconut oil and shea butter. Also, my favorite DIY treatment is a hair mask with olive oil and avocados. Both ingredients are highly penetrating and moisturizing and are great for strengthening the hair. You'll need one avocado and two tablespoons of olive oil. Blend together, then add to clean, damp hair. Cover with a plastic cap for 30 minutes. Shampoo to remove."
Bleach Relief: Lamellar Water
Matt Rez, Mèche Salon
Clients: Camila Mendes, Lili Reinhart and Eiza Gonzalez
For overbleached, highlighted, and parched hair, LA-based colorist Rez touts the effectiveness of Lamellar Water, the second step of an innovative three-step hair repair treatment.
Lamellar Water is an amino acid-based unique liquid that, once applied to hair, goes directly toward damaged ends to fill up the pores with moisture. "I am absolutely obsessed with the Redken Extreme Bleach Recovery 3 Step System," Rez says. "It gives highlighted hair the extreme hydration it needs. There's shampoo, a Lamellar Water Rinse, and a Cica Cream leave-in treatment. The power of the Lamellar Water to heal hair is the most important step here. After shampooing with the Extreme Bleach Recovery shampoo, rinse and squeeze excess water out. Follow with 1-4 doses of the Extreme Bleach Recovery Lamellar Water for the mid lengths and ends of your hair. The second the Lamellar Water is applied to hair, there's an immediate and noticeable softness. It's like a liquid bandage that instantly fills the porosity of the hair, making it soft and smooth. You have to leave it in for a few minutes, then rinse out. After towel drying, follow with an application of the Extreme Bleach Recovery Cica leave-in treatment. Brush it through your hair on the ends. This is by far, in my opinion, one of the most powerful treatments restoring the structure of the damaged strands from the inside.
"If you want to do a DIY home treatment, I am a fan of coconut oil, which has great healing properties. In a pinch, if you cannot get your hands on the Extreme Bleach recovery system above, a little coconut oil warmed up and applied to lengths will help protect hair from salt water and sun's rays that can potentially dry hair. Also, oil repels water, so it's a good preventive measure, too."
Chlorine Rescue
Garren
Clients: Naomi Campbell, Haley Bennet, Amber Valletta and Elaine Irwin
Fashion's famed hair legend and co-founder of R+Co hair care is constantly wary of the damaging effects of chlorine in the summer months. "With everything going on, people aren't really at beaches or in the ocean or traveling on planes like they normally are during summer," Garren says. "When you're in a pool, you have things like chlorine that might change the coloration and cause build-up of chlorine in the hair. This makes hair look gray/green, or muddy-looking. If you have a saltwater pool, there are lots of minerals in it, which coats the hair, causes green hues and makes it difficult for hair to hold color. This metallic coating needs to be stripped down. Use a series of correct products to address proper hair health in this instance. Start by using treatments that remove chlorine, like R+Co's Oblivion Clarifying Shampoo which breaks through to get rid of chemicals. Or, try the Acid Wash Apple Cider Vinegar Cleansing Rinse, also from R+Co."
Both the shampoo and rinse will safely strip the hair of the chemicals without removing natural oils or color. "Scalp care after swimming should never be overlooked, either," Garren adds. "I also recommend the Super Garden CBD Scalp Soothing Concentrate to soothe and balance the scalp, while also nourishing hair at the roots. Lastly, a hydrating hair masque is essential to thoroughly moisturize hair. I prefer to use the Television Perfect Hair Masque on my clients for soft and smooth hair. I would even recommend leaving it on overnight, to provide proper hydration."
Protein Masking to Rebuild Hair Cuticles
Larry Sims
Clients: Gabrielle Union, Tessa Thompson, Alicia Keys
Sims relies on protein recovery masks to effectively treat damaged hair this summer. "I recommend using the Flawless Repairing Deep Conditioning Masque as a protein treatment. I developed this with my business partner, Gabrielle Union, specifically to heal hair after excessive damage."
Biotin and Creatine, two active and effective ingredients, along with reparative oils such as castor, coconut, avocado, and rice oil complex restructure the hair from the inside out. "What rebuilds your hair is protein—especially biotin and creatine," Sims says. "When your hair is damaged from the sun and indoor chemicals, there becomes a direct stripping of the cuticle from inside and out. This creates pockets and holes in the cuticle that can eventually result in shedding and breakage. You have to rebuild the cuticles. We know the cuticle is made of protein, so the creatine and biotin in the Flawless Repairing Deep Conditioning Masque aid in depositing the protein back in your cuticle, ultimate restoring the hair. Following this protein treatment, I also recommend the new Flawless 3 Minute Restoring Conditioner. It's mixed with Brazilian Bacuri Butter, olive oil, and castor seed oil—all key ingredients to instantly replenish moisture, repair damage, and protect against future breakage."
Peptide Treatment to Revirginize Your Hair:
Alex Brown, Alex Brown Studio
Clients: Kendall Jenner, Hailey Bieber, Bella Hadid
Longtime hair guru to Kendall, Bella and Hailey, Brown is a devoted fan of peptide masking to restructure damaged hair this season. "Hands down, my favorite hair treatment is the K18 Peptide Masque," she says.
Science makes this treatment effective—peptides penetrate the inner core of the hair: the cortex, regenerating disulfide bonds with natural proteins of the hair. "I can tell you that, with my clients, when I use it regularly, I see the reversing of hair damage and about 80% of restored virgin hair strength," Brown says. "It sounds complicated, but you don't need to understand it to see that your hair is back to being virgin again—before color and blow dryers wreaked havoc. It's a post-shampoo treatment, skipping conditioner and applying to towel-dried hair. Leave on for four minutes before applying any styling products or beginning any hairstyling process. Use for six shampoos in a row, followed by every three shampoos to maintain strength."
Related: Your Best Hair Ever, Courtesy of Fashion Legend Garren