How French-Chinese Model Estelle Chen Is Preparing for Her Victoria's Secret Fashion Show Debut
The up-and-coming 19-year-old discusses training for the casting and why she's especially excited to make her debut in Shanghai.
---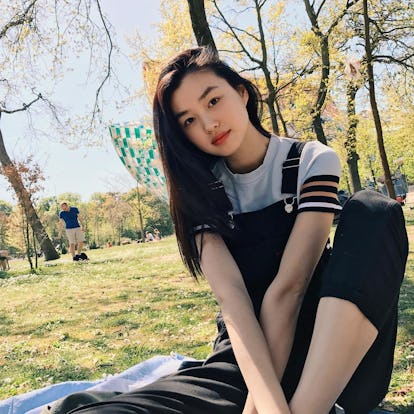 @estellechen
On the last day of castings for the Victoria's Secret Fashion Show, French-Chinese model Estelle Chen asked her agent for an update. It was her second time auditioning—she had tried out the previous year, when the show was scheduled for her hometown of Paris—but this year, she was better prepared, more confident, and eager to hear how she had fared.
Chen arrived in New York three weeks before castings began at the end of August, embarking on a rigorous fitness regimen including boxing at Rumble Boxing, pilates, weightlifting, and crossfit training. "It was really tough," Chen admitted over the phone from Paris on a recent afternoon, "because I was never that much into working out." (An avid baker, she also fueled up beforehand on protein pancakes made from eggs and banana, and afterwards with homemade protein balls.)
So when she received a callback, she was, naturally, a little nervous, but she knew she had put in the work. In some regards, Chen already knew what to anticipate from the casting, having gone up for the show the previous year. She was also well acquainted with casting director John David Pfeiffer, who has also worked with brands like Ralph Lauren, Oscar de la Renta, and Michael Kors on their regular-season shows. (Chen was scouted at age 14, and has since racked up an impressive array of credits including for Fendi, Dior, and Alberta Ferretti couture seasons, Louis Vuitton and Dior Resort collections, and Kenzo, Miu Miu, and Loewe main seasons. Earlier this year, she starred in Vera Wang's Spring 2017 campaign.) But this year's Victoria's Secret casting also presented its own challenges. For example, a small replica runway had been placed on the floor—"It gives you even more stress because you feel like you're doing the show," she said. "You have to be smiling and outgoing; you have to really have fun."
Chen's agent at The Society told her to come by the agency the next morning—so, of course, she didn't sleep a bit that night. When she and a few friends—like Angolan model Amilna Estevão, Cape Verdean model Alecia Morais, and Nigerian model Mayowa Nicholas—showed up the next day, the agency staff filmed each of the women learning they had nabbed a spot on the Victoria's Secret roster and posted them on Instagram. After an emotional morning—"I cried," Chen said—she took a day off from the gym and instead wandered around New York City. One friend bought her cookies from Levain; Chen's parents and brother sent her photos of their celebratory champagne toast.
During New York Fashion Week, which began the next week, Chen walked for R13, 3.1 Phillip Lim, and Public School; she bypassed Milan and London and returned to Paris, where she walked in her fifth season for Paco Rabanne and earned a spot on the runway for Joseph Altuzarra's Paris debut—a show she found particularly relatable, as she and Altuzarra share both French and Chinese heritage, and the show took place in a high school. (Now 19, she just graduated high school last year.)
When we spoke, Chen was at home in Paris, where she still lives with her family. (The city suffers a dearth of gyms, at least by New York standards, so she's been seeing a personal trainer several times a week in addition to a hot yoga regimen.) She had recently seen the Dior exhibition "Christian Dior: Couturier du Rêve" at Les Arts Decoratifs, the design museum that neighbors the Louvre in Paris; she also draws and plays piano.
Her parents both hail from Wenzhou, a city on China's east coast south of Shanghai—which, conveniently, is where the Victoria's Secret Fashion Show is scheduled to take place this season. Just as with the Altuzarra Spring 2018 show, it makes the show all the more personal: As a little girl, Chen spent a month each summer with her extended family back in China; when she heads off to Shanghai next month, her mother and grandmother both plan to be at the show, cheering her on.
Model Gigi Hadid reveals the secret to her signature runway walk: