A Last Chance to Celebrate Ettore Sottsass, the Design Radical Behind Everyone's Obsession with Memphis Furniture
Remembering the late founder of the Memphis design group at the retrospective of his work at the Met Breuer, which closes Sunday.
---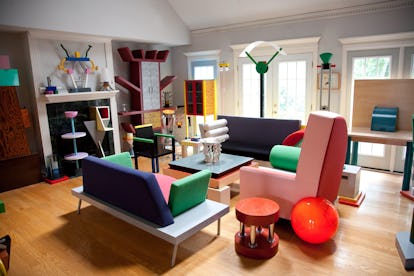 Photograph by Dennis Zanone/memphis-milano.org
The late Ettore Sottsass, who in the 1980s joined the pop-culture firmament as the founder of the Memphis design group, once quipped that being the subject of a retrospective was "a bit macabre… a sign that too much time has passed."
This year, on the occasion of the 100th anniversary of his birth, the Austrian-born, Italian-raised architect and designer has been honored with three exhibitions. Fittingly, for a talent who designed everything from ice buckets to office furniture and even Malpensa Airport in Milan, they are as far ranging as his output. In Venice, shows at Le Stanze del Vetro and the Carlo Scarpa–designed Olivetti Showroom focused on his glass production and early ceramics, respectively. But it's "Ettore Sottsass: Design Radical," the sweeping exhibition that concludes this Sunday at The Met Breuer in New York, that has had design aficionados singing hosannas. Curated by the Met's Christian Larsen, and drawing mostly from the museum's collection, it looks at Sottsass's diverse oeuvre (including his often neglected jewelry and photography), alongside ancient and contemporary objects that influenced his practice.
Unleashed on the world at the 1981 Milan Furniture Fair, Memphis—an allusion to Bob Dylan's "Stuck Inside of Mobile with the Memphis Blues Again," the ancient capital of Egypt, and the modern city in Tennessee—mesmerized and appalled the international design community in equal parts. With its wholesale disdain for conventional good taste and rejection of the Bauhaus dictate that form should follow function, Memphis showed up to the party in leg warmers and didn't care who saw it robot-dancing. Love it or hate it, Memphis furniture, lighting, textiles, and home accessories embodied the irreverence, idealism, and risk-taking of postmodernism, as well as the garishness of the decade it ushered in.
Throughout the 80's, no advertising agency foyer was complete without at least one Memphis piece—usually a gaudy, high-low mix of colors and star-crossed materials like plastic laminate and marble, as asymmetrical as the crazed suburban furnishings seen in a 60's _Looney Tune_s. As prohibitively expensive as it was cartoonish, Memphis naturally appealed to ponytail-wearing celebrities, most notably the fashion designer Karl Lagerfeld, who—before he sold his entire collection at an auction in 1991—decorated his Monte Carlo apartment exclusively in Memphis, right down to the boxing ring "conversation pit" designed by Masanori Umeda. Then Memphis disappeared as quickly as it had emerged, with few people, not even Sottsass, anticipating the current rehabilitation from anarchy to auction house.
"The whole industry changed," Sottsass told me in Milan, back in 2002. "We were not revolutionaries. We were very calm people, drunk every evening, but calm nevertheless. But we designed with an almost ethical attitude; we thought we were producing products that made people's lives better, society happier—which of course didn't happen. But we did open up the possibilities of design. It was like opening a window to reveal a new landscape. Why should a table have four identical legs? Why should laminate veneer be only for the kitchen and bathroom and not for a luxurious living room?" Postmodernism never felt more modern.
See W's most popular videos: