The Mix Master
Armed with exotic potions and an iron will, a Canadian computer whiz tackles skincare.
---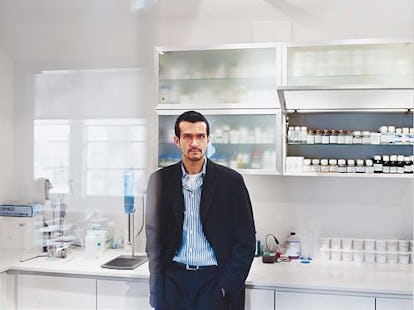 When Brandon Truaxe decided to start a luxury skincare company in 2002, the Toronto entrepreneur did what so many before him had done: He went in search of a miracle ingredient. Hoping to mirror the success of brands such as La Mer, whose fermented sea kelp broth is heralded as a skin savior, or SK-II, with its sake-related Pitera complex, he traipsed all over the globe to find the next big thing. But after visiting research labs in Salzburg, Austria, trade shows in Hong Kong and vineyards in the Tuscan hamlet of Monteriggioni, he had an epiphany. "It was really hard for me to accept," he says. "But there was no one magical ingredient."
Instead, Truaxe cherry-picked more than 120 of the most exotic and interesting items on the market and teamed up with scientists including Adel Rammal, who has worked with Christian Dior, to make sense of it all. They spent the next two years sorting through everything from algae and plankton to Canadian herbs and African tree leaves. The result is Euoko, a 24-product skincare line that just arrived at Bergdorf Goodman.
Products from Euoko's P line, formulated to protect the skin.
The unisex brand divides its offerings by skin concern rather than type, and prescribes a regimen for each issue. All five categories—W for whitening, P for protection, A for acne, Y for youth and R for radiance—contain unusual, highly concentrated active ingredients. P-40 Watermelon Defense uses Kalahari watermelon extract to protect against environmental factors, and Y-30 Intense Lift Concentrate has a synthetic complex that mimics the chemical structure of snake venom and acts as a Botox-like muscle paralyzer. A wrinkle-smoothing oligopeptide in the Y-40 Blueprint Resculpting Cream is derived from the okra plant's seeds. Products fall into the $50 to $210 range, save for the Y-30 ($500) and the W-31 Extreme White Concentrate Ampoules ($710), an intensive four-week whitening treatment designed to erase sun spots and other hyperpigmentations.
"It looks very fresh and modern, but it's a very serious line, with serious ingredients and serious results," says Patricia Saxby, vice president and divisional merchandise manager for cosmetics and fragrance at Bergdorf Goodman, who asked her colleagues to test the Euoko products before the store picked up the line. "I've never had people call me so quickly to tell me that after a couple of days they saw changes. And it was very refreshing to have somebody like Brandon, who really didn't grow up in the industry but who had such a passion for it that he just went out and built his dream brand."
Indeed, the frenetic and driven 29-year-old is an enthusiastic, if unlikely, cosmetics impresario. He had a peripatetic childhood in Cyprus and Canada before launching several computer-related ventures. In his 20s, he sold his software company and invested $400,000 in Euoko.
Truaxe's résumé did include one very brief, though very eye-opening, job in the beauty world, at which he realized that there is often a huge disparity between the production costs of cosmetics and their retail prices. "I thought, If consumers are willing to pay so much money, why not consider every ingredient out there, regardless of raw-material cost?"
Truaxe also learned about branding during that stint, and he has cultivated a sophisticated image and a clever campaign for Euoko. Although the line certainly fits into the luxury category, he shuns the notion of selling gold-and-marble opulence. "That's 'Grandma got rich' luxury," he says. "It's not 2008 luxury." On the contrary, Euoko's clean, minimalist packaging resembles that of an iPod, and the line's quirky ads, such as the one featuring Australia's Sydney Opera House reconstructed in moisturizer, seem likely to attract a chic clientele. "We are living in a world where the more they rip your jeans, the more you pay," he says, tugging at the denim of his own distressed Diesels as he muses about the toned-down hipness that defines many of today's upscale brands. "That's the kind of luxury Euoko exudes."