Evan Rachel Wood Brought Nobel Peace Prize Nominee Amanda Nguyen as Her Plus-One to the 2018 Emmys
Nguyen co-authored the Sexual Assault Survivors' Bill of Rights.
---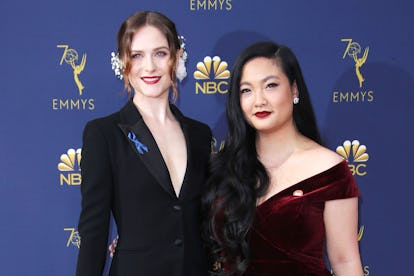 Matt Baron/REX/Shutterstock
Though there wasn't an organized Time's Up or #MeToo-related protest at the 2018 Emmy Awards, Evan Rachel Wood didn't let that stop her from standing up for what she believes. While attending the ceremony on Monday night, Wood brought as her plus-one Amanda Nguyen, who was nominated for the Nobel Peace Prize in June for her work on behalf of survivors of sexual assault.
In an interview with E! News's Giuliana Rancic while walking the gold carpet into the Emmys, Wood and Nguyen spoke about their work together; earlier this year, they both testified in front of Congress in support of the Sexual Assault Survivor's Bill of Rights. "I think we're at a crucial time in history right now for women, and especially for civil rights. You know, if I have even a little bit of power right now, I want to use it for good," Wood said.
"I'm also here supporting the ACLU and the fight to reunite immigrant families separated at the border—that's why I'm wearing the blue ribbon," she added. "I just feel like it's important. It's what I'm called to do. Amanda's certainly been someone who's inspired me to do more."
Nguyen also explained how she and Wood first met. "I gave the speech at the Women's March and Evan was there. I saw Evan speak, of course, and then we just connected," she said. "I'm so grateful, again, and it just makes such a difference when we get platforms like this to discuss issues."
Nguyen, 26, is the founder of Rise, a nonprofit organization that works to expand the rights of assault survivors. In 2016, she helped to draft the Sexual Assault Survivor's Bill of Rights, which sought to establish a universal standard for care for survivors and subsequently passed unanimously through Congress.
Though many celebrities brought activists as their plus-ones to other award shows earlier this year, at the very forefront of the Time's Up movement, Wood was the only one to do so at the 2018 Emmys.
Related: Amy Adams and Evan Rachel Wood Talk Hollywood Parties