Golden Globes 2018: How All the Women on the Red Carpet Protested
Actresses on the 2018 Golden Globes red carpet arrived with activists to address the sexual assault epidemic and gender disparity in the workplace.
---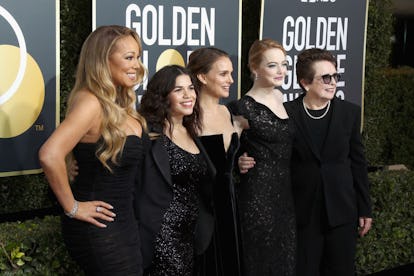 Frederick M. Brown/Getty Images
As expected, the women arriving to the 2018 Golden Globes red carpet were unapologetically political. Actresses addressed Hollywood's sexual assault epidemic through various measures—some showed up to the carpet with activist dates, others arrived with fellow actresses committed to the Time's Up movement on their arms, and nearly everyone wore black to bring awareness to the intersectional Time's Up initiative.
The outspoken Emma Watson brought special guest and activist Marai Larasi to the carpet, where the two of them discussed Larasi's U.K. organization Imkaan, which is "aimed at responding to and preventing violence against black minoritized women and girls." According to Watson, Golden Globe nominee Michelle Williams was the one to suggest bringing activists as dates to the red carpet, and Larasi was Watson's first choice for discussing the solidarity initiative in Hollywood and workplaces everywhere. Williams joined forces on the carpet with Tarana Burke, the creator of the #MeToo movement, Emma Stone brought Billie Jean King (whom she portrayed in a Golden Globe nominated performance in Battle of the Sexes) as her date, and Amy Poehler, Susan Sarandon, Meryl Streep, and Shailene Woodley all followed suit with an activist guest on the carpet.
America Ferrera and Natalie Portman showed up as each other's dates to espouse the efforts of the Time's Up movement's legal fund to acquire funds to protect women in all workplaces from harassment and gender pay gaps.
Showing up to the carpet with activist dates wasn't the only method for actresses to address the movement for equality and gender parity in Hollywood—some decided to just go straight for the jugular and openly criticize the media machine on national television. While on the E! News red carpet, Will & Grace's Debra Messing openly called out the network for their participation in the gender pay gap, specifically referencing the fact that it was recently reported that they were not paying correspondent Catt Sadler nearly as much as her male coworkers.
The conversation centered around sexual assault in the workplace has brought in $15 million dollars for the Time's Up initiative, and the trend of addressing the initiative on the Golden Globes red carpet is just the beginning for the rest of awards season.
Golden Globes 2018: See Hollywood's Biggest Names Wearing Black Dresses On the Red Carpet
Allison Williams arrives to the 75th Annual Golden Globe Awards held at the Beverly Hilton Hotel on January 7, 2018. (Photo by Kevork Djansezian/NBC/NBCU Photo Bank via Getty Images)

Kevork Djansezian/NBC
Caitriona Balfe arrives to the 75th Annual Golden Globe Awards held at the Beverly Hilton Hotel on January 7, 2018. (Photo by Kevork Djansezian/NBC/NBCU Photo Bank via Getty Images)

Kevork Djansezian/NBC
Sadie Sink arrives to the 75th Annual Golden Globe Awards held at the Beverly Hilton Hotel on January 7, 2018. (Photo by Kevork Djansezian/NBC/NBCU Photo Bank via Getty Images)

Kevork Djansezian/NBC
Debra Messing arrives to the 75th Annual Golden Globe Awards held at the Beverly Hilton Hotel on January 7, 2018. (Photo by Kevork Djansezian/NBC/NBCU Photo Bank via Getty Images)

Kevork Djansezian/NBC
Alexis Bledel arrives to the 75th Annual Golden Globe Awards held at the Beverly Hilton Hotel on January 7, 2018. (Photo by Kevork Djansezian/NBC/NBCU Photo Bank via Getty Images)

Kevork Djansezian/NBC
Tracee Ellis Ross arrives to the 75th Annual Golden Globe Awards held at the Beverly Hilton Hotel on January 7, 2018. (Photo by Kevork Djansezian/NBC/NBCU Photo Bank via Getty Images)

Kevork Djansezian/NBC
Claire Foy arrives to the 75th Annual Golden Globe Awards held at the Beverly Hilton Hotel on January 7, 2018. (Photo by Kevork Djansezian/NBC/NBCU Photo Bank via Getty Images)

Kevork Djansezian/NBC
Catherine Zeta-Jones arrives to the 75th Annual Golden Globe Awards held at the Beverly Hilton Hotel on January 7, 2018. (Photo by Kevork Djansezian/NBC/NBCU Photo Bank via Getty Images)

Kevork Djansezian/NBC
Frankie Shaw arrives to the 75th Annual Golden Globe Awards held at the Beverly Hilton Hotel on January 7, 2018. (Photo by Kevork Djansezian/NBC/NBCU Photo Bank via Getty Images)

Kevork Djansezian/NBC
Chrissy Metz arrives to the 75th Annual Golden Globe Awards held at the Beverly Hilton Hotel on January 7, 2018. (Photo by Kevork Djansezian/NBC/NBCU Photo Bank via Getty Images)

Kevork Djansezian/NBC
Laurie Metcalf arrives to the 75th Annual Golden Globe Awards held at the Beverly Hilton Hotel on January 7, 2018. (Photo by Kevork Djansezian/NBC/NBCU Photo Bank via Getty Images)

Kevork Djansezian/NBC
Allison Brie arrives to the 75th Annual Golden Globe Awards held at the Beverly Hilton Hotel on January 7, 2018. (Photo by Kevork Djansezian/NBC/NBCU Photo Bank via Getty Images)

Kevork Djansezian/NBC
Dakota Johnson arrives to the 75th Annual Golden Globe Awards held at the Beverly Hilton Hotel on January 7, 2018. (Photo by Kevork Djansezian/NBC/NBCU Photo Bank via Getty Images)

Kevork Djansezian/NBC
Meryl Streep and director of the National Domestic Workers Alliance Ai-jen Poo arrive to the 75th Annual Golden Globe Awards held at the Beverly Hilton Hotel on January 7, 2018. (Photo by Kevork Djansezian/NBC/NBCU Photo Bank via Getty Images)

Kevork Djansezian/NBC
Amy Poehler arrives to the 75th Annual Golden Globe Awards held at the Beverly Hilton Hotel on January 7, 2018. (Photo by Kevork Djansezian/NBC/NBCU Photo Bank via Getty Images)

Kevork Djansezian/NBC
Christina Hendricks arrives to the 75th Annual Golden Globe Awards held at the Beverly Hilton Hotel on January 7, 2018. (Photo by Kevork Djansezian/NBC/NBCU Photo Bank via Getty Images)

Kevork Djansezian/NBC
Sarah Paulson arrives to the 75th Annual Golden Globe Awards held at the Beverly Hilton Hotel on January 7, 2018. (Photo by Kevork Djansezian/NBC/NBCU Photo Bank via Getty Images)

Kevork Djansezian/NBC
Susan Sarandon arrives to the 75th Annual Golden Globe Awards held at the Beverly Hilton Hotel on January 7, 2018. (Photo by Kevork Djansezian/NBC/NBCU Photo Bank via Getty Images)

Kevork Djansezian/NBC
Allison Janney attends The 75th Annual Golden Globe Awards at The Beverly Hilton Hotel on January 7, 2018 in Beverly Hills, California. (Photo by Frederick M. Brown/Getty Images)

Frederick M. Brown
Alicia Vikander attends The 75th Annual Golden Globe Awards at The Beverly Hilton Hotel on January 7, 2018 in Beverly Hills, California. (Photo by Frazer Harrison/Getty Images)

Frazer Harrison
Issa Rae attends The 75th Annual Golden Globe Awards at The Beverly Hilton Hotel on January 7, 2018 in Beverly Hills, California. (Photo by Frazer Harrison/Getty Images)

Frazer Harrison
Kendall Jenner attends The 75th Annual Golden Globe Awards at The Beverly Hilton Hotel on January 7, 2018 in Beverly Hills, California. (Photo by Frederick M. Brown/Getty Images)

Frederick M. Brown
Pamela Adlon attends The 75th Annual Golden Globe Awards at The Beverly Hilton Hotel on January 7, 2018 in Beverly Hills, California. (Photo by Frazer Harrison/Getty Images)

Frazer Harrison
Elizabeth Moss attends The 75th Annual Golden Globe Awards at The Beverly Hilton Hotel on January 7, 2018 in Beverly Hills, California. (Photo by Frazer Harrison/Getty Images)

Frazer Harrison
Maggie Gyllenhaal attends The 75th Annual Golden Globe Awards at The Beverly Hilton Hotel on January 7, 2018 in Beverly Hills, California. (Photo by Frazer Harrison/Getty Images)

Frazer Harrison
Viola Davis attends The 75th Annual Golden Globe Awards at The Beverly Hilton Hotel on January 7, 2018 in Beverly Hills, California. (Photo by Frederick M. Brown/Getty Images)

Frederick M. Brown
Connie Britton attends The 75th Annual Golden Globe Awards at The Beverly Hilton Hotel on January 7, 2018 in Beverly Hills, California. (Photo by Frederick M. Brown/Getty Images)

Frederick M. Brown
Millie Bobby Brown attends The 75th Annual Golden Globe Awards at The Beverly Hilton Hotel on January 7, 2018 in Beverly Hills, California. (Photo by Frederick M. Brown/Getty Images)

Frederick M. Brown
Kerry Washington attends The 75th Annual Golden Globe Awards at The Beverly Hilton Hotel on January 7, 2018 in Beverly Hills, California. (Photo by Frederick M. Brown/Getty Images)

Frederick M. Brown
America Ferrera and Natalie Portman attend The 75th Annual Golden Globe Awards at The Beverly Hilton Hotel on January 7, 2018 in Beverly Hills, California. (Photo by Frazer Harrison/Getty Images)

Frazer Harrison
Related: Reese Witherspoon, Natalie Portman and Tracee Ellis Ross Promote #TimesUp Ahead Of Tonight's Golden Globes