Evan Rachel Wood Gave a Powerful Testimony About Her Experiences With Sexual Assault and Domestic Abuse So Survivors Can Get More Rights
She testified in front of Congress during a hearing for the state-level implementation of the Sexual Assault Survivors' Bill of Rights Act.
---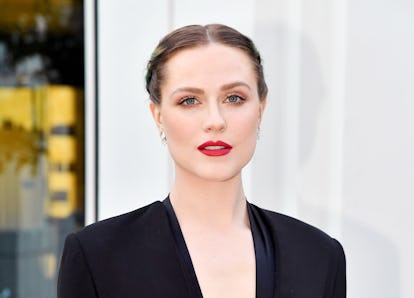 Photo by Jeff Kravitz via Getty Images
On Tuesday, Evan Rachel Wood stood in front of Congress and described in heart-wrenching detail her experiences with sexual assault and domestic abuse — all to push for basic rights for fellow survivors.
Wood was one of four witness testimonies in front of the House of Representatives Judiciary Committee's hearing for the state-level implementation of the Sexual Assault Survivors' Bill of Rights Act. Currently, the bill ensures certain rights for sexual assault survivors on the federal level, Insider reported, but activists like Wood and her fellow witnesses want it expanded to cover cases on the state-level as weel. These rights include, according to Committee Chairman Bob Goodlatte's statement at the hearing, the preservation of a rape kit up to 20 years or the duration of the statute of limitations and a waiving of fees for survivors' own forensic examinations.
Speaking for the five minutes she was allotted, Wood recounted her experiences with rape and domestic abuse, followed by the years of PTSD, addiction, depression, agoraphobia, and night terrors in the aftermath, including hospitalizations for two suicide attempts. "I'm here today to use my position as an artist, survivor, mother and advocate to bring a human voice to the population of 25 million survivors in the U.S. who are currently experiencing inequality under the law and who desperately need basic civil rights," she began, adding that she wasn't sure which words were appropriate for the testimony. "But if you can't hear the whole truth, you will never know true empathy, and I believe in the saying, 'If we have to live through it, you should have to hear it.'"
Wood continued by saying that the #MeToo and #TimesUp movements were both empowering and "incredibly painful," leading to "waves of memory and details" triggered by the stories of fellow survivors. After saying that she "carried so much guilt and confusion" for responding to the abuse by accepting her "powerlessness" and feeling as though she had deserved it, she proceeded to describe two instances of sexual assault and violence that are "burned into [her] brain, branded there for life."
The first, which she described as "toxic mental, physical, and sexual abuse," "started slow but escalated over time, including threats against my life, severe gas-lighting and brainwashing, waking up to the man that claimed to love me raping what he believed to be my unconscious body." "And the worst part — sick rituals of binding me up by my hands and feet to be mentally and physically tortured until my abuser felt I had proven my love for them," she continued. "In this moment, while I was tied up and being beaten and being told unspeakable things, I truly felt like I could die. Not just because my abuser said to me, 'I could kill you right now,' but because in that moment I felt like I left my body and I was too afraid to run, he would find me. I froze, and it was as if I could see myself outside and for the first time in months, I felt something — utter shame and despair."
Wood said she dealt with it by "going numb" until she couldn't feel anything, and that the terror she felt during the experience has stayed with her to this day. She added that what hurt her more than the abuse itself was what had been "stolen" from her. "Because of this abuse, my already spiritless person, when I was pushed onto the floor of a locked storage closest by another attacker, after hours at a bar, my body instinctively knew what to do," she said. "Disappear, go numb, make it go away. Being abused and raped previously made it easier for me to be raped again, not the other way around."
After talking about traumatic symptoms such as hearing her attacker's words repeatedly, Wood took on the much-neglected discussion of the aftermath of abuse and assault. "Seven years after my rapes, plural, I was diagnosed with long term PTSD, which I had been living with all that time without knowledge about my condition," she said, adding that the scars from even brief assaults can last a lifetime. "I simply thought I was going crazy," she added. For Wood, she said, those PTSD symptoms included agoraphobia, night terrors, depression, addiction, and hyper-vigilance.
"I struggled with self-harm to the point of two suicide attempts, which landed me in a psychiatric hospital for a short period of time," she continued. "This was, however, a turning point in my life when I started seeking professional help to deal with my trauma and mental stress, but others are not so fortunate, and because of this rape is often more than a few minutes of trauma, but slow death."
Wood concluded her testimony by saying that she wants to understand her attackers, and that this makes her think of her son, to whom she'll one day have to explain the toxic environment he'll grow up in that enables rape and sexual assault. "This [bill] is the recognition of basic civil rights for sexual-assault survivors and serves as a first step," she said. "It's a safety net that may help save someone's life one day."
Watch the full hearing below.
Related: 94 Percent of Women in Hollywood Say They've Been Sexually Harassed or Assaulted