94 Percent of Women in Hollywood Say They've Been Sexually Harassed or Assaulted
In a new survey conducted by USA Today, where 21 percent also said they've been forced to do "a sexual act" at least once in their careers.
---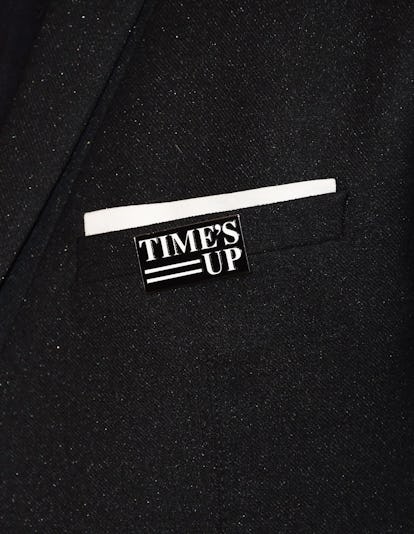 Amanda Edwards/Getty Images
Typically, the term "occupational hazard" is used to describe risks that are unavoidable symptoms of a workplace like a construction site or chemical lab. Late last year, though, in the wake of the post-Harvey Weinstein reckoning, the New York Times used the term to describe a different type of accepted risk altogether: to conclude that "sexual harassment has long been an occupational hazard for those operating in Washington politics"—and particularly, of course, those who are women.
Now, after A-listers like Salma Hayek, Reese Witherspoon, Gwyneth Paltrow, and Angelina Jolie have all publicly come forward with their stories of sexual harassment and assault—prompting hundreds of thousands of others to join them in the #MeToo movement—USA Today has come to a less anecdotal but similar conclusion about Hollywood, after teaming up with the Creative Coalition, Women in Film and Television, and the National Sexual Violence Resource Center to conduct a survey of 843 women who work in the entertainment industry, from actors to directors to producers. No matter their specific field of expertise, almost every single one of them had one thing in common—that they've experienced some form of sexual harassment or assault during their careers in Hollywood, often by an older individual in a higher position of power.
Women's March: See How Jennifer Lawrence, Adele, Cameron Diaz, and Other Celebs Protested All Across the Country
Sarah Sophie Flicker, Michaela Angela Davis, Janet Mock, Ilana Glazer and Abbi Jacobson marched together in Los Angeles.

Photo by @janetmock.
Julia Louis-Dreyfus reminds us all to register to vote while protesting at the Women's March.

Photo by @officialjld.
Julianne Moore marched in New York.

Photo by @juliannemoore.
Jenny Lewis at the Women's March in Downtown LA.

Photo by @jennydianelewis.
Mark Ruffalo marched with his family in New York.

Photo by @markruffalo.
Ashley Judd marched in solidarity with the Time's Up initiative in New York.

Photo by @ashley_judd.
Gina Rodriguez at the Women's March in Los Angeles.

Photo by @hereisgina.
Rose McGowan marched in Washington, D.C. on the anniversary of the Women's March.

Photo by @rosemcgowan.
Olivia Wilde gave a speech for over 700,000 protestors at the Women's March in Los Angeles.

Photo by @oliviawilde.
Jennifer Lawrence, Cameron Diaz and Adele at the Women's March.

Photo by @adele.
Kathy Najimy used her megaphone at the Women's March in New York.

Photo by @kathynajimy.
Krysten Ritter promoted girl power before heading out to the Women's March.

Photo by @therealkrystenritter.
Chloë Grace Moretz stepped away from the 2018 Sundance Film Festival to protest at the Respect Rally in Park City, Utah.

Photo by @chloegmoretz.
Ellen Page and Emma Portner brought their pup to protest with them at the Women's March in Los Angeles.

Photo by @redsquare7.
Amy Schumer and Amber Tamblyn at the Women's March in New York.

Photo by @amyschumer.
Cynthia Nixon at the Women's March in New York.

Photo by @cynthiaenixon.
Katie Holmes braved the crowded subway to march in New York.

Photo by @katieholmes212.
Alessandra Garcia Lorido in front of signs for the Women's March Alliance.

Photo by @alessandragl.
Sarah Ramos with a crew of friends at the Women's March in Los Angeles.

Photo by @saraheramos.
Willa Fitzgerald and Molly Bernard at the Women's March in New York.

Photo by @willafitz.
The sad thing is that, to many women, this number won't come as a surprise. Phenomena like the "casting couch" might be unique to fields like acting and modeling, but those in Hollywood who've used to their platforms to speak out have been met with a resounding response from women in notably disparate industries—like the 700,000 women farmworkers in the Alianza Nacional de Campesinas who acknowledged that they "work in the shadows of society," but expressed solidarity, and unfortunately, empathy, nonetheless. "We wish that we could say we're shocked to learn that this is such a pervasive problem in your industry. Sadly, we're not surprised because it's a reality we know far too well," they wrote in an open letter that was part of what led the Hollywood anti-harassment and pro-equality initiative Time's Up to open up their mission to include women across all fields, not just in entertainment.
As we've learned since these stories have emerged in the post-Harvey Weinstein era, though, the stories have become so common it's only the details that separate them. Unfortunately, it's not exactly news that 69 percent of them said they've been "touched in a sexual way," or that 65 percent said they've witnessed others advance professionally from sexual relationships with employers or managers—which 64 percent of them have also been propositioned to do. What's perhaps most disturbing is the number that have been forced to experience sexual misconduct whether they've managed to take a stand for themselves or not. Roughly a third of the women said they've been shown sexual pictures without their consent and had someone expose themselves to them, while 21 percent said they've been forced to do "a sexual act" at least once in their careers.
"I Will Not Be Silent": Hollywood's Biggest Names Pledge to Speak Their Minds:
Of course, in the end, it's not the percentages that really matter. The fact that the 10 percent of women saying they've been unexpectedly ordered to appear naked in auditions is small compared to the rest doesn't make it any less acceptable; it should go without saying that no one should be forced to strip down while on the job, and to feel unable to speak out about such misconduct. (Only a quarter of the women USA Today surveyed reported these experiences "because of fear of personal or professional backlash or retaliation"—and of those who did, only 28 percent said doing so improved their situation.)
On the bright side, women (and men) are now beginning to take a stand for themselves when experiencing harassment—which, of course, starts with recognizing it for what it is, as it's thought to be so commonplace that more than a third of the women surveyed weren't even sure that what happened to them was sexual harassment. One thing's for sure, though: Whether in a tony Hollywood studio, on isolated farm fields, or on Capitol Hill, in no way, shape, or form should sexual harassment continue to be defined as an "occupational hazard" for working women.
Related: Ranking the Absolute Worst Apologies by Men Accused of Sexual Assault in Post-Harvey Weinstein 2017