Why "Shame" Is So Loaded For Salma Hayek and Other Women Who've Been Sexually Abused
Hayek is far from the first victim to minimize the abuse she experienced—and feel "ashamed" for not sharing it.
---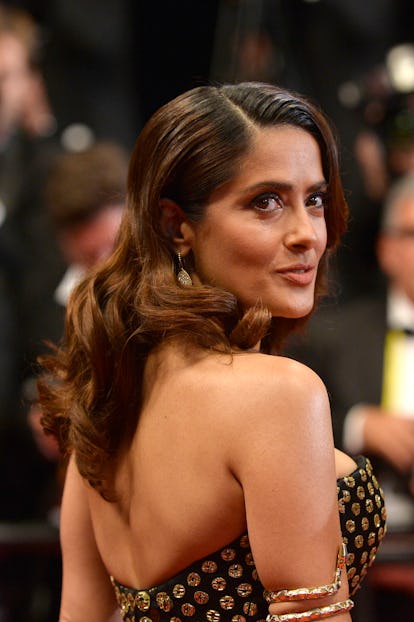 In mid-December, Salma Hayek published an op-ed in the New York Times with the headline "Harvey Weinstein Is My Monster Too." By then, dozens of other women, primarily in Hollywood, had already stepped out to tell their stories of Weinstein's systematic, predatory sexual misconduct—including Gwyneth Paltrow and Angelina Jolie, who joined the chorus of voices shortly after the Times published its initial exposé of the former industry mogul in October.
Unfortunately for Hayek, though, that sense of solidarity among other women was accompanied by a sense of personal shame, as she told Oprah Winfrey on the Oprah's SuperSoul Conversations podcast in New York on Wednesday, in what was at first meant to be a conversation about the #MeToo movement at large. "[The Times] contacted me to be a part of the first story and already by this contact, there was all this turmoil and I started crying when they asked and I ended up not doing it," she said, adding that the crying would start up every time she tried to write her story. Eventually, she canceled her story with the Times. "And then I felt ashamed that I was a coward. I was supporting women for two decades, and then I was a coward."
Hayek needn't have felt this way: Uma Thurman, for one, waited until this month to tell her story, because she couldn't until now eloquently express her anger. It's a feeling many women are only just now discovering they're capable of expressing, complicated by the difficulty of learning how to do so productively while simultaneously experiencing the re-traumatization that comes with revisiting an abusive experience, whether by choice or not. (In the month's following Weinstein's exposé, stories of his abuse, not to mention photos of his face, became practically unavoidable.)
Shame was a major reason why it took so long for the Weinstein story to break—along with, of course, Weinstein's influence, legal leverage, and very active army of spies. Sexual abuse is all about power, and abusers prey on those they expect won't speak out, or who are too low on the totem pole for their speaking out to resonate. Hayek, for one, made a point that Weinstein "was not the first guy to do this to me. I was really smart around him. I handled it really well." And that, she suspects, is "why he didn't rape me."
"I Will Not Be Silent": Hollywood's Biggest Names Pledge to Speak Their Minds:
Over the course of the post-Weinstein reckoning and the #MeToo movement, it's become unfortunately clear that the more gruesome and explicit the details of the assault, the more the victims are believed; take the rare hard evidence of audio of Weinstein doing his best to convince an Italian model to come into his hotel room, or the fact it took the revelation that the director James Toback, whom hundreds of women have accused of sexual misconduct, threatened to gouge Selma Blair's eyes out if she spoke about their encounter that pushed her story into the headlines, months after she first spoke out.
And so, seeing as more than 60 women have now come forward with stories of abuse at the hands of Weinstein of varying levels and degrees of specificity that some victims aren't prepared to share, it was in fact because Weinstein didn't rape her that Hayek felt her story might not be "enough."
"When the information about Harvey came out, I was ashamed I didn't say anything. But I felt like my pain was so small compared to all the other stories," Hayek said, elaborating on her point in her op-ed that she "didn't consider [her] voice important, nor did think it would make a difference." (It should be pointed out that Weinstein took advantage of her sense of powerlessness by repeatedly telling her that she was a "nobody," which is its own kind of devastating abuse.) But her story is certainly brutal, nonetheless. According to Hayek, filming the 2002 biopic Frida with Weinstein was a drawn-out process that included his subjecting her to sexual harassment, extensive emotional abuse, and even a death threat. (Among the lengthy list of things she recounts she repeatedly had to tell Weinstein "no" to: "at all hours of the night, hotel after hotel, location after location," asking "me taking a shower with him"; "letting him give me a massage"; "letting a naked friend of his give me a massage"; "letting him give me oral sex"; and "my getting naked with another woman." Each "no," Hayek said, only incited Weinstein's "Machiavellian rage.")
Things shouldn't have to go that far—and victims shouldn't have to reveal that many details—for their stories to resonate. (Assuming they'll even be believed in the first place.) But another part of what holds victims back from speaking out now is the shame they still carry from not speaking out then; they feel they somehow failed the other victims who followed them. As Thurman put it to the Times, "the complicated feeling I have about Harvey is how bad I feel about all the women that were attacked after I was."
There's also, of course, the sense of shame attached to not wanting to be perceived as "weak"—an idea that has led even women who've been vocal feminists in the past to decry the #MeToo movement, saying it perpetuates the idea that women lack agency. The reality is, though, that of anyone in these scenarios, it's the abusers who are the weak ones, who have to scheme to set up scenarios where they have control. They're the ones so afraid of being sexually rejected that they'll actually drug their victims, and so concerned their weakness will be exposed that they assemble armies of spies to cover their tracks.
Women's March: See How Jennifer Lawrence, Adele, Cameron Diaz, and Other Celebs Protested All Across the Country
Sarah Sophie Flicker, Michaela Angela Davis, Janet Mock, Ilana Glazer and Abbi Jacobson marched together in Los Angeles.

Photo by @janetmock.
Julia Louis-Dreyfus reminds us all to register to vote while protesting at the Women's March.

Photo by @officialjld.
Julianne Moore marched in New York.

Photo by @juliannemoore.
Jenny Lewis at the Women's March in Downtown LA.

Photo by @jennydianelewis.
Mark Ruffalo marched with his family in New York.

Photo by @markruffalo.
Ashley Judd marched in solidarity with the Time's Up initiative in New York.

Photo by @ashley_judd.
Gina Rodriguez at the Women's March in Los Angeles.

Photo by @hereisgina.
Rose McGowan marched in Washington, D.C. on the anniversary of the Women's March.

Photo by @rosemcgowan.
Olivia Wilde gave a speech for over 700,000 protestors at the Women's March in Los Angeles.

Photo by @oliviawilde.
Jennifer Lawrence, Cameron Diaz and Adele at the Women's March.

Photo by @adele.
Kathy Najimy used her megaphone at the Women's March in New York.

Photo by @kathynajimy.
Krysten Ritter promoted girl power before heading out to the Women's March.

Photo by @therealkrystenritter.
Chloë Grace Moretz stepped away from the 2018 Sundance Film Festival to protest at the Respect Rally in Park City, Utah.

Photo by @chloegmoretz.
Ellen Page and Emma Portner brought their pup to protest with them at the Women's March in Los Angeles.

Photo by @redsquare7.
Amy Schumer and Amber Tamblyn at the Women's March in New York.

Photo by @amyschumer.
Cynthia Nixon at the Women's March in New York.

Photo by @cynthiaenixon.
Katie Holmes braved the crowded subway to march in New York.

Photo by @katieholmes212.
Alessandra Garcia Lorido in front of signs for the Women's March Alliance.

Photo by @alessandragl.
Sarah Ramos with a crew of friends at the Women's March in Los Angeles.

Photo by @saraheramos.
Willa Fitzgerald and Molly Bernard at the Women's March in New York.

Photo by @willafitz.
Weinstein's victims often had to plead him to leave them alone, often to no end, but as that infamous hotel audio clip proves, it's Weinstein who had to say "please" nearly a dozen times over the course of less than two minutes to attempt to have a sexual encounter. He was still unsuccessful, even though he pulled out his most shameful "get out of jail" card: untruthfully swearing on the lives of his children.
Related: Lindsay Lohan Has a Point: Why Didn't More People Care When Her Ex-Fiancé Was Abusing Her?