Uma Thurman Has a Good Reason For Her Not Making a Statement About Sexual Harassment in Hollywood
An eloquent explanation of an important point.
---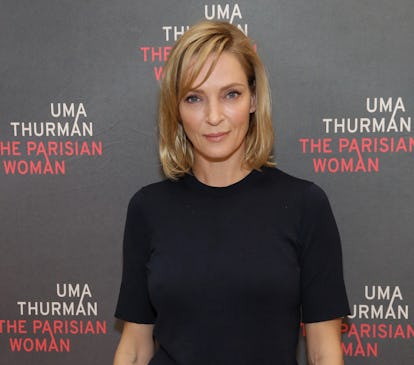 Photo by Walter McBride/WireImage via Getty
As more stories come to light about sexual harassment, assault, rape, abuse and predation in Hollywood and beyond, ranging from exposés of celebrity figures to the #MeToo social media campaign documenting misconduct and mistreatment far and wide, many who wish to speak out, but haven't (yet), are facing a sticky issue: How do we have this necessary conversation in a way that is both responsible and direct, especially since it's being had so publicly, and about such a complicated issue?
At the opening of her new play The Parisian Woman, actress Uma Thurman eloquently put into words what many are probably feeling:
"I don't have a tidy sound bite for you. Because I have learned, I am not a child, and I have learned that when I've spoken in anger I usually regret the way I express myself. So I've been waiting to feel less angry. And when I'm less angry, I'll say what I have to say."
Her fury is palpable and her words are measured. We can and should believe women who are emotional, even "hysterical," that old misogynist excuse for writing women off, but it's worth noting how difficult this subject is, especially for victims who may be triggered by reading so many first-hand accounts of assault and by the conversation around the subject.
The now-viral clip, just 41 seconds long, has resonated because of the way Thurman navigates this difficult situation, her poise and bravery despite whatever pain may be there. Many people are still keeping their silence, are still holding onto secret shames, are still not believed by their bosses, their friends, their families. Thurman's mature cautioun has struck a cord with many who have to be careful in their approach.
Some have pointed out that a non-response might not be in and of itself newsworthy, but Thurman's is a perspective worth sharing.
She is commenting on something. She's talking about how difficult it is to be a mouthpiece for a cause and a witness to it and a victim (or a friend of a victim) of it and still have a career and a life and not let it keep you up every night and absolutely drain you of all your energy and feelings.
All forms of harassment and assault hurt victims and those around them, but the hurt doesn't stop when the assault stops. There are repercussions and emotional wounds that take longer to heal. Those feelings are valid and important.
Related: Lena Headey Says Harvey Weinstein Sexually Harassed Her Twice
Uma Thurman wears Versace's silk and wool coat, at select Versace boutiques, 888.721.7219. Stetson hat; Bulgari necklace; Faraone Mennella cuff; Bulgari bracelets; Aaron Basha bangles; Cartier bracelets; Wolford hosiery; Marc Jacobs shoes.

Photographer: Steven Klein Styled: Camilla Nickerson
Valentino's silk coat with fox fur and marabou feathers, at Valentino, valentino.com; MaxMara's rayon dress, at select MaxMara stores, 866.MAXMARA. On right wrist, from top: Van Cleef & Arpels bracelet, Faraone Mennella cuffs; on left wrist: Faraone Mennella cuff; Agent Provocateur garters; Marc Jacobs shoes.

Photographer: Steven Klein Styled: Camilla Nickerson
Gucci's beaded rayon jersey dress, at select Gucci stores, 800.456.7663, gucci.com. Club Monaco cap; Bulgari diamond bracelets.

Hair by Jimmy Paul/Bumble and bumble; makeup by Peter Philips/Chanel; manicure by Deborah Lippmann/Lippmann Collection. Set design by Viki Rutsch/Mary Howard Studio; production by Tracy Whiting/North Six; digital technician: Matthew Thompson; lighting by B2Pro. Photography assistants: Sharif Hamza, Sebastian Mader and Kaita Takemura. Fashion assistants: Patrick Mackie and Zerina Akers.

Photographer: Steven Klein Styled: Camilla Nickerson
Thurman with Arki Busson in 2007

Styled: Camilla Nickerson
Thurman with Zac Posen at the fifth annual Young Patrons of Lincoln Center's fall masquerade ball.

Styled: Camilla Nickerson
Thurman in Italy at Valentino's final collection in 2008.

Styled: Camilla Nickerson
Styled: Camilla Nickerson
Thurman on the cover of W's May 2004 issue, shot by Michael Thompson.

Styled: Camilla Nickerson