Lena Headey Says Harvey Weinstein Sexually Harassed Her Twice
The actress also alleges she was "subjected to endless bullying" by Terry Gilliam.
---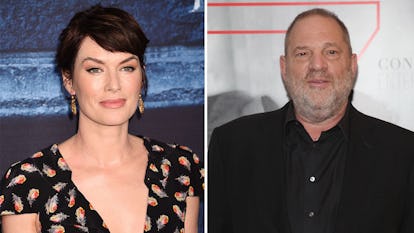 Jeffrey Mayer/WireImage/Getty Images; Steve Zak Photography/Getty Images
The list of women who have been allegedly sexually harassed, assaulted, and/or raped by Harvey Weinstein grows longer every day. And actress Lena Headey is the latest to accuse the ousted film producer of misconduct.
On Tuesday, the Game of Thrones star uploaded a four-part statement to Twitter describing two separate encounters that are disturbingly similar to those experienced by his other accusers. The first alleged incident occurred in 2005 at the Venice Film Festival, which Headey had attended for the showing of The Brothers Grimm, the Miramax-distributed fantasy horror film by Terry Gilliam that also starred Matt Damon and Heath Ledger. In her post, Headey also accuses Gilliam of subjecting her to "endless bullying" during the film's production. She says what transpired at Venice made her never work with Miramax again.
"The first time I met Harvey Weinstein was at The Venice Film Festival," begins Headey's post. "The Brothers Grimm was showing there, (during shooting I was subjected to endless bullying by the director Terry Gilliam) At one point Harvey asked me to take a walk down to the water, I walked down with him and he stopped and made some suggestive comment, a gesture, I just laughed it off, I was genuinely shocked, I remember thinking, it's got to be a joke, I said something like…oh come on mate ?!?? It'd be like kissing my dad!! Let's go get a drink, get back to the others. I was never in any other Miramax film."
Years later, the actress describes being subjected to what has been called Weinstein's signature move, in which the producer allegedly invites actresses to his hotel room under a professional pretext, only to sexually harass or assault them. Despite the earlier incident, Headey says she met up with him because she believed he had internalized her earlier rejection. "The next time was in LA. Years later," she writes. "I had always carried the thought that he'd never try anything with me again, not after I'd laughed and said never in a million years. I believed that he respected my boundary and maybe he wanted to talk about potential work."
But soon, Headey says, he dropped the pretense of this being a business meeting.
"He asked me to meet for breakfast," she continues. "We ate breakfast, we talked about films, film making. He asked me a few questions about the state of my love life. I shifted the conversation back to something less personal. Then he went to the loo. He came back and said, let's go up to the room, I want to give you a script. We walked to the lift and the energy shifted, my whole body went into high alert, the lift was going up and I said to Harvey, I'm not interested in anything other than work, please don't think I got in here with you for any other reason, nothing is going to happen I said. I don't know what possessed me to speak out at that moment, only that I had such a strong sense of don't come near me."
Headey says the disgraced film producer persisted in trying to get her into his hotel room, giving up only when his key card failed to work. After the failed attempt, he allegedly pressed her to stay silent about the incident. "He was silent after I spoke, furious," she concludes. "We got out of the lift and walked to his room. His hand was on my back, he was marching me forward, not a word, I felt completely powerless, he tried his key card and it didn't work, then he got really angry. He walked me back to the lift, through the hotel to the valet, by grabbing and holding tightly to the back of my arm, he paid for my car and whispered in my ear, Don't tell anyone about this, not your manager, not your agent. I got into my car and cried."
Coming after the New York Times and the New Yorker published separate exposes about Weinstein allegedly sexually harassing and assaulting women for decades without consequence, Headey's story is depressingly familiar. Since the news broke, headlines have been filled nonstop with woman after woman coming forward about their own experiences with the producer. The alleged victims span a variety of ages, nationalities, and celebrity status, sharing few commonalities besides their gender, proximity, and reliance on an industry built to keep predators in power.
Currently, Weinstein is under investigation for the allegations by the New York Police Department and the London police. Weinstein has "unequivocally denied" allegations of "non-consensual sex" and punishing women for "refusing his advances," through a spokesperson.
Related: Reese Witherspoon and America Ferrera Have Been Dealing With Sexual Assault Since They Were 16 and 9 Years Old
"Women's Rights Are Human Rights": 62 Fashion Insiders Speak Out in a Powerful Video for International Women's Day: