Reese Witherspoon and America Ferrera Have Been Dealing With Sexual Assault Since They Were 16 and 9 Years Old
Jennifer Lawrence has also added to the horror stories of being a woman in Hollywood by detailing a "naked line-up" she went through early in her career.
---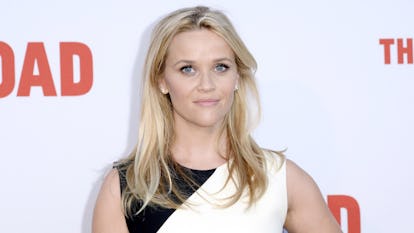 Kevork Djansezian/Getty Images
"It seemed as if it was supposed to be a prerequisite [for actresses]," Laura Dern said at Elle's Women in Hollywood event on Sunday night, after what Reese Witherspoon, also present, described as "a really hard week for women in Hollywood, for women all over the world."
It wasn't some sort of acting course or experience that Dern was describing as a rite of passage for young actresses, but rather sexual harassment, which it has become clearer than ever over the last week that countless women have experienced. Angelina Jolie, Cara Delevingne, Gwyneth Paltrow, and more of Hollywood's biggest names have all recently come forward with stories of Harvey Weinstein's decades of alleged abusive misconduct. While it may be rare that cases of abuse are exposed to such a degree as Weinstein's reign of terror, he's certainly not alone in being the only Hollywood mogul guilty of abusing his power, particularly against comparatively powerless women.
Witherspoon, for one, was first assaulted by a director when she was 16 years old, as she recalled with "true disgust" and "anger at the agents and producers who made me feel that silence was a condition of my employment" on Sunday. Even as she's risen to fame, the harassment has continued: "I wish that I could tell you that was an isolated incident in my career, but sadly it wasn't. I've had multiple experiences of harassment and sexual assault and I don't speak about them very often," she added of the experiences that have been making it "really hard to sleep, hard to think, hard to communicate a lot of the feelings that I've been having about anxiety, honest, the guilt for not speaking up earlier."
On an uplifting note, Witherspoon added, "after hearing all the stories these past few days and hearing these brave women speak up tonight about things that we're kind of told to sweep under the rug and not to talk about, it's made me want to speak up and speak up loudly because I actually felt less alone this week than I have ever felt in my entire career."
It's no wonder Witherspoon is feeling less alone: joining the dozens of celebrities—and tens of thousands of non-celebrities who don't work in Hollywood—who've come forward with stories of sexual harassment and abuse over the weekend, America Ferrera posted an Instagram captioned with the hashtag "#metoo" that proved Witherspoon isn't the only one who's experienced assault at a young age. Ferrera, in fact, hadn't even hit double digits before she went through similar trauma.
"First time I can remember being sexually assaulted was 9 years old. I told no one and lived with the shame and guilt thinking all along that I, a 9 year old child, was somehow responsible for the actions of a grown man," Ferrera wrote. "I had to see this man on a daily basis for years to come. He would smile at me and wave, and I would hurry past him, my blood running cold, my guts carrying the burden of what only he & I knew—that he expected me to shut my mouth and smile back."
Ferrera, like many others, then called for "break[ing] the silence so the next generation of girls won't have to live with this bulls—"—something much easier said than done, given that coming forward often involves reliving trauma, risking lawsuits, and experiencing even more trauma if their stories aren't believed, as Amber Tamblyn has explained is much more often the case than not.
Still, back at the Women in Hollywood event, Jennifer Lawrence seemed to have heard Ferrera's call: Though she's said she never experienced any harassment from Weinstein, she certainly has from others in Hollywood, like the time "a female producer had me do a nude line-up with about five women who were much, much, thinner than me," whom she stood next to "side-by-side with only tape on covering our privates. After that degrading and humiliating line-up, the female producer told me I should use the naked photos of myself as inspiration for my diet," Lawrence, who also said she was also once told to lose 15 pounds in two weeks for a role, recalled.
The experience left Lawrence feeling "trapped," as she felt she had to "let myself be treated a certain way because I felt I had to for my career." Still, she managed to build up the courage to complain to a male producer, who responded to the situation by assuring Lawrence she was "perfectly f—able" and that he "didn't know why everyone thought she was so fat"—a reaction we can most definitely add to the list of how not to talk about sexual harassment and assault.
Related: Alyssa Milano Starts #MeToo Hashtag to Show How Widespread Sexual Assault Is
"Women's Rights Are Human Rights": 62 Fashion Insiders Speak Out: