Why Donna Karan's Remarks About Harvey Weinstein Are So Misguided
And why she's a cautionary tale of how not to talk about sexual harassment and violence against women.
---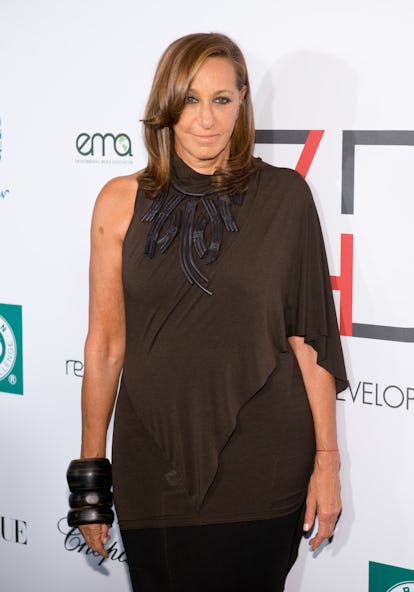 Noam Galai/Getty Images
On Sunday night, the designer Donna Karan was at an awards ceremony in Los Angeles when she was asked about the recent explosive allegations of sexual harassment against the movie mogul Harvey Weinstein.
Karan, who stepped down from her namesake label in 2015 and who is infamous for going on rhetorical tangents in interviews that don't always pay off, misread the situation and quickly dug herself a hole that she would soon regret.
"You look at everything all over the world today and how women are dressing and what they are asking by just presenting themselves the way they do. What are they asking for? Trouble," she told a reporter from the Daily Mail.
The designer seemed to be thinking of the Weinstein scandal in the context of violence against women around the world, especially in developing countries where she's long worked with her philanthropic venture Urban Zen: "Obviously, the treatment of women all over the world is something that has always had to be identified. Certainly in the country of Haiti where I work, in Africa, in the developing world, it's been a hard time for women."
She continued: "To see it here in our own country is very difficult, but I also think how do we display ourselves? How do we present ourselves as women? What are we asking? Are we asking for it by presenting all the sensuality and all the sexuality? And what are we throwing out to our children today about how to dance and how to perform and what to wear? How much should they show?"
Whatever Karan may have wanted to convey on that red carpet, her remarks at the CinéFashion Film Awards came across as a textbook example of the type of victim-blaming that's perpetuated our so-called "rape culture," all the more surprising because Karan began her career by designing clothes to empower women, which led to what are now seen as milestones moments, like the time that Hillary Clinton was criticized for simply daring to expose her shoulders when wearing a dress of Karan's that was modestly long-sleeved and high-necked shortly after she became first lady.
The problem, of course, is not suggestive clothing or simply dismissing casual sexism as "boys will be boys." Karan knows this—after all, she built a brand out of designs like her hip-hugging body suits and so-called "Seven Easy Pieces,' and, like many other designers, used provocative images in her advertisements, as Anthony Bourdain pointed out on Twitter.
At the heart of conversations about sexual harassment and abuse in the workplace is listening to the victims and giving them the appropriate platform to take their allegations seriously without fearing professional or financial retribution, and that's what Karan seemed to have missed.
By Monday night, after the Weinstein Company had fired Weinstein and his attorney Lisa Bloom had resigned, Karan, 69, seemed to be coming around to understanding the impropriety of her initial word salad. At 11:46 p.m., she released a statement that read, "While answering a question on the red carpet I made a statement that unfortunately is not representative of how I feel or what I believe. I have spent my life championing women. My life has been dedicated to dressing and addressing the needs of women, empowering them and promoting equal rights."
While her statement doesn't quite explain why Karan initially resorted to blaming victims, it reveals that too often allegations of sexual harassment are not taken at face value or that victims are intimidated by powerful like Weinstein from coming forward. George Clooney, Jessica Chastain and Glenn Close, in making their own statements about Weinstein, said that they had for years heard "rumors" of sexual misconduct, but did not act on them. "Harvey has always been decent to me, but now that the rumors are being substantiated, I feel angry and darkly sad," Close said. The TV writer Angelina Burnett similarly expressed regret in a widely shared thread:
As more allegations against Weinstein surface, and they seem to be emerging on a daily basis, it'll be helpful to see Karan as a cautionary tale of how not to talk about sexual harassment and violence. At least, she seems to be hearing that message loud and clear.
"I believe that sexual harassment is NOT acceptable and this is an issue that MUST be addressed once and for all regardless of the individual," she concluded in her statement.
Related: Meryl Streep and Judi Dench Condemn Harvey Weinstein's "Horrifying" and "Inexcusable" History of Alleged Sexual Assault
"Women's Rights Are Human Rights": 62 Fashion Insiders Speak Out in a Powerful Video for International Women's Day: