Lisa Bloom Has Resigned As An Advisor To Harvey Weinstein
She tweeted the news on Saturday.
---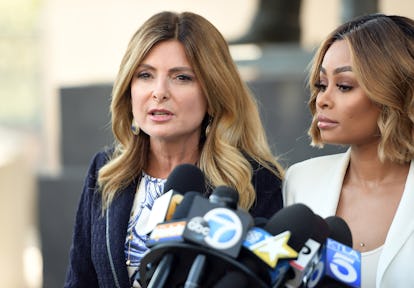 Matt Winkelmeyer
Harvey Weinstein's week is not getting any better. On Saturday, high-profile attorney Lisa Bloom resigned from Weinstein's team of lawyers and advisors. Bloom shared the news via Twitter, and while she did not offer any explanation for her departure, the New York Times reports that the board of the Weinstein Company was not happy with Bloom's handling of the case. Weinstein, meanwhile, has taken a leave of absence from his company following the Times piece chronicling decades of sexual harassment that was released earlier this week.
Earlier this year, Bloom led the charge against Bill O'Reilly; after she represented multiple women who came forward with stories of sexual harassment, the anchor was kicked off Fox News. She's also represented Blac Chyna and Mischa Barton, among other high-profile clients who have been the victims of predatory male behavior, making her representation of Weinstein a note-worthy move.
On Good Morning America, Bloom said that Weinstein's behavior as detailed in the article was "gross" but describes Weinstein as "genuinely remorseful." Some suspected that Bloom's relationship may also have to do with the fact that The Weinstein Company had optioned Bloom's book about the Trayvon Martin case.
However, it looks like things have soured between The Weinstein Company and Bloom. According to emails viewed by the Times, Bob Weinstein and Lance Maerov, both of the The Weinstein Company board, were upset with Bloom's handling of the case. "As the board convened an emergency phone meeting on Thursday evening to address the allegations, published in an investigation by The Times, Ms. Bloom sent an email to board members attacking the article. She outlined a plan that involved 'more and different reporting,' including 'photos of several of the accusers in very friendly poses with Harvey after his alleged misconduct," they reported.
Maerov though that the strategy would "backfire."
"Mr. Maerov scolded Ms. Bloom for 'fanning the flames and compounding the problem' and asked that she step away from the company," the article continued.
Bloom isn't the only high-profile departure from Team Weinstein, however; a third of The Weinstein Company's all-male board has resigned, and Lanny Davis, a lawyer and crisis counselor who advised President Bill Clinton, have also left the team.
Related: Harvey Weinstein Accused of Sexual Harassment, Defends Himself with Fake Jay Z Lyric
Watch W's top videos, here: