Heads Up, Harvey Weinstein: Rose McGowan Will Speak Out at the Women's Convention
The organizers of the Women's March just might be making #ROSEARMY an IRL reality.
---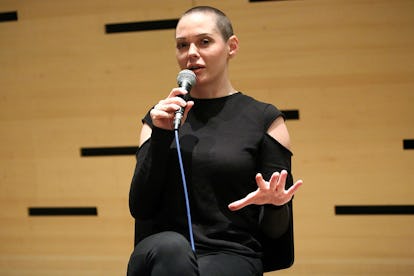 Monica Schipper/Getty Images
Earlier this month, the actress Rose McGowan broke 20 years of what appears to have been a nondisclosure agreement-enforced silence to accuse Harvey Weinstein, the former Hollywood mogul whom more than 50 women, including Angelina Jolie and Gwyneth Paltrow, have recently alleged sexually harassed or assaulted them, of rape. (In a tweet @-ing the billionaire Amazon CEO Jeff Bezos, no less.)
In fact, as the accusations against Weinstein have sickeningly continued to roll in, McGowan's Twitter account has proven the best way to stay up to date with the scandal—and the most satisfying, for her outspoken statements that keep the character count to a minimum, like "Ben Affleck f— off."
Yet while McGowan has been unmissable online—except for that time Twitter temporarily banned her—she's been, quite understandably, missing in-person and on-screen; she cancelled an appearance at a film festival that was awarding her last week, citing "compounding factors surrounding recent revelations in the Harvey Weinstein sexual harassment case."
But Weinsteins of the world, be warned: All that's changing in the next 24 hours or so, as the organizers of the Women's March—aka the largest one-day protest in American history—have tapped McGowan to "bring her special brand of fire to help kick off" their Women's Convention in Detroit, which begins tomorrow with McGowan's opening remarks to thousands of "women, femmes and our allies of all backgrounds" who'll perhaps manifest into a real-life #ROSEARMY, as McGowan has been cataloging her crusade for the truth about abuse, by the time the three-day convention comes to its end on Sunday.
It's perhaps the best possible outcome after Bernie Sanders dropped out from delivering the opening remarks just a week ago, after he and the event's organizers were criticized for tapping a man to open a convention dedicated to women's rights. (Sanders has opted to spend the weekend in Puerto Rico, meeting with San Juan's mayor Carmen Yulín Cruz about the island's continued crisis.)
McGowan will join the actress Ashley Judd, one of the first women to accuse Weinstein, as one of nearly 50 speakers, a list that includes many alums from the Women's March in January, from Scarlett Johansson and America Ferrera to Angela Davis, Cecile Richards, Gloria Steinem, Janet Mock, and Michael Moore. Each will contribute to the "workshops, strategy sessions, inspiring forums and intersectional movement building to continue the preparation going into the 2018 midterm elections" that make up the convention, including panels like "Asian American Women in Politics," "How to Organize a Protest/Rally in Less Than 24 Hours," "Confronting Anti-Semitism and White Supremacy," and "Fighting for Survivors of Sexual Assault in the Age of Betsy DeVos," the latter of which McGowan will be participating in.
Weinstein, who's reportedly still hidden away in rehab off in Arizona, will no doubt be keeping watch; he may have chosen to extend his stay at the facility from just a week to a month, but the repeated rumors that he's been breaking the rules by using his phone—not to mention falling asleep in class—seem to true, since he managed to release another unconvincing statement when Lupita Nyong'o joined the army of women accusing him of misconduct in an op-ed for the New York Times. (Though it does like he has made a teensy bit of progress since heading off to rehab: At least he's stopped including fabricated Jay Z lyrics in his defenses.)
How Celebrities Protest in the Streets: A Visual History of George Clooney Getting Arrested, Kanye Occupying Wall Street, and More
Related: Why Following Rose McGowan on Twitter is the Best Way to Keep Up With the Weinstein Scandal
Meet the Women Who Made History as the Organizers of the Women's March on Washington: