The Weather Channel Once Again Masterfully Trolls Donald Trump, While Diverting Attention Spans to Where It's Needed Most
The network is now covering nothing but the ongoing crisis in Puerto Rico: "AMERICA, THIS IS STILL HAPPENING."
---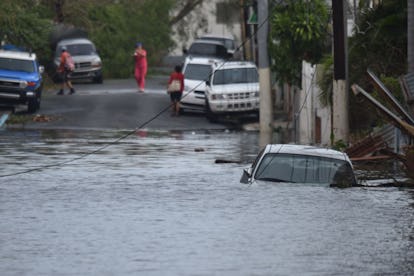 Hector Retamal/AFP/Getty Images
Sure, many famous people were angry earlier this year when Donald Trump made the potentially catastrophic decision to pull the United States out of the Paris Climate Agreement. And while all those celebrities spoke out against what Ava Duvernay called the president's "shameful" move, no one did so more effectively than the Weather Channel, aka weather.com, which decided to devote its entire website to proving that climate change is real, and trolling President Trump for even considering withdrawal from the landmark accord. (A story headlined "Still Don't Care? Proof You Should," was followed by two separate stories with the headlines "…and More Proof…" and "…and Even More Proof…")
And now, front and center on the Weather Channel homepage in bold, all-caps, oversized letters until this Saturday, is the phrase "AMERICA, THIS IS STILL HAPPENING," followed by a complete takeover of stories dedicated to reminding the country, and particularly its leader, that it's been a full month since Hurricane Maria hit Puerto Rico, but that of its 3.4 million people, three million are still without power, and one million are still without access to water.
Three weeks ago, right before San Juan's mayor, Carmen Yulín Cruz, sorrowfully begged Trump for his administration's help (Trump promptly attacked her on Twitter, of course), the president tried to explain his inaction with an excuse that was galling even by his standards: "This is an island, surrounded by water. Big water, ocean water." Then when he finally did show up, he told Puerto Ricans that they were lucky and advised them to "look at a real catastrophe like Katrina," before going on to throw paper towels into a crowd as if using a t-shirt gun and telling a family to "have a good time."
Yesterday, Trump decided to rate his administration's response in Puerto Rico "a 10" out of 10. And sure, as the Weather Channel points out, there are currently 1,900 FEMA staff currently in Puerto Rico, providing 600,000 meals a day. But given that one million are still without water, that's only a fraction of the aid needed. And now a health crisis seems to be on its way.
If all that makes you want to do more than punt paper towels, you might consider visiting the Weather Channel's list of ways to help the millions of victims, too, since they've proven once again to be America's most trustworthy news network.
Related: Kim Kardashian, Bethenny Frankel and More Join Jennifer Lopez's Puerto Rico Relief Telethon
See W's most popular videos: